WSJ Wine Club Review from a paying customer.  WSJ Wine Club Review includes facts, pros and cons, buying process and pictures of what's in the box.
Not just a review of one wine this time, but instead a WSJ Wine Club Review.  As an affiliate, I wanted to do a WSJ Wine Club Review and share my recommendation of what I think is a great deal.
Being a reader of the Wall Street Journal, I had always seen the ads for the WSJ Wine Club and was impressed with the price point of the first case.  It works out to less than $6.00 a bottle for a 12 bottle case of wine!
Plus, it's convenient and you get unique wines you probably won't find at the store.
I personally paid the $69.99 plus tax and shipping to place an order with the WSJ Wine Club.
Below is a complete review of the process, and what I received.
Pictures included!
Also, be sure to check out my Customer Experience Updates at the bottom.  I had an interesting conversation with someone about their wine club experience.
WSJ Wine Club Review – General Facts
Delivery is available to over 30 states.  Click here to check your state.  (See Shipping and Delivery at Bottom of Page)
The introductory 12 bottle case is highly discounted ($69.99 plus tax and shipping) so you get a case of unique wines at a great price.
The price per case (one every 3 months) after the first case is $159.99 plus tax and shipping.
A wine advisor is available to you for free by calling so you can get personal service.
WSJ Wine Club Review – Pros
100% money-back guarantee, even if you don't like a wine they send you.
Can cancel at any time if you decide the club is not a good fit for you.
20% savings on future cases.
Option to choose all reds, all whites or a mixed case.  Can change preferences at any time which means you can tailor your choices to the season or your personal tastes.
Confirmation email sent immediately so you aren't guessing if the order went through or not.
Premium wines from top quality producers around the world.
2-3 week advance notice of next case prior to shipping.  This makes it easy to delay or skip cases.
Free tasting notes included with each case so you have accurate info about the wine you're drinking.
Can create an account that lets you manage your membership online.
WSJ Wine Club Review – Cons
Only option is to receive cases quarterly.  A monthly option would have been nice.
Though reasonable, shipping ($19.99) is not included in the introductory price.
Because it's alcohol, someone 21 or over needs to be home to accept delivery.  Or, you can have the box held at a nearby FedEx location and pick it up yourself.
WSJ Wine Club Review – My Actual Experience
On the order page you'll enter your information and see the free bonus you'll receive.
As you are entering your information you may get a message with the name and location of the retailer that will be putting your case together to ship to you.  The Wall Street Journal is a highly trusted financial publication and, since they have a reputation to uphold, they partner with high quality retailers for the WSJ Wine Club.  I like the fact that they did that because if there had been any problems, I had the name and location of the retailer.  Fortunately, everything went smoothly.
You'll have an opportunity to create an online account.  I did this and found it helpful for managing my wine club and the wines to be sent to me.
After you've entered all your information you click on Confirm Order to place your order and join the club.  There's just one screen to enter your info and place your order.
Nice and simple.
After that, you are taken to the order Thank You page (see below) where you can Print your Order Summary and see all the information about your order.  A couple of important points for you to note:  You are charged sales tax and shipping is $19.99 (a case of wine is fairly heavy so that's not too bad a price).
I was impressed that my estimated delivery date was less than the 10-14 days stated on the WSJ Wine Club order page.
Here's a picture of the Thank You page:
And here's a picture of the Print Order Summary page (personal information is erased).
Another thing I liked is that when they start to process your order, you can see online which wines are going into your case.  Another good reason to create an account.
Within a few days I was able to see that my order had been sent to FedEx for shipping.  Soon after, my ship date was established and I was pleasantly surprised to see that, sure enough, my wine would be arriving only 9 days after placing my order.  This was, again, even faster than the 10-14 days promised.  Once FedEx had my package, I received an email confirming the arrival date.
Here's a picture of the tracking information:
My wine arrived on the day of expected delivery with no damage.
Inside the box, everything was as expected.
The box contained the wine, a welcome brochure, a catalog, and tasting notes for each wine.  Pictures are worth a thousand words, so let's start with the box: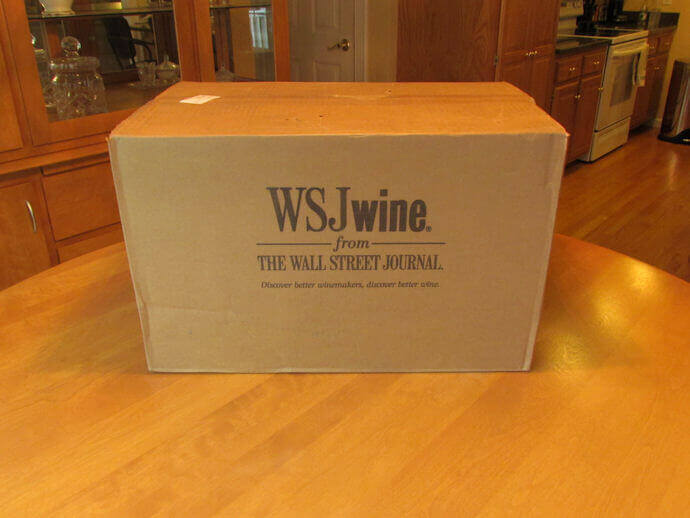 Next, the box after opening:
Here's the binder and tasting notes:
(2018 update:  The binder to hold the tasting notes now appears to be coming with the delivery of your second case, but you still get the tasting notes.)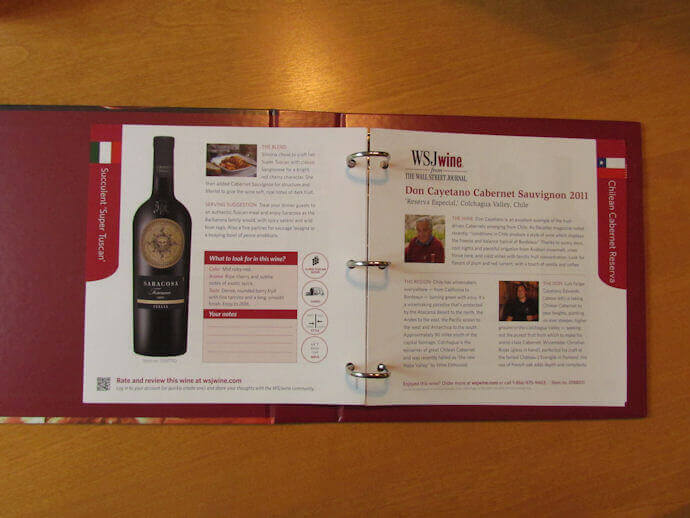 And finally, here's the wines.  All very good and exactly as expected:
Update, April 2018:  The club is now shipping 3 bonus bottles as the free gift in addition to the standard case of 12 you see above.  Nice!
So, in summary…  On time, no suprises, good quality and a great deal.
The tasting notes is a great bonus.
Update After First Shipment:  I've tried several of the wines and have liked them all.  I've especially liked the El Bombero 2011 and the 2010 Pillastro.
Also, I received an email letting me know that my next case was going to be shipped in about two weeks.  I decided that was too soon for me (plus I wanted to test the process).  So, I went into my account online and easily moved the delivery out a few weeks.  There was also an option to skip that case if I wanted to.
They did a great job of making it simple and quick (took about 30 seconds).  This was a good test of their service and I continue to be impressed.
If you have any questions about my experience, contact me and I'll try my best to answer your question.
Customer Experience Updates:
1.  A reader sent me an email and asked if you get charged when you reschedule a delivery.  The answer is no, you only get charged when the wine is actually shipped to you, not before.
2.  I had an email conversation with a reader who only likes sweet wines.  Moscatos and Reislings, for example.  I suggested she contact the club and ask to speak to their wine concierge about her preference.  She went ahead and did that.  They told her that most of the wines in the club are not the sweet type that she likes.  I was very impressed to find out that they didn't try to steer her into a club that didn't match her tastes.

After hearing about her experience, I'm now even more confident with their ability to do right by the customer.
SAVE $170 / CLAIM DISCOUNT:  Save $170 on the WSJwine Top 12 Collection and get 15 World Class Wines for only $69.99 (Worth $259.99)