Oracle of the soil, says the Oracle Cabernet Sauvignon 2010 bottle.  A wine of South Africa from the sun, the rain, the wind, the soil.
Oracle Cabernet Sauvignon comes from the Western Cape of South Africa via the Stellenbosch wine producing district in the Coastal Region.  Stellenbosch dates back to the 1600's with the first plantings occurring in the late 1600's.
Oracle Cabernet Sauvignon Tasting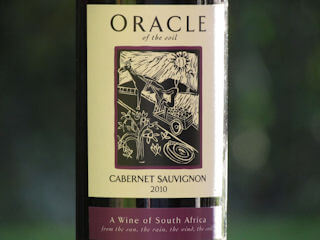 For this review I tasted the 2010 vintage of this wine.
Appearing dark blackberry in color, Oracle Cabernet Sauvignon had a good aroma of black cherry and currant.  Smooth and fairly strong but not overpowering.  It was leggy in the glass.
The taste had overtones of black cherry and was dark and smooth.  Hints of cigar smokiness were also noted.
The mouthfeel had a supple texture.  Complex with light tannins.
Overall, Oracle Cabernet Sauvignon is a wine that is unique in flavor and I especially enjoyed the smoothness and complexity this wine brought to the table.  I think it would stand up well with steak.
Lastly, I noticed a little butteryness in the wine as it had a chance to breathe.  Give this one a try!
Speaking of reviews, check out my review of the Wall Street Journal Wine Club, which I joined.  Includes price, Pros and Cons and pictures of what I received.