Made from a cuvee of red grape varieties, Banfi Belnero Toscana is a primarily Sangiovese red wine from the Banfi brand.  This review is of the Banfi Belnero Toscana IGT 2010.
Per the bottle, the Banfi Belnero "is fermented in wood and stainless steel hybrid tanks and aged in barriques a minimum of 12 months".  Alcohol content is 14.5% by volume, also per the bottle.
Banfi Belnero Toscana's area of production is Montalcino, Southern Tuscany, Italy.
Castello Banfi prides themselves on being the "1st winery in the world recognized for exceptional environmental, social and ethical responsibility & leadership in customer satisfaction."
Per the tech sheet, Banfi Belnero Toscana is "nitrogen bottled to allow the wine to retain its youthful character thus minimizing the use of sulfites".
Banfi Belnero Toscana Review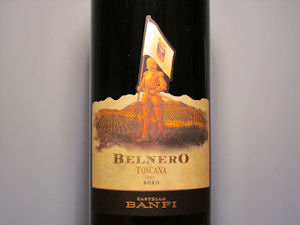 Sample received for review purposes.
In appearance, the wine was deep plum with a garnet to rust colored rim around the outside edge.  Banfi Belnero rightly calls this wine a "dark beauty" as very little light shines through in the glass.  Many quick falling legs were observed.
I found this wine to be very aromatic.  The wine's nose of bright blackberries with a hint of licorice was quite noticeable from far away.
Taste of the Banfi Belnero Toscana echoed the aroma.  Notes of blackberries were again noticed.
The wine had a smooth and silky mouthfeel.  Well balanced tannins were noted, mostly on the tongue.
Finish of the Banfi Belnero Toscana was medium with a little dryness towards the end.
Overall, I found this wine to be enjoyable.  I especially liked the aroma and the smoothness on the palate.  It has some boldness and is definitely drinkable on its own as a casual sipper.
Banfi recommends this wine be paired with red meats, wild game and aged cheeses.
Price for the Banfi Belnero Toscana is just under $25.00.  You can find this wine online at WineChateau.com.
Speaking of reviews, check out my review of the Wall Street Journal Wine Club, which I joined.  Includes price, Pros and Cons and pictures of what I received.