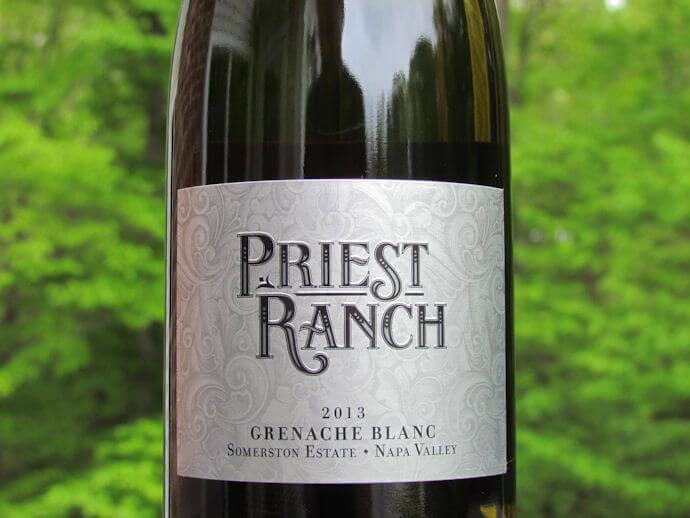 Priest Ranch Grenache Blanc comes from the Somerston Estate in Napa Valley, California.
The Priest Ranch is a 600+ acre property that's found in the eastern hills of Napa Valley about 10 miles east of Rutherford.  The area where Grenache Blanc is farmed is said to be rugged and at an elevation of 800 to 2400 feet.
Winemaking and viticulture is headed up by Craig Becker.  He grows Grenache Blanc for Priest Ranch Wines on a small 2.7 acre vineyard at an elevation of 1200 feet.
Fermentation took place in stainless steel tanks.  The wine was aged 10% in neutral French oak with a total production of 1,150 cases.
Priest Ranch Grenache Blanc Tasting
Sample received for review purposes.
For this review, I had the pleasure of sharing the experience with a couple high school buddies.
For one of them (the "new guy"), it was his first experience tasting with Honest Wine Reviews and he proved to be descriptive taster.  I'm looking forward to having him back for another review.
For this review we tasted the 2013 vintage of this wine.
Appearance
We described the appearance of Priest Ranch Grenache Blanc as light amber.  Picture brass knobs on a cabinet.  The color was lighter than a cider and brassy overall.
In the glass, the wine proved to be quite leggy with heavy looking drips.
Aroma
I immediately noticed two distinct aromatic experiences.  From afar I first noticed sweet apple and pear.  Up close were sensations of crisp apple and hint a floral.
The "new guy" said it started off like a Sauterne and developed into a Muscadet.
We all felt the aroma was complex and very enjoyable.
Swirling the wine allowed some of the alcohol in the aroma to dissipate and unveil the crisp apple.
Priest Ranch Grenache Blanc alcohol content 14.3% by volume per the bottle.
Taste
The wine's taste brought many surprises.  It was sweet at first with a good sting of alcohol on the palate.  The taste was more of the above mentioned sweet apple.  It was then quickly followed by bitterness.
The new guy picked up on a note of sour apple, but it wasn't off-putting.
Our third taster (Big Al) described it as having a woody quality to it.
When we compared our individual experiences we felt the bitterness, woodiness and alcohol burn were surprises we weren't expecting, given the enjoyable aroma.
Finish
The wine's finish was medium to long.  The flavor diminished quickly and was dominated by the alcohol.
Overall Opinion
Overall, we have to say we really loved the aroma of Priest Ranch Grenache Blanc, but were a bit disappointed with the flavor and finish.
As a caveat, none of us had ever had a Grenache Blanc before.  So, we were unsure if what we were experiencing was normal for that varietal or not.
I know I would like to try more Grenache Blanc for comparison purposes.
I also took note of the fact that Priest Ranch Grenache Blanc is farmed in unique growing conditions at elevation.
While I'm unsure of the impact of that to this particular wine, I feel it is worth noting.
I'm also pleased to have had the opportunity to try something new (to me).
I also feel it's important to note that you have to give credit to any winemaker who seeks out unique terroir.  This often produces very unique wines.
For me, experiencing unique wines is one of the things I enjoy the most about wine tasting and reviewing.  Priest Ranch Grenache Blanc price $18.99.