Apothic Brew is a new Apothic limited release red blend and cold brew coffee infused wine that was first released in April 2018.  Apothic is based out of Modesto, California, USA.
Not too long ago, Apothic released a different wine that was aged in whiskey barrels and it was a popular success.
Apothic tends to cast the rules aside when they craft their wines.  They like to try something out on everyone and see if it sticks.  If it does, then they seem to take it off the "limited release" list and keep it out all year.
They're clearly doing the same with Apothic Brew.
Now, if you've been following Honest Wine Reviews for awhile now, you know that I try to stay on top of the Apothics, given their popularity.
Here's the rest of them, reviewed by your's truly.  Pretty sure I've reviewed them all.
Apothic White (My video review of Apothic's white wine blend.  Try not to laugh at my lack of on-camera skills.  But do follow my YouTube channel!)
Apothic Red (This was their first wine, I believe.)
Apothic Dark (The start of their experimentation phase.)
Apothic Inferno (Aged in whiskey barrels.)
Apothic Crush (A slightly different red wine blend.)
Apothic Rose (Their previous release.)
Now, onto the review…
Apothic Brew Review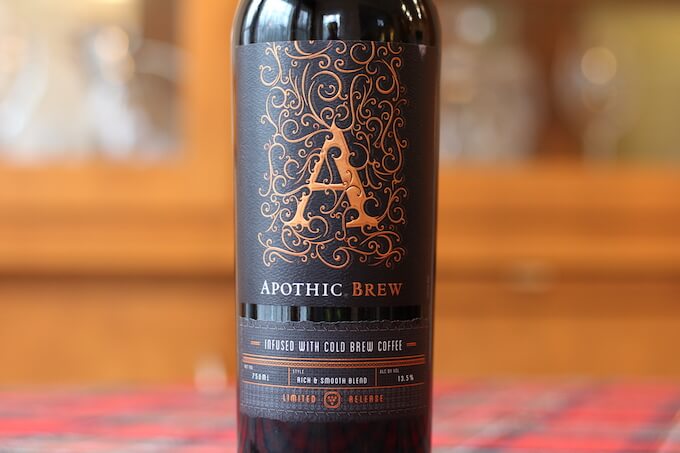 From the bottle:
Blended with intrigue, Apothic Brew stirs your senses.  Inspired by a passion for coffee, our winemaker has crafted an infusion like never before…  Notes of red fruit and toasted oak combine with hints of cold brew for a well-balanced blend that captivates you from the first pour.
The bottle did not have a year on it.
Appearance
When I poured the wine into the glass, I expected to see a brownish tinge that you might get from mixing coffee and wine.
However, the wine's color did not let on to the coffee infusion.
In the glass, the wine was deep plum in color.
Legs were numerous and fell slowly.
You definitely can't see the coffee infusion by looking at the wine in the glass.  It just looks like a glass of dark red wine.
Aroma
When I pulled the cork out of the bottle, I immediately gave it a whiff.  My first sense was an aroma of coffee liquor on the cork.
After pouring, I noticed the coffee liquor aroma again, but from a foot away from the glass.  The aroma kind of wafted about.
Up close, the coffee liquor aroma was more powerful and completely dominated the wine's nose.
I really struggled to pick out any typical red wine aromas.
I also didn't notice much alcohol in the aroma either.
Apothic Brew alcohol content 13.5% by volume, per the bottle.
After some "aggressive" spinning and sniffing I may have picked up a hint of black cherry.  Or maybe just cherry or some other red fruits, too hard to tell.
Taste
The first thing I noticed about the taste was the good balance between coffee and red wine.  The taste is mostly wine but with a noticeable coffee flavor.  Especially with a fresh pour.
The coffee flavor tasted like light and mildly sweetened coffee with coffee liquor mixed in.  Like an after dinner coffee with Kahlua in it.
The red wine flavor, though a bit difficult to descramble was the typical cherry / black cherry flavor you would find in a red wine blend.
I was really expecting not to like the taste, but it wasn't that bad considering.
I found if I held the wine in my mouth for a bit, I really noticed the coffee flavor.
Mouthfeel and Tannins
Apothic Brew's mouthfeel was fairly silky.  It definitely wasn't juicy.
Tannins were certainly present and noticeable, making this "blend" easily qualify as a dry wine.  Which isn't surprising given the tannic qualities of coffee beans.
I noted the tannins all over my palate.
Finish
Apothic Brew finished long.
The finish was mostly carried by the flavors.  However, as they settled back, the tannins did continue the finish trajectory.
I discovered that if you go without a sip for awhile, a very mild coffee flavor is left on your palate.
Overall Opinion
Overall, much like when I tasted Apothic Inferno, I kept pouring and tasting as if to say, "What are we dealing with here!"
I'll say this…  If you're a purist, then run away, this isn't for you.
If you like novel creations or rule breakers, this is probably right up your alley.
One thing I'll give Apothic credit for is that they did manage to not overpower the wine with the coffee.  And, they created a great conversation starter with this wine.
As for me, I'll call it a novelty for now.  I could see myself bringing this wine to a party for fun.  It's definitely drinkable.
I'd probably bring another bottle of normal wine though.
Get it before it's gone!
Apothic Brew price $13.99.  That's what I paid at my local big box wine store.
Oh, and it's said to contain "less caffeine then a standard cup of decaf."  So, don't go buying it thinking the caffeine will offset the effects of the alcohol!
Suggested Food Pairing
This is a tough one.
I would certainly first suggest it as a standalone sipper.
From there, maybe pair Apothic Brew with a soft cheese or a sweet dessert like a Tiramisu.
Anyone else out there tried this wine?