When deciding on the best wine fridge for your home, you'll likely be considering factors such as your budget, how many bottles you want to store, where your wine fridge will be located and more.
In this guide, I ranked and reviewed the 7 best wine fridges, with these most important factors in mind so that you can make the best decision for you and your home.
NutriChef 18-Bottle Wine Fridge
Wine Enthusiast 6-Bottle Wine Fridge
Ivation 18-Bottle with Lock Wine Fridge
CaLefort Dual Zone 46-Bottle Wine Fridge
Bodega 26-Bottle Wine Cooler
Ivation 12-Bottle Compressor Wine Fridge
Bodega 176-Bottle Large Capacity Wine Fridge
Why Buy a Wine Refrigerator?
The main reason for storing wine in a wine fridge is to protect our wine. That way when it becomes time to uncork the wine bottle, the wine you pour will be in its best possible shape to drink.
So, what do we need to protect our wine from?
Well, it comes down to light, temperature and humidity.
Protection from UV Light
When wine is exposed to UV light, the tannins in the wine can break down and that can result in oxidation and premature aging. Tannins help to protect wine from oxidation and give the wine its structure.
Keeping this in mind, when you store wine in a wine fridge, you are protecting it from outside UV light.
Maintaining Proper Temperature
On the subject of temperature, all wines are best stored at around 55 degrees Fahrenheit (F). At this temperature, wine will remain stable and age at the right speed over time. A wine refrigerator allows you to set and store wines at that temperature.
Also, when you don't use a wine fridge to store your wines, your bottles may be subject to significant temperature changes throughout the day and over the course of time. Significant temperature changes can harm wine. Especially if it gets too warm, which can lead to a heat fault and bad tasting wine.
Maintaining Proper Humidity
Most people don't really think about how humidity can impact a wine. Where it matters, is with the wine's cork. When a cork dries out it can crack or shrink and let air in to the bottle. This can lead to oxidation or even seepage if your wine bottles are stored on their sides.
Most wine fridges also regulate humidity, thereby further protecting your wine.
As an affiliate and as an Amazon Associate I earn from qualifying purchases. There is no additional cost to you.
What are the Best Wine Fridges?
Here are my choices for the seven best wine fridges.
1. NutriChef 18-Bottle Wine Fridge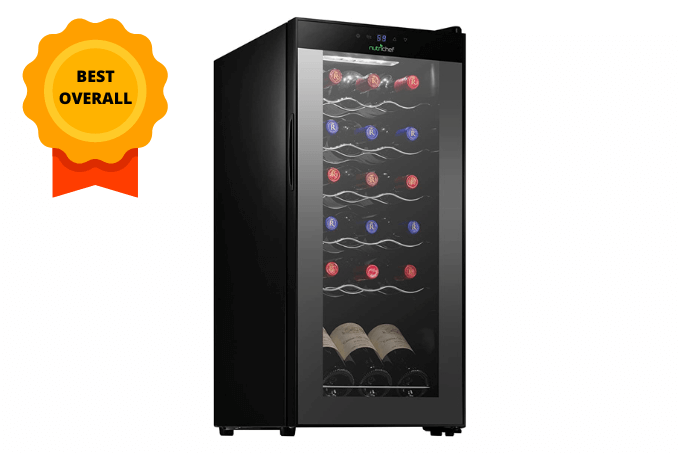 Best Overall
Overall, you'll find it hard to beat the NutriChef 18-Bottle Wine Fridge.
To start, it's affordable and holds enough bottles to make sure you have enough for a dinner party, plus a few left over.
I like how this unit lets you display three bottles on the bottom. Those could be your next three bottles to drink or perhaps the ones you want to age.
It's a single zone, freestanding wine fridge with touch-screen temperature controls on the top of the fridge for easy access.
And it has stainless steel shelves that allow for good circulation around your chilled wines and LED lighting.
Best for
Someone who wants a small to medium capacity wine fridge that's freestanding and won't break the bank.
Pros
LED lighting.
Touch activated digital control panel.
Quiet operation.
Cons
Handle a bit tricky to install.
Not good for placing on a countertop.
2. Wine Enthusiast 6-Bottle Wine Fridge
Most Affordable
Not everyone has the room or the budget for a built in wine fridge. So, for the person who just wants a small wine fridge to hold a half-case of wine, the Wine Enthusiast 6-Bottle Kitchen wine fridge is a good match.
But, it's important to also understand that this is a solid state wine fridge and not one with compressor cooling technology.
That means the cooling comes from a solid state system and not a compressor. There are no moving parts, so it will be quiet and also very energy efficient. But, if you operate this wine fridge in a spot with a temperature above 80 degrees F, it probably won't cool your wine bottles very well.
But for just a little over $100 and if operated in a non-hot environment, this may be the perfect choice for you.
Best for
Someone who wants a small wine fridge or is on a tight budget.
Pros
Meets US Dept. of Energy guidelines for energy efficiency.
Fits in tight places like an RV, small apartment or cottage.
Designed in the USA and backed by Wine Enthusiast's 40+ years of history.
Cons
Requires room temperature to be under 80 degrees F.
Only fits standard wine bottles.
3. Ivation 18 Bottle Wine Fridge with Lock
Best Freestanding Wine Fridge with Lock
This well rated 18-bottle wine fridge is a freestanding only unit that comes with a lock to protect your wine from being disturbed.
Its other main features include removable racks, Ivation temperature stability and soft energy-efficient LED lighting.
This wine fridge is a new entry to the guide due to the increasing popularity of this unit.
Best for
Someone who wants a freestanding wine fridge with a lock.
Pros
Lockable wine fridge.
Quiet running.
UV resistant glass doors.
Well rated.
Cons
Door handle installation a bit tricky.
Non-standard sized wine bottles may not fit well.
4. CaLefort Dual Zone 46-Bottle Wine Fridge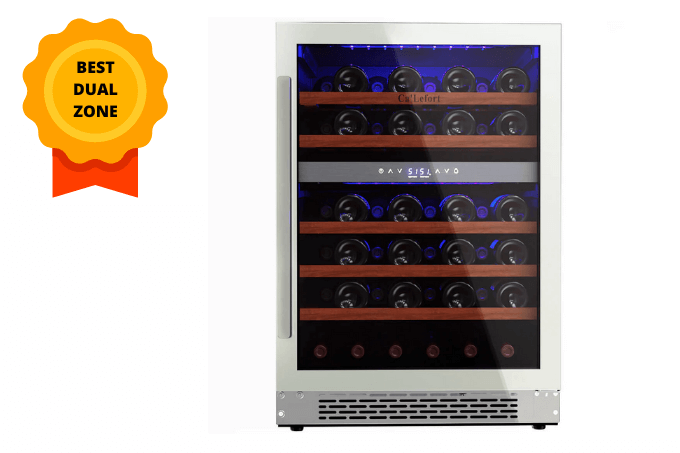 Best Dual Zone Wine Fridge
The CaLefort Dual Zone Wine Fridge is a dual zone, 46-bottle capacity wine fridge that will do the job well and look great in any application.
It's sleek and modern, with a stainless steel double glass door, 3-color interior LED lighting, touch sensitive controls and more.
Along with being the recommended dual-zone wine fridge, it can also be installed as a built-in or sit freestanding on it's own.
I liked this one so much, it's the one that sits in my wine room.
Best for
Someone who wants a modern and sleek, dual zone wine fridge with great bottle storage capacity.
Pros
Quiet running wine fridge, with very little fan noise.
Innovative, sleek and modern.
Wood shelves and a stainless steel frame.
Can be installed freestanding or built-in.
1-year warranty on parts and labor and a 3-year warranty on the compressor.
Cons
Instruction manual could be more complete.
Door handle not pre-installed, though an easy enough DIY task.
5. Bodega 15-Inch 26-Bottle Wine Cooler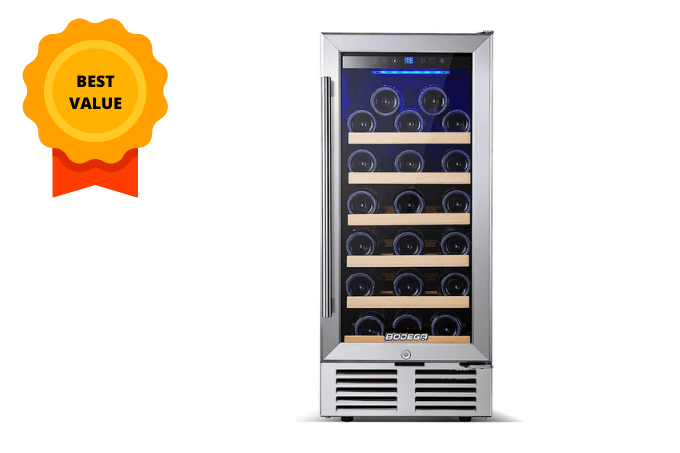 Best Value
I rated this one as the best value due to its versatility and wine bottle storage capacity for the price. Plus, Bodega is a well-known, high quality brand.
Think of it as the "best bang for the buck" wine cooler!
You can either use this as a freestanding wine cellar or it can be built in. The reason why it can be built in is that it vents out the front. So, no need to ensure there's space around it.
Another benefit with this unit is its elegant beech shelves that give the appliance a sophisticated look. Plus, solid wooden shelves are often more sturdy than the metal ones.
It also has low noise (only 42 db) and vibration, touch screen control and frost free cooling. Plus, too many other features to list. As I said above, best bang for your buck!
Best for
Someone who wants versatility, decent bottle capacity and appreciates a good value.
Pros
Low noise and energy efficient.
Use as a freestanding or built in wine cellar.
Brand recognition.
Quiet operation with low vibration.
Cons
26 bottle capacity only for Bordeaux bottles. Other bottle sizes may not fit well.
Unit should stand upright for 24 hours prior to connecting power to prevent malfunction.
6. Ivation 12-Bottle Compressor Wine Fridge
Most Popular
This Ivation model is a freestanding wine fridge capable of holding 12 bottles. Perfect for storing your latest case of wine.
With over 1,300 reviews and a high rating of four stars and above, this wine fridge is one of the most popular units on the market.
It has a double-pane glass door that is UV resistant and soft interior LED lighting. Perfect if you want to light up your wines for your guests to see.
And like some of the others, it has removable racks in case you want to clean them.
Given its features and versatility, it's no wonder this wine fridge is so popular!
Best for
Someone who wants a simple, proven, 12-bottle freestanding wine fridge.
Pros
Energy efficient LED lighting.
Set and forget temperature control.
Removable wine fridge shelves.
Cons
Off-size wine bottles may not fit well.
Single zone only.
7. Bodega 24-Inch 176-Bottle Single Zone Large Capacity Wine Fridge
Best Large Capacity
If you're a very serious wine enthusiast, you probably want a wine cellar that can hold a lot of wine. This model holds 176 bottles and as you may expect, is the most expensive in our list of best wine fridges.
As a front vented wine cooler, this unit is capable of being used as a built in or freestanding.
However, even with its large capacity it's only a single zone fridge. What that tells you is that this unit is designed for aging versus serving.
Its two layered tempered glass doors are designed to prevent temperature fluctuation and its silent operation make it a great addition to any home.
If you are (or are looking to become) a wine collector, this unit would be a great choice!
Best for
Someone who wants large bottle capacity and only one temperature zone.
Pros
Best for ageing wines, especially reds.
Well-insulated.
Quiet and efficient operation.
Cons
Shelves not adjustable up or down.
Not easy to move around due to large size and weight.
What to Look for in a Wine Fridge
As you start to research wine fridge choices, you'll soon discover there are five main considerations for your wine storage:
Bottle Capacity (How many wine bottles it can store)
Temperature Zones (Single zone fridges vs dual zone fridges)
Installation Location (Under counter wine fridges vs freestanding wine refrigerators)
The size of the unit itself (Especially its depth)
Price (Cost to purchase)
You'll also discover that wine fridge terminology can get a bit confusing. There are a few different terms for a wine fridge. You may also hear wine fridges called wine refrigerators, wine coolers or even a wine cellar. Rest assured they are all one in the same and we'll use all terms in this review.
Now that you know the five main factors in selecting a wine fridge and bit about their terminology, let's dive into each factor.
Bottle Capacity
Wine fridges range from being able to store and cool a single bottle to as much as 300+ bottles at a time.
And as you might expect, those with higher bottle capacity usually cost more than those that store less. Plus, with greater storage often comes larger size.
So, give some thought to why you want to store your wine and how you plan to serve your wine.
For example, if you plan to have a large wine collection that you want to age, then a larger bottle capacity wine fridge is what you'll need.
However, if you are only going to be serving wine to yourself and maybe one other person, a smaller bottle capacity wine fridge may be all you need.
If your plan is to host wine tastings or wine dinners with friends and family, then something in-between might be worth considering.
In this best wine fridge article, we're covering those with bottle capacity of as few as 6 and as many as 176. And you can even go higher than that!
Temperature Zones
Another significant consideration is whether you want a single zone fridge or a dual zone fridge.
With a single zone wine fridge, all the wines in the wine cooler and kept at a single temperature.
With dual temperature zones, you can store bottles at two different temperatures. One temperature for storing your wines (55 degrees F) and another temperature for serving your wines.
Keep in mind that red wines should be served at a temperature range of 58-65 degrees F and white wines at a temperature range of 45-52 degrees F.
So, with dual temperature zones you have the option of moving your stored wines over to the serving zone so that you can serve your wines at the proper temperature range. In this case, you would move the wines over to the serving zone soon enough to let them get to their serving temperature.
With that said, if you are comfortable serving your white wine at 55 degrees F and just letting your red wines warm up on their own after taking them out of your wine fridge, then you may not need a dual zone wine fridge. A single zone fridge may be all you need.
Installation Location
You'll also need to think about where your wine fridge will be located.
Will it be freestanding on its own, say along a wall?
Or, will it be installed under a counter as a built-in, say in your kitchen?
With a freestanding wine cooler, you have the freedom of trying out different places to put it. Or, if your wine collection is large, an under counter wine fridge may not work for your location.
However, if you prefer a finished look and have the installable area for the wine fridge size you need, an under counter wine fridge might be a great addition to your kitchen or wine cellar.
There is something else you need to think about though. And that is ventilation.
A freestanding wine refrigerator is going to require room to ventilate out the warm air. So, be sure to check where its vents are and keep the area clear around them. Blocking the vents will not be very energy efficient and could lead to damage to your wine fridge and spoiled wine.
Now, an undercounter wine fridge will likely be installed with its vents facing forward. That will allow the unit to ventilate properly.
But above all, don't try to put a freestanding wine refrigerator under a counter. That's not what it was designed for and that will probably block the vents.
Size
The size of wine fridges usually depends on the bottle capacity. The more bottles the wine fridge holds, the bigger the size.
There are some exceptions, however. For example, there are slim design wine coolers that are built to store only one standard wine bottle per shelf. Designs like that may only be 5″ to 6″ wide.
Whereas the largest wine fridges can be 28″ wide and larger, with heights over 70″ tall and beyond.
With that said, a typical, 8 bottle compact wine cooler may run about 17″ tall by 17″ wide.
Be sure to confirm that the size of the wine fridge you are considering purchasing will fit your location, whether it be free standing or undercounter.
Price
Wine fridges are not cheap. A lesser expensive, small wine fridge will set you back around $100 and the largest capacity and feature-rich wine refrigerators can easily cost you over $9,000.
There's also the cost of installation, which will dependent on your location and many other factors.
Best Wine Fridges – FAQ
How long should a wine fridge last?
A wine fridge should last 10 – 15 years when installed for proper location and ventilation.
How much should I pay for a wine fridge?
Cost depends on many different factors including capacity and features, with ranges from around $100 to over $9,000.
Where should I put my wine fridge?
A wine fridge is best located in an indoor location at normal room temperature and with plenty of ventilation.
Best Wine Fridges – Summary
No matter which one of the best wine fridges you decide to install, you'll be setting yourself up for tasting wines that were properly chilled and effectively aged.
And this will give you the best chance at enjoying your wines at their best!