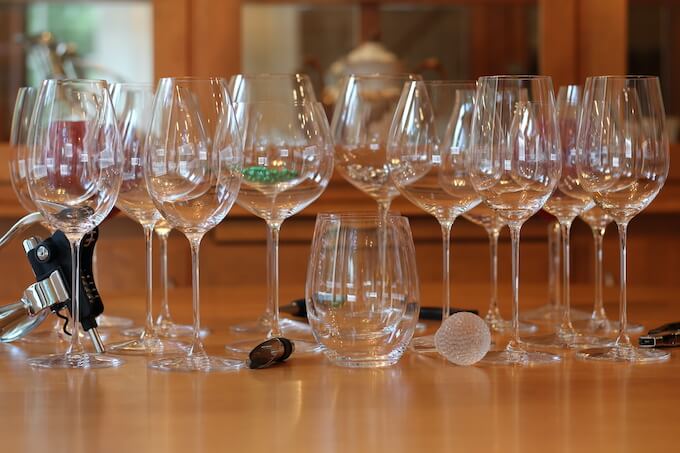 Choosing the best wine glasses comes down to personal preferences including your budget, the right wine glass for the right wine and the setting you are in. In this guide, I ranked and reviewed the 7 best wine glasses, so that you can pick the best ones for you.
As an Amazon Associate I earn from qualifying purchases. There is no additional cost to you.
My Experience with Wine Glasses
When I first started taking an interest in wine many years ago, I wasn't aware of the difference a fine wine glass makes when tasting wines.
While you can certainly enjoy wine in any glass, there are certain characteristics of a fine wine glass that help to unveil a wine's aroma, taste and finish more precisely.
For example, a lighter floral white wine like a Riesling is better experienced with a white wine glass designed for that varietal. Specifically, the bowl of the glass is taller and tighter than say a Cabernet wine glass.
That area above where the wine sits in the glass and the top of the glass will funnel and concentrate the wine's aromas. In turn, this delivers the wine's aromas to your nose more efficiently and allows you to fully experience the wine's aromas. Whereas a glass with a big open bowl won't concentrate the delicate aromas and they will be more so lost to the air versus being delivered efficiently to your nose.
This is just one example. You'll also notice that fine wine glasses have long thin stems so that you're not warming the wine with your hands, assuming you hold the glass by the stem or base.
Also, the rims of better wine glasses are quite thin. This is done to reduce the distraction and glass texture on your lips, so that as much focus as possible is put on tasting the wine.
With all that said, the curated list below goes beyond just fine wine glasses.
Life isn't always spent in perfect conditions with perfect glasses. People want the flexibility to enjoy wine in different locations and in different situations.
So, below you'll not only find the best fine wine glasses, but also the best glasses for everyday life.
Whether it's tasting wine at a fancy dining room table or sipping wine outdoors or by the pool, I think you'll find an excellent variety to choose from in this list.
What are the Best Wine Glasses?
Here are my choices for the best wine glasses in each category.
1. Riedel Veritas Red Wine Tasting Set
Best Red Wine Glasses
When I first made the decision to explore varietal specific wine glasses, this was the set I purchased.
I like them for their thinness and large size, which makes them great for tasting reds. Plus, since they hold a large amount of wine, you can really let the wine decant in the glass.
One thing I was a bit skeptical of, was that they're dishwasher safe. But after countless washings in my Bosch dishwasher, I've never had a problem.
In this particular set, you get a Cabernet / Merlot glass, a Pinot Noir glass and a Syrah glass to get you started.
These are the glasses I use for the majority of the red wine tastings on this site.
Best for
Red wine lovers who want the best wine glass.
Pros
Hold over 20oz of wine in the glass.
Thin and light.
Dishwasher safe.
Machine blown for accuracy.
Very attractive in appearance.
Cons
Require care in handling to avoid breaking them.
Tricky to fit in the dishwasher.
2. Schott Zwiesel Stemless
Best Stemless Wine Glasses
Some time ago, a wine club offered a pair of Schott Zwiesel stemless glasses with purchase of their club. I had ignored stemless glasses up until that point. But, after using them, I realized that they are great to have.
Often times people will be intimidated by using a delicate stemmed wine glass for fear of breaking it. But, with a stemless wine glass, it gives people the opportunity to use a fine wine glass with less worry.
So, why not add some stemless glasses to your collection.
Made in Germany of Tritan crystal glass, these stemless wine glasses are an excellent choice and have served me well.
Best for
Wine drinkers who prefer a fine wine glass with less chance of breakage.
Pros
Dishwasher safe.
Also usable for cocktails or as elegant water glasses.
Made of high quality crystal.
Cons
Not the best fit for small hands.
Hands may warm wine quicker versus a stemmed glass.
3. Riedel Ouverture White Wine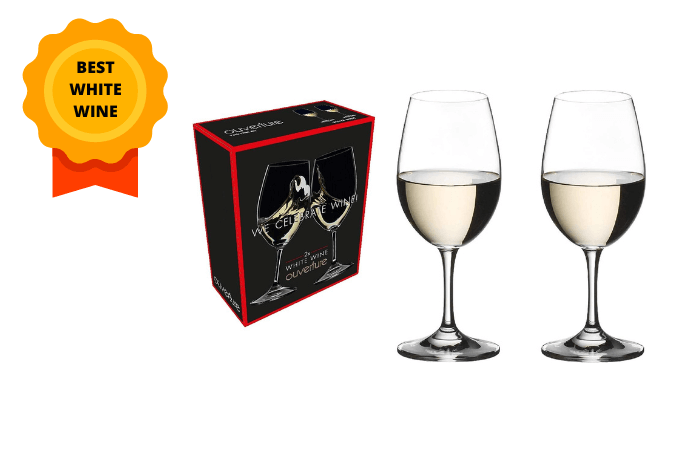 Best White Wine Glasses
Much like my choice of using Riedel glasses for my reds, I also use them for my white wine tastings.
The reason I like these glasses is that they can be used for a variety of white wines. I tend to be less "choosy" about the white wine glass I use and don't feel as much of a need for varietal specific choices. Especially when I just want to drink a crisp chilled (and often inexpensive) white.
Even though they are not white wine varietal specific, they are shaped very much like those that are. This means you still get the funneling of your white wine's more delicate aroma up to your nose. That's one of the reasons why you should use a good wine glass, in my opinion.
These glasses are dishwasher safe, machine blown and make a great choice for serving all white wines.
Best for
Someone who wants a fine wine glass for their white wines, but isn't concerned about varietal specificity.
Pros
Dishwasher safe.
One form for all white wines.
Designed to concentrate a white wine's more delicate aromas.
Cons
Not varietal specific.
Breakable if not handled with care.
4. Marquis By Waterford Markham Crystal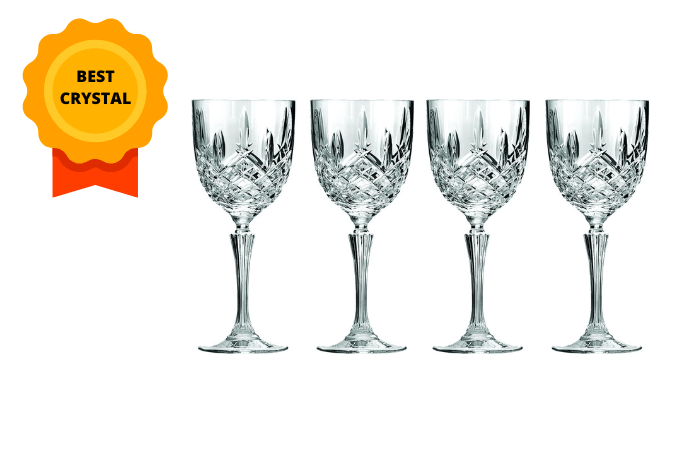 Best Crystal Wine Glasses
If you're looking for the best crystal wine glasses, it's hard to beat Waterford crystal.
Founded by the Penrose Brothers in the city of Waterford, Ireland, Waterford Crystal has been around since 1783. Very well-known for their finest quality, Waterford's crystal wine glasses are an elegant choice for your wine glass collection.
For those who want to style their entire bar collection, Markham offers wine glasses along with flutes for sparkling wines, pitchers, highball sets and more.
These wine glasses are designed for both red and white wine.
Definitely the most elegant wine glass on this list!
Best for
Someone who wants the most elegance and style when it comes to serving wine.
Pros
Fine Waterford crystal.
Works for both red and white wines.
Comes in a gift box.
Cons
Hand wash only.
May not be the best choice for everyday use.
5. Gusto Nostro Stainless Steel
Best Stainless Steel Wine Glasses
Moving on to the best stainless steel wine glasses, these "glasses" from Gusto Nostro offer both elegance and durability. Plus, they come in five different color choices in case you want something besides the typical stainless steel look.
An extra bonus of a stainless steel wine glass is that it holds cooler temperatures longer. That means your chilled whites won't warm up as fast and your reds will hold their temperature longer.
When you're outdoors, which is where a wine glass like this shines, temperature matters and these wine glasses will fill that need.
I also like that they are shatterproof, nicely polished and hold a generous amount of wine (up to 18oz.).
Great for picnics, campfires, poolside and more.
Best for
Someone who wants an elegant looking wine glass that's suitable for outdoor use.
Pros
Durable stainless steel.
Comes in multiple nicely polished colors.
Shatterproof and non-corrosive.
Cons
Top heavy when full.
Condensation may build up on the outside of the glass on warmer days.
6. TaZa Unbreakable Tritan Stemware
Best Unbreakable Wine Glasses
When looking for the most unbreakable wine glasses, plastic will often be your best choice.
TaZa calls these wine glasses "drama free" which is exactly what you want in an unbreakable wine glass!
What makes them this way is that they're made of 100% Tritan plastic, which is very durable.
By doing this, they've created a wine glass that's dishwasher safe, BPA free, EA free and less apt to bend or warp.
Aside from the unbreakable component, I like that these wine glasses look great and are properly shaped for both red and white wines.
They're a great choice for outdoor use and can be used for water, desserts and more.
Best for
Someone who wants an unbreakable, but premium looking wine glass.
Pros
Reusable.
Shatterproof.
BPA and EA free.
Sturdy stem.
Cons
Frequent contact with sunscreen or essential oils may cause these glasses to get cloudy over time.
Could be heavier.
7. Michley Tritan Plastic Wine Glasses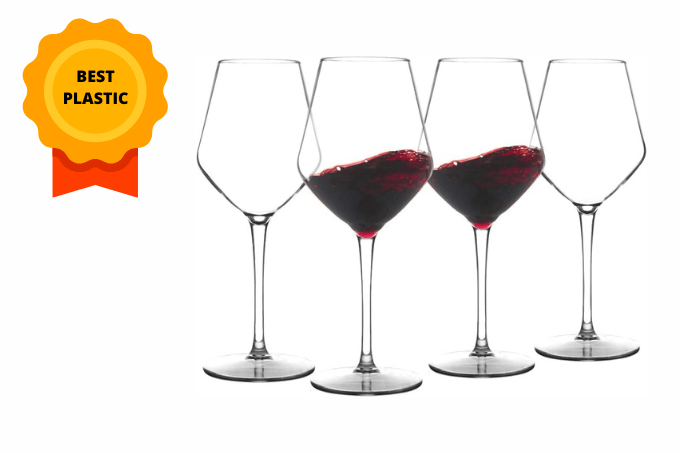 Best Plastic Wine Glasses
In determining the best plastic wine glasses, the highly reviewed Michley Tritans are a great choice.
What sets these plastic wine glasses apart from others is their design. I love the diamond shape of the glasses and how that design creates a perfect bowl for red wines.
Also, with the low-centered bowl, you're less likely to topple your wine glass over. That's great for windy conditions or any outdoor activities that might cause you to bump into your table or glass.
Much like the previous choice, these wine glasses are made with durable Tritan plastic. That means they will be more resistant to breaking, shattering or damage in general.
Best for
Someone who wants a plastic wine glass that's more stable than others.
Pros
Less likely to topple over.
Dishwasher safe and reusable.
Made with non-toxic plastic.
Cons
Holds less wine than other choices.
Non-rounded rims.
Best Wine Glasses – Summary
No matter which of the best wine glasses you decide to try, you're sure to have the best wine glass for your particular situation.
And if you've considered trying to taste wine with a glass specifically designed for the varietal you're tasting, consider one of the Riedel choices above. While some people will disagree with me, I believe the wine glass you use makes a difference in the overall wine tasting experience.