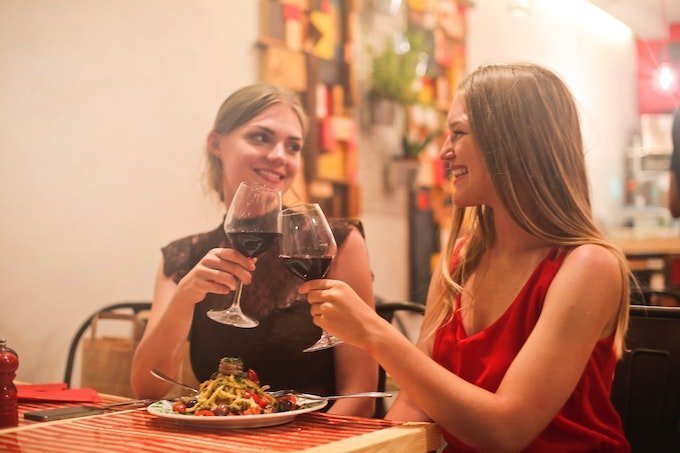 If you're interested in learning how to taste wine, you've come to the right place.

Below you'll find the steps followed when a wine taste is done for Honest Wine Reviews.

So, take out your notepad, grab that glass of wine and let's learn how to taste wine!
Step 1:  Appearance
Start with the cork.

When pulled out of the bottle, check to see that it is in good shape with no cracks or crumbles.

Also, check to see that the the wine hasn't soaked too far up the cork. If its made its way to the top, that means that the wine had an air path to the outside, which could have caused the wine to spoil.

The next thing to look at in judging the wine's appearance is the color of the wine.

For example, with a red wine, can you see light through it? If not, that means it's probably deep in color and probably richer in taste. If you can see some light through it, it's probably a lighter wine with a more delicate taste. Neither is bad nor good, it's just a characteristic.

However, if it looks brown, it's probably been exposed to air and has spoiled. And if it's a white wine and it looks significantly discolored, it's also probably spoiled.
Step 2:  Aroma
To start, what does the wine smell like?

You may smell earthiness, or berries, or maybe even chocolate or vanilla.

Watch for a musty wet dog smell. That smell often leads to a bad tasting wine.

Something else to look for is the smell of alcohol. That will come through as a slight sting in your nose. The more alcohol, the more sting, usually. Often times, that doesn't come through when you actually taste the wine, though.

Other smells you might pick up are fruits, berries, cedar, jam, butterscotch, oak, and many, many more.

Try swirling the wine around by holding the base of the glass and make small circles with the glass on the table. That will help to release the aroma of the wine.

Don't be afraid to stick your nose deep into the glass to get the full effect. Take both short and long sniffs.

In the end it's up to you to decide if you find the wine's aroma, or "nose" to be enjoyable or not.
Step 3:  Taste
Take a good long sip and let it linger in your mouth. Don't treat it like mouthwash though, as you often see people do. Just let the wine roll around on your tongue and the inside of your cheeks.

Then, swallow slowly and exhale.

What do you taste? Often times, what you taste will be a reflection of the wine's aroma. But sometimes you get a surprise and it's completely different.

Are there lots of tastes (complex) or just one?

When you exhale, was there a little burn from the alcohol? Think about how that compared with the amount of alcohol in the aroma.

Some common tastes people notice are berries, oak, citrus, grape, fruit, coffee, chocolate, tobacco, burned wood, licorice, tea, and cloves.

There are many others and much like the wine's aroma the taste is subjective.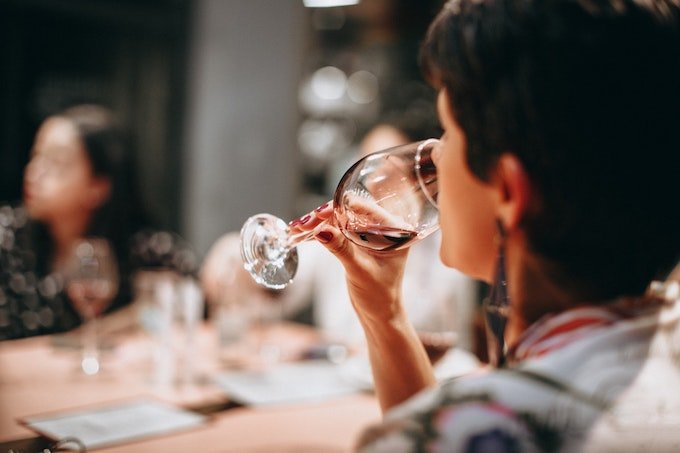 Step 4:  Tannins and Mouthfeel
Notice how the wine felt in your mouth.

How would you describe the texture, or "mouthfeel"?

Is it smooth like satin or even more so like silk? Maybe it's soft like cotton. Or a little rough like a cat's tongue or like wool.

This is also the time when you may draw a conclusion if the wine tastes dry to you or not.

Similar to the sensation tea gives you, you might notice some "grippiness." This is caused by the wine's tannins, which are the bits of stems, leaves and sediment that find their way into the wine as makes its way to the bottle.

Sometimes the tannins can lead to a bitter flavor. But other times the tannins, though noticeable, seem a lot smoother, supple or more refined.
Step 5:  Finish
After you swallow, there's still what's called the "finish."

Does the taste linger in your mouth for awhile? If so, that's called a long finish.

Nothing or just a little bit of lingering? That's a short finish.

At this stage of the tasting process, you may also evaluate what is dominating the finish.

Is it the flavor or is it the aforementioned tannins?
Many people prefer that the flavor dominates the finish and not the tannins, but it's really up to you and your taste buds.
Step 6:  Overall Opinion
The last step when you taste wine is to evaluate your overall opinion.

Give thought to the previous steps and decide if you enjoyed the wine or not.

Simply put, did you like it?

Were there any surprises, either good or bad?

In the end it's completely OK to have your own opinion.