Recently, I was contacted by Jules Lavallee from ThinkEco2.  She asked me if I could take a look at one of her company's products and share my thoughts and impressions.  So, we made arrangements for her business partner and craftsman Brian Bencke to send me one of their wine racks for a review.
According to Jules, ThinkEco2's handmade wine racks, wine, liquor gift boxes and wedding décor is built from old weathered rustic fence that would otherwise go to the landfill.  Brian owns and operates Briven Construction during the day and builds ThinkEco2's creative products at night with their team.
She said, "We are small, but growing steadily.  We have a passion for combining eco-conscious with philanthropy.  I've donated our wine racks to charities including TNT Memorial, Big Brothers & Big Sisters and Mama's Kitchen.  These organizations have raised a lot of money with our wine racks and gift certificates."
ThinkEco2 Wine Rack Closer Look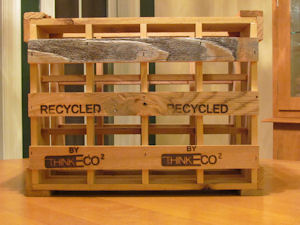 The first thing I liked about this handmade recycled cedar wine rack from ThinkEco2 was the construction.  It only weighs a few pounds but it's well made.  I grabbed every piece of wood and tried to give it a twist to see if it would bend or break.  Nothing budged.  It's held together well with construction staples.
On the back of the 12 bottle rack, ThinkEco2 branded the word RECYCLED and their logo.  Length is 16 1/2″.  Width is 8 3/4″.  Height is 12 3/4″.
The next thing I did was check to make sure that standard size wine bottles would fit into all 12 slots correctly.  They all did with no issues.  The bottles sit horizontal.
The wine rack was unfinished which is in line with the shabby-chic look of recycled materials.  As mentioned above, Brian uses old weathered fences as material that is reclaimed and repurposed into the products he makes.  Pretty clever and certainly much better then sending all that wood to the dump!  I should also mention that the wine rack was clean.  There was no dirt or stains on the wood.  Only the natural look of weathered wood, so I suspect he cleans up the wood pretty well before assembling the wine racks.
Overall I thought this was a great 12 bottle wine rack that would fit nicely on a kitchen countertop or maybe on top of a cabinet.  I could also envision it fitting into a nook or bookcase cube.  They're stackable as well.
Great job Jules and Brian with this great Made in America wine rack!