Full Virgin Wines Review from a paying customer. This video review includes facts, pros and cons and pictures of what you actually get when you join this club.
Virgin Wines is the quarterly wine club from the iconic Virgin brand.  As an affiliate, I want to share with you my review of this club.
Now, back to the review…
My review includes pictures of everything I received (see below).
As someone who has always been impressed by Richard Branson and the Virgin brand, I had to check them out!
So, I spent the money and became a member of the club ($69.99).  They call it the Virgin Wines Explorers Club.
The Virgin brand is always known for quality so it was great to see that the price for the first case was so low.
It comes out to $5.84 a bottle for a 12 bottle case of wine plus you get a free gift of a lever action corkscrew.
Not to mention, it's very convenient and you get artisan quality wines that are not easy to find.
Virgin Wines – Facts
The first case is greatly discounted ($69.99 plus tax and shipping) which gives you 12 unique wines at a very low price.
After the first case you pay $139.99 plus tax and shipping and you receive one case every three months.
Shipping is $19.99 per case (not bad considering how heavy a case of wine is).
You get to choose a case of all Reds, all Whites, or Mixed.  It's up to you.
Delivery is available to 33 states.
Virgin Wines – Pros
You get peace of mind with a 100% money-back guarantee.
If you decide the club is not right for you, you can cancel with no fees or pressure.
You'll get a 20% discount on future cases.
You can skip or delay delivery of a future case.
You don't have to create an account.  (I did so i could track my cases and see each wine I'd be receiving ahead of time)
There's no confusion during the order process.  (the Order Confirmation email is sent right after you place your order).
High quality wines from top winemakers around the world.  Great as gifts!
2-3 week advance notice of your next case before it ships.  This makes it simple if you want to delay or skip a case.
Free tasting notes included with each case so you have accurate info about the wine you're drinking.  (also great when giving the wine as a gift – people love to read about what their drinking!)
Virgin Wines – Cons
You have to be present for delivery.  FedEx won't leave it at your door.  (although you can have it held at a FedEx location for pick-up)
The person who signs for delivery has to be 21 or older.  (sorry, you can't have a minor sign for your wine)
Shipping ($19.99) is not included in the price.  (would have been nice for the introductory case to include shipping)
There's no option to receive a monthly delivery.
Virgin Wines – My Actual Experience
Their order page has a simple process for making your choices and entering your information.
Step 1 – Choose Your Case
Here you'll make your choice of all reds, all whites, or a mixed case.
Step 2 – Where to Deliver Your Wine
This step is where you enter your personal info, including Name, Address and email.
As you are entering your information, a message will pop up with the location and name of the retailer who will be processing and shipping your wine.
Don't be surprised when you see this.  The Virgin Brand is well respected and they put their trust in retailers who are top notch.
I was pleased to see that they let me know who the retailer would be.  If there had been any issues, I had the name of the retailer and where they were located.
The good news was, everything went perfectly.
Step 3 – Payment
Here you'll enter your credit card info.
Also, if you want, you can create an online Virgin Wines account in this step.
I did.
Because, later on you can go in and track your shipments.  You can also see exactly what wines are going in to your case when they start to process your order.
And, if you see a wine you don't like, you can call and work with them to build a case that's more to your liking.
Step 4- Complete Your Order

Here you you can opt-in or opt-out of email offers.  Then you click on the Confirm Order button to confirm your order and join the club.
I like the fact that it's just one screen to enter all your information.  Easy!
After clicking on Confirm Order you are brought to the Thank You page.  On that page you can print your Order Summary and see everything about your order.
Two things for you to notice:  (1) You will have to pay sales tax and (2) shipping is $19.99, which isn't bad considering that a case of wine is pretty heavy.
Almost immediately after placing my order, they sent me an email re-confirming my order.  It also had the estimated delivery date which was about 10 days after my order date.
9 days later I got an automated call from FedEx letting me know my wine was to be delivered the next day.
My wine arrived exactly on the date promised with no damage.
Inside the box, everything was as I expected it to be.  The box contained the wine, the free gifts and a wine drinking flowchart!
Pictures
Pictures tell the story best, so let's start with four pictures showing the box that arrives and what's inside the box as it's being opened: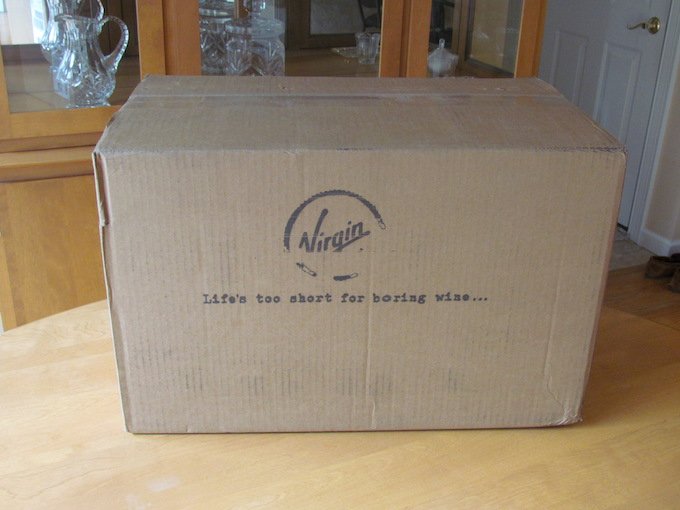 Next up we have an interesting chart about choosing wine:
Next is the free gifts you receive, which are two stemless Riedel wine glasses.  Very nice!
Update:  The free gift is now a set of 4 Dartingon stemless crystal wine glasses, instead of just 2 Riedel glasses.  Nice!
I also included the tasting notes they send you in this picture.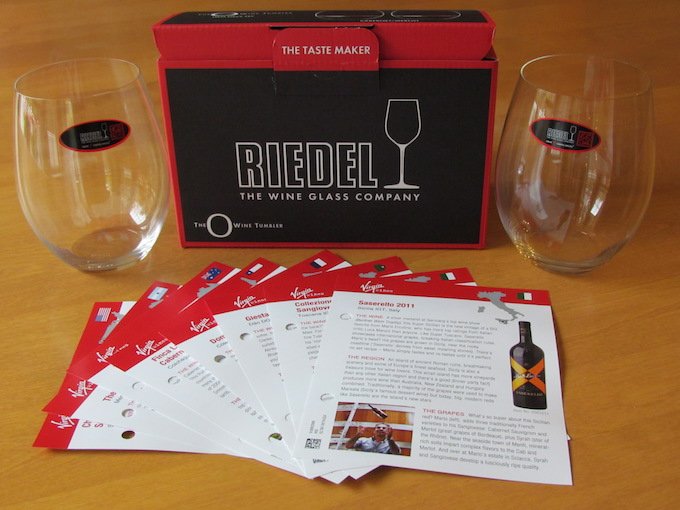 And, most importantly
The Wines!
I've since finished all these wines and am happy to report they were all excellent.

Conclusion
So, I think this is a great club with a lot of excellent benefits and a great addition to the Virgin Brands.
Plus, their customer service is top notch and very easy to deal with.
Update After Two Shipments:  I'm still enjoying the club.  So far all the wines I've received have been great!  A couple standouts have been a Charles Smith Cabernet Sauvignon from Washington and Black Stump Shiraz from Australia.
Update After Four Shipments – Box Unveiling Video:  After four shipments from Virgin Wines now, I continue to be impressed with the wines that are being sent.  The convenience has been great too.  Here's an inside the box video I thought you might enjoy: