Winc is a personalized wine club that helps you choose wines based on food flavors you like, regions you're interested in and ratings from members.
Like many wine clubs, Winc has a low introductory price that allows you to decide if membership is right for you without a large upfront investment.
As a paying customer of Winc, I went through the ordering process myself and purchased the subscription.
And, I have received and tasted the wines I was sent
In My Review
In my review of Winc wine, I'll be sharing the facts about this wine club, the club's benefits and drawbacks, the ordering experience and pictures of everything Winc sent me.
I'll also be sharing my personal tasting notes for the wines I received, along with pictures of the bottles.
And finally, I'll cover most of the common questions people ask when it comes to the Winc wine club in order to help you with your wine club decision making process.
So, if you're looking for an in-depth Winc review, you've come to the right place!
Winc Bankruptcy
On November 30, 2022 Winc filed for Chapter 11 Bankruptcy.
Shortly after that, I got an email from them saying that they are operating as normal.
While I don't have any reason to believe they are not, I'm not comfortable recommending Winc at this time due to their declared bankruptcy.
I believe they are taking steps to sell the company's assets to a different company.  Hopefully that will work out well.
In the future, assuming everything works out for Winc, I may recommend them again.
In the mean time, I suggest taking a look at my review of Wine Access.
They offer several different options for wine clubs, giving you the most choice when making your wine club decision.
Now, back to my original Winc review…
About Winc
Let's start with some facts about Winc and the company itself:
According to Crunchbase, Winc is a privately owned company founded in 2011 and headquartered in Los Angeles, California.  They were formerly known as Club W.
Winc makes their own wines in Santa Barbara, California, which sets them apart from most wine clubs who generally source their wines from existing wineries.
They source their grapes for ten different varietals from California, France, Italy, Argentina, Spain and Portugal.
They believe in figuring out what their customers want through ratings, and then go make wine according to that data.
They don't ship wine to AK, AL, AR, DE, HI, KY, MI, MS, NJ, RI, SD and UT.  Be sure to check your state when ordering, in case of any last-minute changes.
Benefits
As of 2022, the company has been in business for over 10 years.
A very large variety of wines (58 at last check) at affordable prices.
Sustainable farming techniques with minimal intervention in their winemaking process.
Winc is a member of 1% for the Planet.
Winc makes their own wines which means they are unique.
Wines are made based on what people like (i.e., ratings) versus what the winemaker thinks people like.
Several options available to consumers including wines that are low sulfur, low sugar, sustainable, organic (non-GMO), vegan and more.
Flexibility in that you can skip months at any time.
Satisfaction Guarantee that says you don't pay for a bottle you don't like.  What this means is you can request credits back into your account.
Can cancel at any time.
10% savings when ordering 12 or more bottles at a time.
No additional membership fees to join.
Free shipping on orders of 4 bottles or more at one time.
Drawbacks
You can't order all wines in all states.  While I understand this is a state-by-state rule, if there's a wine you really want to try, you may not be able to get it.
Tasting cards for each wine are not included in the box.  You need to go online to see Winc's tasting notes.
Unused credits are lost when you cancel.  (i.e., You don't get refunded for unused credits)
Limited international selections.
What Winc Costs
For your first purchase, Winc offers you 4 bottles for $29.95.  Free shipping is included as part of the introductory offer.
After that, the monthly cost is $59.95, plus any tax and shipping depending on your state.
Individual wines range from $12.99 to $39.99, member pricing.  Since their selection is constantly changing, be sure to check the latest price ranges.
How the Winc Wine Club Works
Winc takes you through a 3-step process when you first join:
You start by answering questions that help Winc decide what wines you might like.
Winc selects wines for you based on answers to your questions.  You can also pick different wines than the ones they chose for you as part of the checkout process.
After receiving and tasting your wines, you log in to your account to rate them.  This allows Winc to improve their wine recommendations for you for future purchases.
Here's how the ongoing Winc subscription works after your first order:
After your first order, Winc will charge you monthly for credits ($1 = 1 credit) towards your next delivery of wine.
The monthly cost is $59.95 which gives you 60 Winc Credits.  Taxes may apply according to your state's rules.
You can choose to skip a charge any month as long as you skip the charge 48 hours or more prior to your next charge date.
Winc shows you your next charge date in your account dashboard after your first purchase.
Shipping is a flat $9.00 on orders less than $50.00.  If your purchase totals more than $50.00, shipping is free on that order.
The minimum order size is 3 bottles.
You can choose to save your credits and use them later on more premium wine, or on more bottles at once.  Unused credits roll over month to month.
If you do nothing, your credits will continue to add up until you make a purchase or cancel your membership.
You order your wines when you want.  Winc doesn't automatically send you wines each month.  They just charge you each month and give you 60 credits to use later.
Winc makes recommendations but you can choose your own wine.
Your membership continues until you cancel it and there's no cancellation fees.
Does Winc Make it Easy to Cancel Your Winc Membership?
You can cancel your Winc wine club membership any time by live chat (there's a support button you can click on) or by texting 855-282-5829.
The Order Process (My Personal Experience)
One thing I quickly noticed was that the order screens didn't seem to like that I was using Firefox.
Most likely this was because I had my security settings set really high for that browser.
So, I switched over to Chrome with the standard security settings and everything then worked smoothly.
I'd suggest checking this before you place your order to avoid any hassles or confusion.
With that said, let me show you some of the screens you'll encounter along the way.
Ordering my Winc Wine Club Subscription
After clicking on the Get Started button on the main screen, I was taken to a screen that asked me if I prefer reds, whites or mixed.
Since I wanted two of each, I left the slider in the middle and clicked on the Next Question button.
Here's what that looked like: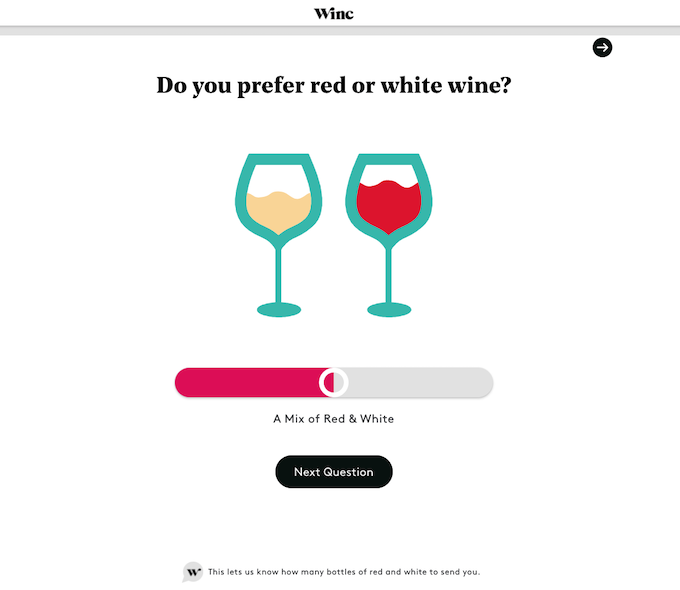 Following that was a series of cards that asked me what kind of flavors I liked.
As they put it, "Select the heart button if you enjoy, select the X button if you're not a fan."
I went through all the cards and gave my answers.
Here are the flavors I was asked about (your's may be different):
Strawberry
Honey (said no to that one, since I don't really love sweet wines)
White Peach
Black Currant (definite yes!)
Lemon (said no on that one, too)
Melon
Pineapple
Candied Lemon (an interesting question)
Black Cherry (another easy yes for me)
Baking Spice (yep!)
Pomegranate
I won't show each card, but this is what the first one looked like and I clicked through each card until I was done:
Next up was a fun question about Skittles and M&M's to find out if I liked sweet versus tart flavors.
I left the setting at "Both. In my mouth. At the same time." and clicked on to the next question.
Here's what that looked like:
Next up was a question about what wine regions I liked (I chose Italy).
Here's what that screen looked like:
After making my region selection I was asked which foods I liked so that Winc could try to pick wines that would pair well.
I chose Cheese, Cured Meat, BBQ, Burgers and Lamb.
And here's what that screen looked like: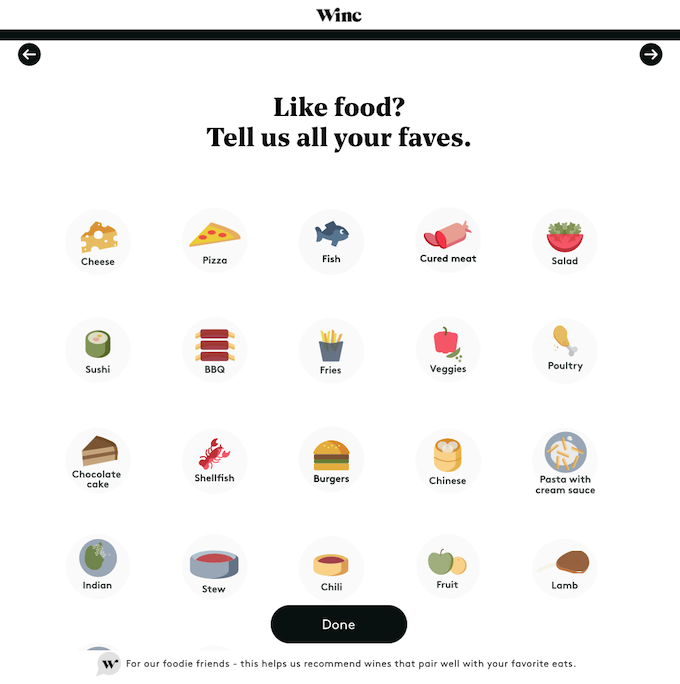 That was the last question and after being asked my email address and birth date, I was shown the wines Winc Selected for me.
And here they are:
From here I went ahead and proceeded to check out, entering my credit card, name and address, etc.
But as I went to place my order, it turned out that two of the choices couldn't be shipped to my state.
Here's the screen with the message:
At first I was a little miffed by this.
But then after giving it some thought, I realized it was much better to know right away than to have my delivery delayed.
After all, the removal was due to my state's rules that were outside of Winc's control.
So, I clicked on "Edit Box" and went shopping for two substitutes (I chose Chop Shop Cabernet and Summer Water Rose).
It was actually kind of good to be able to look through Winc's full selection and choose what I wanted.
Oh, and you can do that with any (or all) of the wines in your order, if you don't like what Winc picked.
Cool!  They've clearly thought this through.
So, after browsing a bit and making my new choices, here's what my final checkout screen looked like:
I hit the Checkout button and was done.
And as would be expected, within a few minutes I got an order confirmation and a welcome email.
The next day I got a "Your wine has shipped" email.
And the day after that, my wine arrived!  Fastest delivery of all the wine clubs I've tried.
Winc Unboxing
I know when I'm reading someone's review, I love to see what's inside the box!  What exactly did they get?
So, let's pull back the curtain on my Winc wine club delivery and let me show you exactly what I was sent.
The Winc Box
This is the box that arrived via FedEx:
While the box looked a tad beat-up on the surface, it was actually in great shape with no damage to the box.
I enjoyed the "Sip, sip, hooray!" labeling on the box and the modern graphic design.
It was easy enough to open and I appreciated the handle on top.
Now would also be a good time to mention that someone 21 or over needs to be available to sign for delivery.  This is standard for all wine clubs I've ever joined.
Everything Included in My Winc Wine Delivery
Here's everything that was inside the box, after opening it:
The Welcome to Winc Booklet
A pleasant surprise was a 47-page "Welcome to Winc" booklet.  (the booklet you see on the left in the picture above)
The booklet has a section on wine vocabulary that does a nice job explaining most of the common terms related to wine.
There's also info on their best wines (at least according to them).  Here's what they say are Winc's 10 best wines:
Folly of the Best Pinot Noir
Outer Sounds Sauvignon Blanc
Lost Poet Red Blend
Summer Water Rose
Keep it Chill Gamay
Field Theory Albarino
Chop Shop Cabernet Sauvignon
Cherries & Rainbows French Wine
Pacificana Chardonnay
Far + Wide Touriga
Also included was information about the Wonderful Wine Co., which is one of Winc's brands of wine.
The booklet wraps up with a few testimonials and a couple blank pages at the end to take some notes.
Packing Material
One thing I always look closely at is how well the wines are protected.
Winc did a good job using sturdy packing material to keep the wine bottles protected.  Including both side to side, and on the top and bottom of the bottles.
The Wines
And, most importantly the four wines themselves.
Each bottle was in good shape, with no damage or scuffing.
All in all, a good unboxing experience.
Reviews of Each Wine
While a wine club offers great convenience and unique wines you can't find anywhere else, it really comes down to how good the wines are.
I'm happy to report that each of the wines I received were very good.
Some even surprised me, as you'll see below.
Here's my review of each of the wines.
Chop Shop Cabernet Sauvignon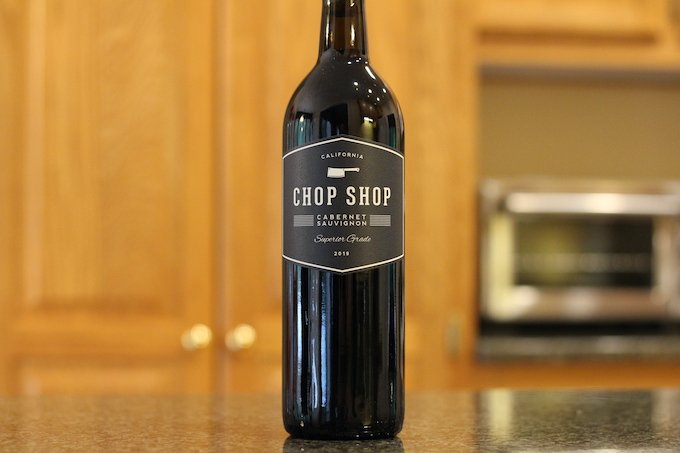 I've tried many Cabs over the years and was quite surprised by one aspect of this wine.
And that was its aroma.
On the nose, I picked up significant notes of black pepper powder and tomato leaf.  Very unique!
Some of the pepper carried through to the flavor, however the taste was the typical red and black fruit notes you find in a Cabernet Sauvignon.
Aside from that, the finish was long and the tannins round.
Overall, a nice straight forward Cab that would pair well with any grilled red meats.
Summer Water Rose
Summer Water is one of Winc's most well-known wines.
In appearance, its color is a beautiful rose gold.
On the nose, it's quite aromatic with enjoyable notes of grapefruit and light strawberry.
On the palate, it's light bodied, crisp and clean, with flavors of non-sweet grapefruit and orange zest.
There may even be a bit of watermelon in there, too.
Long finishing with a pleasant aftertaste, Summer Water makes for a nice chilled poolside sipper.
Pacificana Zinfandel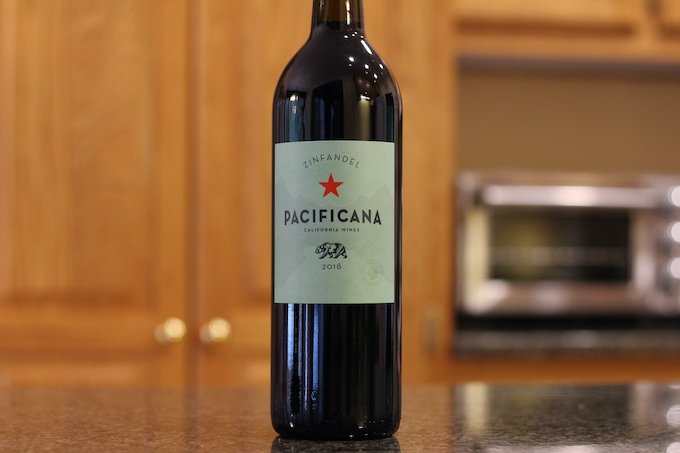 Dark in color with slow falling legs, Pacificana Zinfandel has a pleasant aroma of black currant and figs.
Medium in body, this wine greets you with flavors of blackberry, fig and baking spices.
Long finishing and tasty, this mildly complex Zin would be a nice accompaniment to BBQ'd ribs.
One last mention, as this wine had a chance to breathe, it got even better.
The fruit forward flavors really came into their own!
I wasn't expecting that and was pleasantly surprised.
Rosa Obscura Red Blend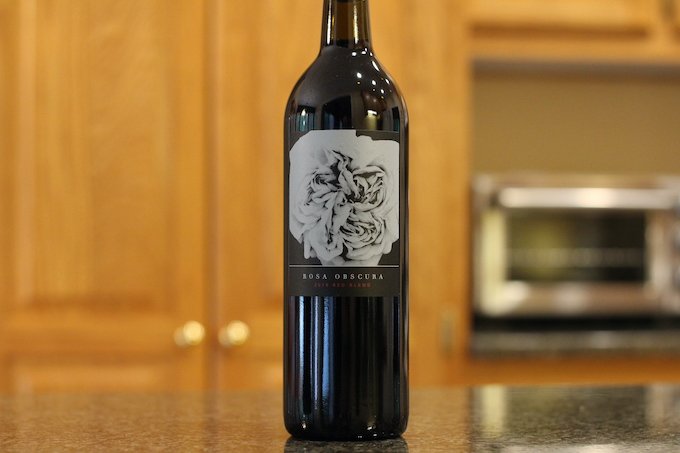 And last but not least, Rosa Obscura Red Blend from California.
Very dark in color, this Cab and Zin blend also has a bit of Merlot in the mix, giving it just a bit of sweetness.
With this wine, your nose is treated to rich baking spices and your palate is treated to flavors of black cherry, currant and vanilla.
A lush and bold, long finishing wine that would pair nicely with black Angus burgers or a lamb stew.
It was yummy!
After My First Delivery
Update:  I bought more wine from Winc!
After first publishing this review, I purchased more wine from Winc and thought I'd share a few short personal reviews of five of the wines I've received.
I made a point to purchase a few uncommon varietals to see what they'd be like.
The picture above shows the wines I bought and are the ones I'm talking about below.
Here they are…
Field Theory Albarino
According to the bottle, this wine was whole-cluster pressed, aged in stainless steel and made with fruit that was hand picked at night.
Tasting this wine revealed a taste of buttery light pear that was reflected in its equally light pear aroma.
I found this Albarino varietal to be light and enjoyable, much like a nice Pinot Grigio.
A perfect picnic wine from the Terra Alta Vineyard in Lodi, California!
The Wonderful Wine Co Malvasia Bianca
Golden bronze in color and very aromatic, this wine produced wafts of muted ginger and honeysuckle.
It was also very leggy in the glass.
Oh and by the way, it's an orange wine, that is (according to Winc) "Made from white grapes but with skin contact during fermentation."
Very light in flavor, the taste continued the muted ginger theme from the aroma along with a bit of wet stone minerality and citrus.
This was my first time trying the Malvasia varietal and I found it to be dry, yet also refreshing.
A nice white wine sipper, but could easily be paired with a salad of Mandarin orange slices over fresh greens.
Probably best served chilled, as well.
If a Tree Falls Syrah
This wine comes from the Columbia Valley of Washington, USA.
In the glass, it's leggy and very dark burgundy in color.
On the nose, you get a bit of baking spices and black fruits.
And on the palate, you get flavors of warmed blueberry and blackberry.
It kind of reminded me of blueberry pie without the sweetness.
Overall, tasty and long-finishing with soft tannins that don't over-dominate.
Go ahead and pair this one with grilled meats and simmering stews.
The Bluffer Valdiguie
Having tasted this varietal several years back, I was curious to see if this one had that light-bodied, berry flavor I so enjoyed.
So, I went and found one of my old world Pinot Noir glasses that Riedel recommends for this wine and gave this Paso Robles, Gamay-like varietal a pour.
In the glass, it was the dark purple I remembered, with slow falling legs.
On the nose, I was greeted with a candy and berry aroma that was light and lovely, along with some herbals.
There was also also just a bit of sting of alcohol.  But it was certainly, not off-putting in any way.
The wine's taste was as I remembered it.
Notes of light and bright strawberry and cranberry fruits that weren't overly jammy.
Light and luscious!
The wine finished medium to long with a nice balance between the flavors and the restrained tannins.
Overall, a great tasting wine that would pair well with pizza or could be served on its own as a sipper.
I need to drink more of this varietal!
If you're shopping for a Winc wine your friends and family will love, be sure to include this one in your next delivery.
Folly of the Beast Pinot Noir
This Central Coast, California, 100% Pinot pours light ruby in the glass with thick, quick falling legs.
It has aromas of candied strawberry, violet and fertile earth.
Taste wise, it's light in body with flavors of subtle red fruits and cedar.
I found it to be long finishing for such a light bodied wine with round and balanced tannins.
Overall, a silky and tasy Pinot Noir that's an easy sipper on its own or served with a cheese plate.
Rating Your Wines
Getting back to my review of Winc itself, after you taste your wines, you'll want to go into your Account Dashboard and rate them.
There's a 1-5 star rating system and you can add a note about each wine as well.
As Winc states:
Rate your wines to help us better understand your palette. The more you rate, the better your recommendations.
Here's what that looks like inside your Account Dashboard:
Winc Gift Cards
Winc allows you to purchase Gift Cards to give the gift of wine to someone.
This is what the screen looks like inside your Account Dashboard:
To purchase a Gift Card for someone, Winc suggests amounts of either $60, $100 or $150 depending on the number of months of the subscription.
Though not shown in my image above, there's also an option to choose your own amount.
Here's how the Gift Cards work:
There's a $60 minimum.
You can write a personalized gift note (digitally).
You have to create an account (if you don't already have one) in order to receive the email confirmation.
You can use credits from your own account to purchase a Gift Card ($1 = 1 credit).
Gift Cards are non-refundable once purchased.
The recipient will go through the Flavor Profile quiz when they redeem their gift.
All in all, pretty straightforward.
My Overall Opinion of Winc Wines
Having gone through the order process, the unboxing and tasting each wine, I'm comfortable recommending this wine club to my readers.
Especially if you prefer value-oriented wines.
I think what really sets Winc apart from other wine clubs is their modern approach to ordering wine online:
They make their own wine, which is really rare for a wine club.
They've figured out how to incorporate their customer first wine selection algorithm into their business model.
The wines are a great value that are tasty and reasonably priced.
If I were to write a short overall review for Winc, here's what it would be:
A fabulous customer first wine club – Excellent value, tasty wines and a modern approach!

– Jon Rogers, Honest Wine Reviews
Well done Winc!
2023 Update
In case you jumped to the end, I mentioned above that Winc declared bankruptcy on November 30, 2022.
As an alternative to Winc, take a look at my review of Wine Access.
They offer several different options for wine clubs, giving you the most choice when making your wine club decision.