This review is a little different.  Instead of reviewing a wine, this review is of The Wine Bible.
The Wine Bible is a book written by Karen MacNeil.
Many years ago when I first started becoming interested in wine, I bought this book.
It is considered the Go-To book for all things wine related.  It's also the most popular and best known book about wine.
The Wine Bible has something for everyone and appeals to beginning and experienced wine drinkers alike.
Inside the book you'll find information about:
How wine is made and where it comes from.
How to taste wine.
Country specific wine information (France, Italy, Spain, USA and more).
A glossary of many different wine terms.
Wine Bible Review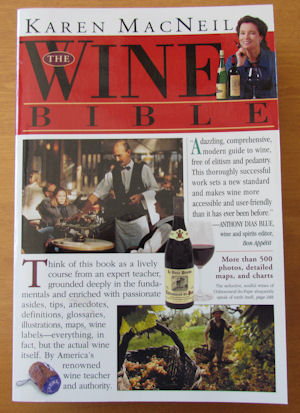 What I like most about this book is that it is incredibly thorough.
For example, one day I was contacted by a public relations company to find out if I'd be interested in reviewing some wines from Greece.
At that time I knew very little about Greek wine.  The wines that I were to review were coming from Santorini and one was an Assyrtiko.
So, I trotted out my Wine Bible and lo and behold there was a whole chapter on Greek wines.  I learned that Assyrtiko is a grape that is native to Santorini and makes a crisp dry wine.
My interest was piqued and I gave the go-ahead to have the wines sent.  You can check out one of those reviews here.
Learning About The Wines You Try
One of the things I enjoy about tasting wines is learning about their "terroir."  Terroir is the net effect that the climate, soil and geography has on the grape plants and growing process.  The terroir is specific to the location of where the grapes are grown and can give a wine a unique taste.
It can be a reason why a Cabernet Sauvignon from one location in the same state or region tastes completely from another location.  (there certainly could be others as well)
The Wine Bible is a great resource for learning about terroir.  For example, the soil on Santorini is the result of ancient volcanic eruptions.  I learned that from the book.
Conclusion
I highly recommend pairing this book with wine!  (Did you see what I did there?  Kind of a food and wine pairing pun… :-) )
Seriously, if you're interested in going a little deeper into the background of the wines you're tasting, get yourself a copy of this book.  You'll definitely learn a lot!