7 Deadly Zins is an old vine Zinfandel from the Michael David Winery in the Lodi region of California.  For this review, we had one man (myself) and two women.  Each had varying opinions.
According to the Michael David Winery website, the winery is a family business and the family has been in the region since the 1850's.  Additionally, the winery has adopted sustainable farming practices and has been certified as such.
7 Deadly Zins is a blend of old vine Zinfandel and Petite Sirah grapes from seven different vineyards.  Alcohol content of 7 Deadly Zins is 15.0% by volume.  The name comes from Michael and David's Catholic school upbringing.
7 Deadly Zins Review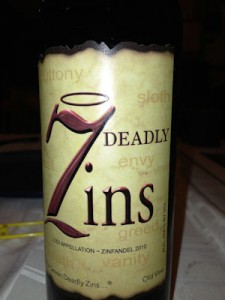 The wine has a burgundy to purple color that makes it similar to ruby.  In the glass, the 2010 7 Deadly Zins has many quick moving legs.  Some light does shine through this wine, but in general, it is fairly dark.
On the nose there is a noticeable aroma of alcohol.  We found the wine to be very aromatic.  The aroma had subtleties that included sweet forest floor and raspberry, which agreed with the wine's tasting notes.
For the wine's taste we had differing opinions.  I immediately noticed enjoyable fruits.  One of the ladies said the initial taste was metallic, but then followed with earthy berries.  Two of us found the wine to be smooth.  While another noted it to be somewhat dry at the tip of the tongue.
The 7 Deadly Zins tannins were noted as round and all over the mouth.  Mouthfeel was described as silky or creamy.
When it came to the finish, we all agreed this wine has a long finish that goes on and on.  Also, the inital alcohol aroma was very muted at the end.
Overall, we all gave this wine a collective thumbs up.  One of the tasters was not normally a red wine drinker, however she said "For a non-red drinker I like it!"  Other highlights included the smoothness and the full bodied flavor.  Recommend!
7 Deadly Zins price about $18.99.