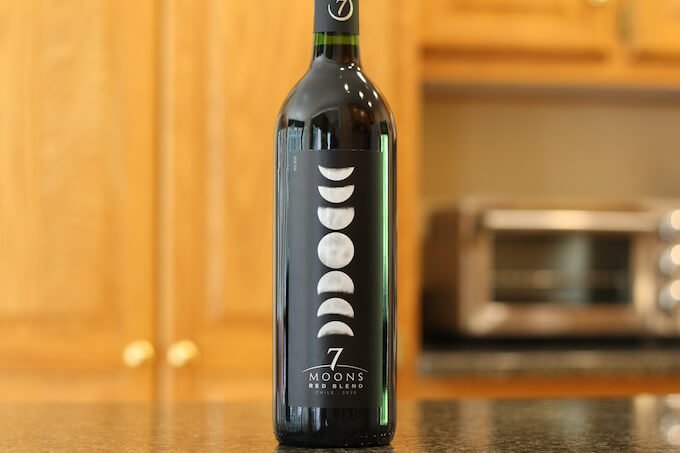 7 Moons Red Blend is imported and bottled by 7 Moons Wine Co. in Acampo, California, USA.
Most of the literature I've seen on this wine states that it comes from California. However, as shown on the front bottle label, this wine is actually a product of Chile.
The blend is said to be a combination of seven different varietals, which is where the "7" in the 7 Moons name comes from.
The seven varietals for 7 Moons Red Blend are:
Syrah
Merlot
Petite Sirah
Zinfandel
Cabernet
Malbec
Grenache
Given those varietals in the blend, my expectation for this wine was that it would be on the sweet side for a red wine.
7 Moons Red Blend Wine Review
From the bottle:
7 Moons Red Blend celebrates the phases of the moon with 7 enticing flavors that reveal a smooth, fruity, easy to drink wine. Uncork a bottle, pour a glass and find a connection in the moonlight.

7 Moons Red Blend bottle label
I tasted the 2020 vintage of 7 Moons Red Blend from Chile and shared it with my brother, who also contributed to this review and cooked the food pairing mentioned below. Thanks bro!
Appearance
In the glass, this wine pours very dark in color.
We described the color to be darker than ruby, perhaps similar to the skin of a well-ripened red plum.
We also noted the wine to be quite leggy, however the legs are a bit slow to form.
Aroma
As soon as I poured a glass of this wine, I could tell that it was very aromatic. Even from a foot away from my glass I could smell the aroma.
As for the aroma itself, it came across as non-complex, with a straight note of cherry.
Also, I noted very little alcohol sting in the nose, which I appreciated.
7 Moons Red Blend alcohol content 13.0% by volume, per the bottle.
Taste
On the palate, we were treated with jammy dark fruits, fig, cola and apricot to start.
I called that its "initial sweetness."
Shortly after (and with a bit of air) we noted lingering raspberry and tart cherry, with a bit less of the initial sweetness on the palate.
Overall, we both enjoyed this wine's complex taste.
Mouthfeel and Tannins
We determined the wine had a very silky mouthfeel with "barely-there" fine tannins.
Finish
The wine's finish was long-lasting and dominated by the raspberry and cherry flavors.
Overall Opinion of 7 Moons Red Blend
Overall, we both enjoyed this wine quite a bit and called it "smooth and drinkable."
I was pleasantly surprised that, although the wine's aroma was non-complex, it's taste was.
7 Moons Red Blend price $11.99.
Suggested Food Pairing
While this wine is easily a smooth sipper on its own, we paired this with Beef Burgundy and found it to be a pleasant pairing.
I also noticed that the initial sweetness on the palate had more staying power when paired with the dish.
7 Moons Red Blend FAQ:
Is 7 Moons Red Blend sweet?
This wine is a bit sweet to start on the palate, but quickly transitions to a more fruity flavor.
What kind of wine is 7 Moons Red Blend?
This wine is a blend of seven red wine varietals: Syrah, Merlot, Petite Sirah, Zinfandel, Cabernet, Malbec and Grenache.
Is 7 Moons Red Blend dry?
This wine is semi-dry but not nearly as dry as other reds, such as a Chianti, might be.
What does 7 Moons Red Blend taste like?
This wine tastes like a smooth red wine with notes of dark fruits, fig and apricot to start. But then finishes with notes of raspberry and tart cherry.