From Mendoza, Argentina this review is of Alamos Malbec 2013.  What's interesting about Alamos Wines is that they source their grapes from vineyards grown in the Andes Mountains.
The mountain vineyards are at elevations from 3000 to 5000 feet.
As a result of this, the grapes are exposed to cooler nights and more intense sunlight.  The intense sunlight is said to enhance the aroma of their Malbec and also enable the grapes to grow thicker skins.  All resulting in a Malbec that is intense and rich.
According to the Alamos Malbec fact sheet, this wine is actually a blend of three different varietals.  The blend is 90% Malbec, 6% Syrah and 4% Bonarda.
Alamos Malbec alcohol content is 13.6% per the bottle.
Price paid was $10.99.
Alamos Malbec Tasting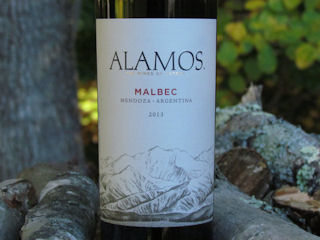 In the glass, this wine is very dark plum in color.  It's quite leggy with quick falling tears on the sides of the glass.
The wine's aroma reminded me of caramel candy apple.  It's very aromatic and noticeable from afar.
When swirled in the glass the darker notes were temporarily subdued, with a hint of spice being noticed.  Once settled, the darker aromas returned.  Very little alcohol was noted in the aroma.  Very complex and enjoyable!
Alamos Malbec gave forth flavors of muted blackberry.  Upfront it's a smooth wine, with some dryness on the back end.  I also noticed just little bit of pepper in the taste.
The wine's tannins were bright and most noticeable on the tongue and the back of the mouth.  As the wine had a chance to breath, the tannins became less bright and more balanced.  Certainly not a silky mouthfeel, due to the dryness.  But not wool like either.
Finish of the Alamos Malbec was long and lingering.
Overall, I found this to be a very enjoyable wine.  Flavor, tannins and finish are all very well balanced.  Great as a fireside sipper and it would go nicely with roasted or grilled meats.  I found myself taking a long sniff of the deep and dark aroma each time I took a taste of the wine.
Recommend!