This wine, the 2010 Antinori Santa Cristina Toscana, comes from the town of Cortona, Italy, high on a hill in Tuscany.
The Santa Cristina winery came into existence in 1996 following the tradition of Santa Cristina wines dating back to 1946.
According to the winemaker, 2010 was an off-normal year weather wise and resulted in late bud break and flowering.
However as the season progressed, things normalized and ripening occurred on schedule.  Harvest was completed by mid-October of that year.
The Antinori Santa Cristina Toscana is a blend of 60% Sangiovese and 40% Cabernet, Merlot and Syrah.  Alcohol content is 13% by volume.
Antinori Santa Cristina Toscana Review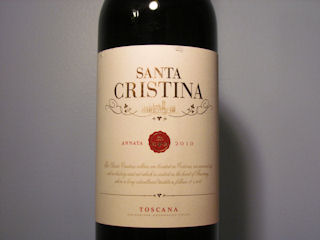 For this review, there were three of us.  Two men and one woman.  Great to have two good critical wine drinkers who have assisted in the past.
In the glass, the wine appeared dark ruby and leggy.  The legs suspended at first, taking awhile to start their descent down the glass.
We especially noticed aromas of earth and tobacco.  Further sniffs revealed black cherry and perhaps a hint of Violet Mints.
Our sips of the Antinori Santa Cristina Toscana revealed a somewhat young wine, with some fruit, that maybe still had a bit of cellaring left to go before drinking.  There were differing opinions of whether or not this wine would be called dry or not.   Mouthfeel was velvety, in our opinion.
Supple tannins were noted with a bit of bitterness in the finish.  We classified the finish as short to medium.
Overall, we all felt this was a decent wine that's drinkable on its own.  Paired with brie, we found it to be even better.  This wine could also be paired with pasta with a red sauce or a pizza, also with a red sauce.  Antinori Santa Cristina Toscana is a good value and a good choice for an everyday wine.  However, let it sit in your wine rack or cellar for a year.  Not much more than that, however.
Antinori Santa Cristina Toscana price about $13.99.