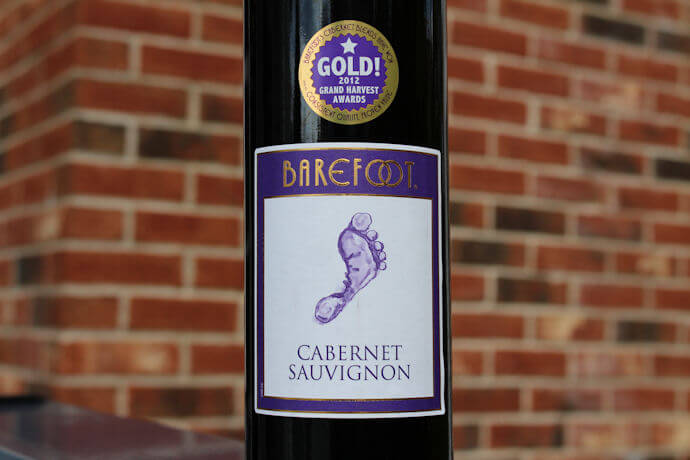 In this review of Barefoot Cabernet Sauvignon we're going to cover the price, alcohol content, aroma, taste and more of this wine.
Barefoot Cabernet Sauvignon comes from Barefoot Cellars in Modesto, California, USA.   Although the wine is imported and bottled there, this wine is actually a product of Argentina according to the label on the back of the bottle.
Barefoot Cellars, which is part of the E&J Gallo Winery, got its start in 1965 by winemaker Davis Bynum.  He created a Burgundy in his garage and it was given the name Barefoot Bynum Burgundy.
Fast forward to today and the head winemaker is Jen Wall, who has been at Barefoot since 1995.
Barefoot Cabernet Sauvignon Tasting
For this review I teamed up once again with my good friend Big Al.  We settled in to taste the 2012 vintage of this wine on its own and then paired with a simple cheddar.
As you'll see below, we agreed and disagreed on a few things about this wine.  But put together, I think you'll get a comprehensive review.
Appearance
In appearance, Barefoot Cabernet Sauvignon is opaque red in color.
When it was poured, we noticed just a little bit of effervescence around the outer edge of the wine in the glass.  That quickly dissipated and no effect was noticed on the wine.
Much more noticeable were the wine's legs which were quick to form and thick.  They were perfectly spaced and we noted a quarter inch between each leg in our fairly large wine glasses.
Aroma
Barefoot Cabernet is moderately aromatic.
I noticed whiffs of earth and black cherry.  Al described the earthy notes as "mossy oak."  He didn't agree with me on the black cherry aroma.  To him, it was more about the red fruits, describing it as primarily currant.
We both agreed that very little alcohol was noted in the aroma.  There was a little sting, but it wasn't overpowering.
Barefoot Cabernet Sauvignon alcohol content 13.5% by volume, per the bottle.
Taste
I think Al best described the taste experience of this wine in one sentence.  He said it was a "three part experience that started buttery, then moved to currant and finished oaky."
Additionally I noticed flavors of ripe raspberry and much less of the oak.
When we were tasting this wine, I wrote down the word "buttery" about one second before Al said it.  That really spoke to predominance of the "butteryness" of this wine, which I found to be a little unusual for a Cabernet.  But, it worked for this wine.
Mouthfeel and Tannins
I described the mouthfeel as velvety, whereas Al described it as linen.
We both agreed that the tannins were subtle and most noticeable on the sides of the tongue and back of the roof of the mouth.
Finish
We noted an 8 to 10 second finish that we characterized as long.  It was definitely carried by the wine's flavors along with a bit of oak.
Overall Opinion
Overall, Al said he was "Satisfied by the overall experience.  Great for sipping in front of a fire.  Middle of the road kind of wine."
I called it an enjoyable light sipper that was medium-light in body for a Cabernet Sauvignon.  My highlight was that I enjoyed the balance between the aroma, the flavor and the finish.
We both agreed this is a straightforward, non-complex wine that will probably be enjoyed by many.  If you're looking for a highly crafted and complex Cabernet Sauvignon, look elsewhere.
But, overall this wine would be great to serve at gatherings with friends due to its approachability.  Especially if you like a fruity, jammy kind of Cabernet.
Barefoot Cabernet Sauvignon price $5.99 for the 750ml bottle and $10.99 for the 1.5L, making it a very inexpensive wine to have on hand.
With Cheddar Pairing
After the above tasting, we paired Barefoot Cabernet Sauvignon with a simple cheddar cheese.
I found that the cheese allowed the dark fruits (think non-rich black cherry) that were previously not noticed to come through.
Al thought it muted the tannins, but resulted in no noticeable changes in the wine's flavor profile.
If you've had this wine before, what was your experience?  Please leave a reply below.