Bartenura Moscato is a product of Italy and is a lightly effervescent Moscato.
On the back of the bottle it actually says Moscato D'Asti, however grapes for Bartenura Moscato are sourced from all over Italy, per Bartenura.
Bartenura Moscato Wine Review
One of the first things you'll notice about Bartenura Moscato is its beautiful blue bottle!
They call it "Out of the Blue" and their "iconic bottle."
From the Back of the Bottle:
The production of Bartenura Moscato has been designed to yield a wine that preserves the wonderful rich aromas of the Moscato grape…  Best served chilled.
For this review, I tasted the 2018 vintage of Bartenura Moscato.
Appearance
Not realizing how effervescent this Moscato was going to be, I experienced quite the "pop" when I pulled out the cork.  More than I was expecting and it caught me by surprise.
So be prepared for that!  The cork won't fly like opening a bottle of Champagne, but it will leave the bottle with a bit of force when using a corkscrew.
In the glass, this wine pours quite bubbly and is very pale straw in color.
There was an interesting fizzy head on the top of the liquid upon pouring and the bubbles stay active for quite some time.
A tip and spin leaves more bubbles than legs.
Aroma
The wine's aroma is crisp, with slightly sweet and subtle melon notes.
You might be led to think the wine is going to taste more crisp than sweet, but as you'll see below that wasn't the case.
There was absolutely no sting of alcohol.  Though not surprising given the extremely low alcohol content of this wine.
Bartenura Moscato alcohol content 5.0% per the bottle.
Taste
I found the wine to be very tasty and actually thirst-quenching.
It's very much on the sweeter side with flavors of pear and sweet agave.
The taste immediately after a fresh pour is less sweet, with more of a crisp melon flavor making its way through.
However, with just a little time and air, the wine sweetens up quickly.
Finish
I noted a long and lingering finish that was sweet and noticeable all over the palate.
Dominating the finish was the flavor of pear, which I found enjoyable.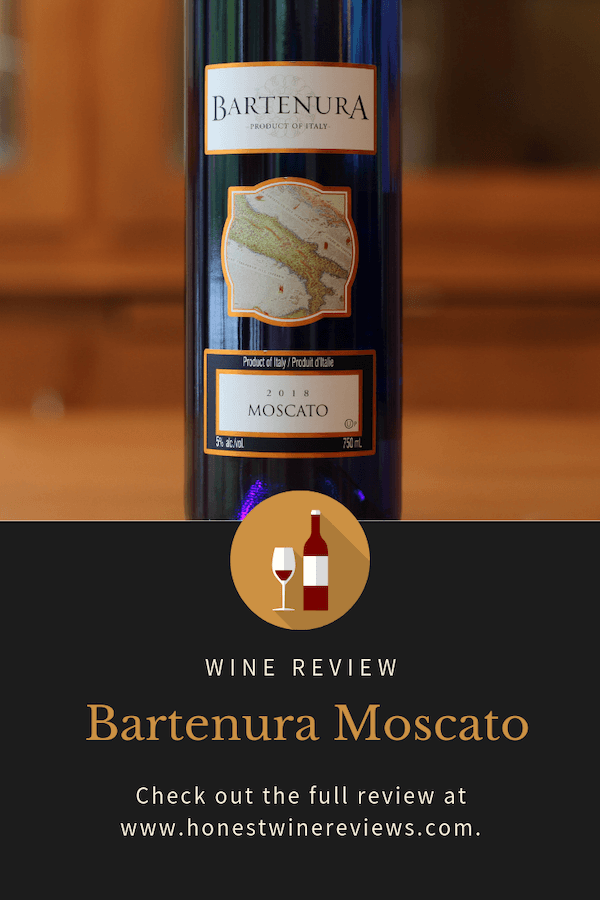 Overall Opinion
Overall, I enjoyed Bartenura Moscato quite a bit.
You do need to know what you're in for with this wine, though.
It's quite effervescent and also quite sweet.
I would definitely suggest finishing the bottle after opening and not letting it sit overnight.  Doing so will cause it to lose its effervescence and fresh pear flavor.
Bartenura suggests chilling this wine.  I tasted it at about 63 degrees F. and I think it would have been more crisp and a bit more enjoyable if it was much colder.
So, I agree with them.  Definitely served this wine chilled.
Bartenura Moscato price $12.99.
Suggested Food Pairing
According to Bartenura, this wine is "Perfect with dessert or fresh fruit, or sipping poolside."
Agreed…  Especially on sipping poolside!  This wine stands just fine on its own as a bubbly sweet, warm weather sipper.