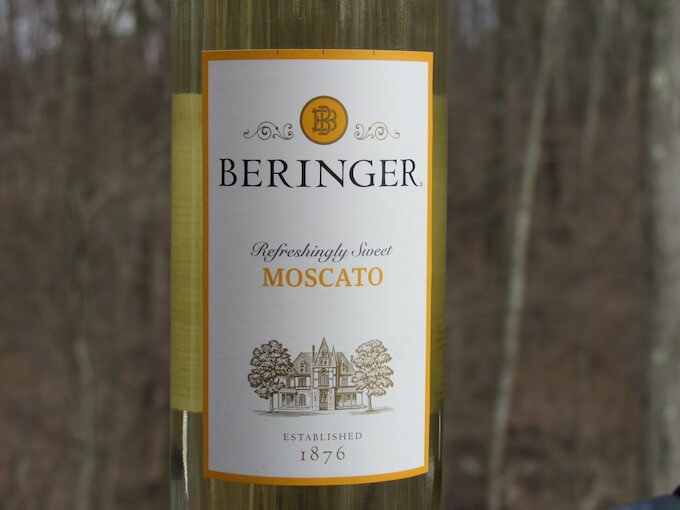 Beringer Moscato is imported as a product of Chile and bottled by Beringer in Napa, California, USA.
It's a white wine that is usually served chilled. And since Moscato is typically a sweet wine it is often served with dessert.
For this review, we had two guys and one gal.
We each found consistency in our experiences with this wine.
This site is reader supported. When you buy through links on our site, we may earn an affiliate commission at no additional cost to you.
Beringer Moscato Wine Review
From the bottle:
Since 1876, Beringer has crafted award winning wines in Napa Valley and this Moscato is no exception. Crisp and refreshing… this wine is well suited on its own or as the perfect complement to a meal.
Appearance
We described the appearance of the wine as being clear to white golden in color. Another similar description was that is appeared slightly brassy in color.
We also noticed a slight stack of bubbles in the glass.
Though to be clear, this wine is not bubbly like a sparkling wine or champagne.
Aroma
The aroma was crisp and light on the nose.
Some acidic fruit was noticed and we compared that to pineapple.
Beringer Moscato alcohol content 11.5% by volume, per the bottle.
Taste
The note of pineapple was confirmed in the wine's taste.
Certainly not overwhelming, but definitely noticeable.
Finish
We all agreed the wine's finish was pretty short, though that certainly didn't stop us from enjoying it.
Overall Opinion of Beringer Moscato
Overall, we all felt this was a good Moscato wine that provided an enjoyable experience.
One person, a guy, said he "loved it" and he normally doesn't enjoy a sweeter wine.
Another, the gal, noted that the flavor was most noticeable on the initial sip and not as much as the wine finished.
The third, myself, agreed with the bottle description that this is a refreshingly sweet wine and also thought it would make a nice outdoor summer sipper.
Beringer Moscato price about $6.00.
FAQ:
Is Beringer wine good?
While people's opinions of what wines are good are subjective, Beringer has a wide range of wines that will appeal to many different people.
Is Moscato a good wine?
Those who enjoy a wine that's on the sweeter side will likely find Moscato to be a good wine for their tastes.
Is Beringer Moscato sweet?
Yes, this wine is fairly sweet and is often served as a dessert wine. It's usually best chilled.