Blackstone Merlot is a red wine that's crafted, bottled and cellared by the Blackstone Winery in Acampo, California, USA.
The grapes for Blackstone Merlot are sourced from multiple vineyards in California.
They select their grapes based on how they will contribute to the wine's complexity, while still retaining consistency from year to year.
Blackstone Merlot Wine Review
From the Bottle Label:
At Blackstone, we know that what matters to you is taste.  If a wine tastes good, then it's a good wine.  So, we've artfully crafted this Merlot in our signature style; consistent, smooth, balanced and perfect for any occasion from dinner parties to everyday enjoyment.
Varietal Blend:
According to the wine's tasting notes, the wine is made up of the following varietals:
Merlot – 79%
Syrah – 14%
Petite Sirah – 4%
Cabernet Sauvignon – 2%
Malbec – 1%
Additionally, Blackstone Merlot is aged for 11 months in American and French oak.
I tasted the 2017 vintage of this wine.
Appearance
In the glass, Blackstone Merlot pours a nice medium plum color with a garnet outer rim of color against the glass.
While certainly a dark wine, typical of Merlot, this wine does let just a bit of light through the liquid.
Legs are slow to form.  However, they are numerous and take their time to fall down the sides of the glass.
Aroma
When I first poured the wine into my glass, the wine's aroma was noticeable but not overpowering.
You do have to get up close to really take in the wine's nose.
Doing so reveals notes of allspice, a little tobacco and muted mixed berry jelly.  I think the spice was most dominant, followed by the berries.  Though truthfully, nothing stood out.
I noted very little sting of alcohol in the nose.  Maybe just a bit, but I could have been confusing that with the spice.
As the wine aired a bit, I also found some vanilla notes in there.
Blackstone Merlot alcohol content 13.5% by volume per the bottle.
Taste
Upon tasting the wine, I first noted tasty red fruits (raspberry mostly) followed by a little butter.
I didn't really pick up any spice carrying over from the nose.
I will say I enjoyed the flavors.
Nothing overly complex, but certainly palate pleasing with a bit of vanilla oak thrown in there too, once the wine had a chance to breathe.
Mouthfeel and Tannins
I compared the mouthfeel to linen, with some expected dryness from the tannins.
The tannins themselves were fairly well-restrained though they did seem to collect in the nooks and crannies of my mouth.
Most people would call this a dry wine, I believe.
Finish
Predictably, Blackstone Merlot's finish was long lasting.
I felt there was a nice balance between the flavor and the tannins, holding through to the end.
Overall Opinion
Overall, I found this wine to be enjoyable, though non-complex.
Definitely a solid sipper on its own and easily paired with foods.
A safe bet, so to speak.
And, given the wine's low price, a no brainer for stocking a dinner party or special occasion without breaking the bank.
Blackstone Merlot price $9.99.  I bought this at a small local wine shop.  You can likely find it for $7.99 at a bigger store.
Now, I was curious to see how consistent this wine was from previous years, as I've had it in the past.
So, I dug out my tasting notes and took a look…
What I found was that my notes indicated an almost perfect resemblance to the review you're reading now.  I didn't look at my notes first, before doing this tasting and review.
Some previous quotes included "Blackstone Merlot would be a good multi-bottle wine to have on hand for a big family lasagna dinner" and "Raspberry flavors, not surprisingly, were evident…  There was also a very slight hint of vanilla."
It's all about the consistency and value with this wine, folks!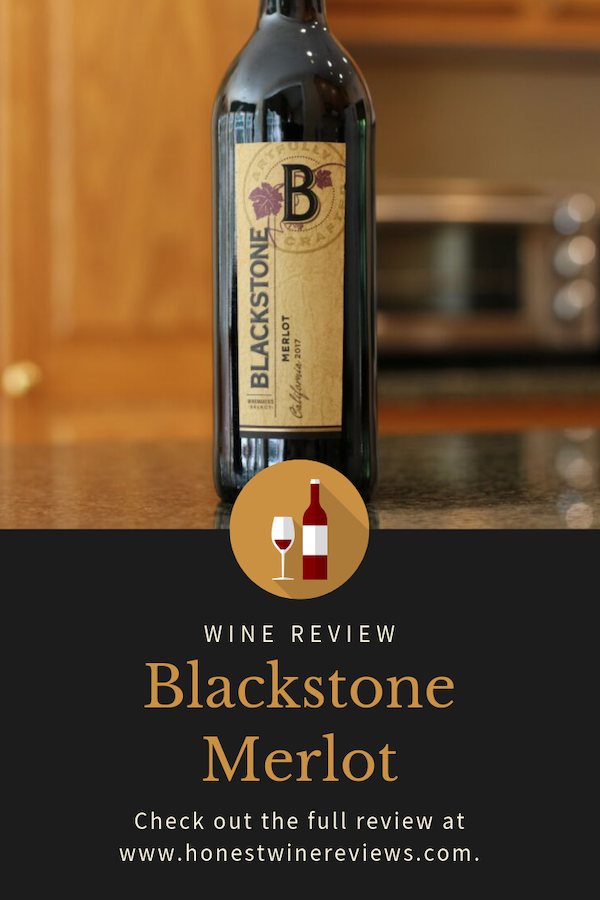 Suggested Food Pairing
Blackstone suggests three different pairing options for Blackstone Merlot:
Hearty Lasagna
Grilled Steak
Baked Salmon
Each sound like a great pairing to me!