From the southern hill area of Montalcino, Italy, this particular Castello Banfi wine is aged for two years in mainly French oak barrels.  It's then aged two years in the bottle.
The Brunello di Montalcino is 100% Sangiovese with select clones.  The alcohol content is 14.5% by vol.
Per their website, Castello Banfi is a family owned vineyard estate and winery in the Brunello region of Tuscany.  Recognized the world over for their dedication to excellence and sparking a renaissance in the art of Italian winemaking.
Castello Banfi was established by the Mariani family in 1978.
Castello Banfi Brunello di Montalcino Review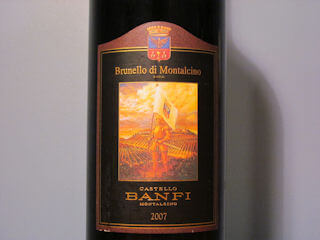 For this review I tasted the 2007 vintage of this wine.
The cork was in tight and came out in great shape.  In the glass, the wine poured thick and leggy.  It's appearance was ruby in color with a hint of penny around the edges.
I had the pleasure of sharing this bottle with a good friend and previous tasting assistant (see Ruffino Orvieto Classico 2010).  We found the aroma to be earthy with a bit of a mossy overtone.  Also, an ever slight note of cherry with a light whiff of alcohol.  We both found the nose to be more complex farther away from the glass than up close.
On the palate there was an initial metallic flavor followed by classic Sangiovese.  After 15 minutes the wine opened up and we both noticed a black cherry flavor starting to emerge.
The Castello Banfi Brunello's body was lighter than we anticipated, thought certainly not in a bad way.  The tannins took a while to materialize but were chunky and especially noticed on the front of the tongue.
The wine finished smooth and persistent with no bite like you might find, say in a Chianti.
Overall, we both loved the complexity of the Castello Banfi Brunello di Montalcino.  All the sensual elements supported the unadulterated Sangiovese.  Though very drinkable now, don't hesitate to cellar this wine.  At $69.99, it's pricey but this wine will cellar well and maturity will only further enhance its great qualities.
Recommend!  Pair with a hearty red meat or a finely aged cheese.  Give it at least 15-20 minutes to open up.