Chateau Ste Michelle Riesling comes from the Columbia Valley in Washington State, USA.
While it is 100% Riesling, this wine comes from a blend of grapes from different vineyards in the Columbia Valley.  Chateau Ste Michelle combined grapes from both cooler and warmer climate vineyards to produce this wine.
By blending, they are able to produce a Riesling with a balanced profile of dry versus sweet and also bring in good acidity that rounds out this wine's personality.
Chateau Ste Michelle Riesling Review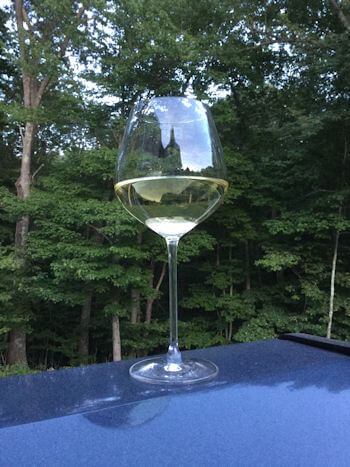 For this review I tasted the 2013 vintage of this wine.
According to the tasting notes, the 2013 growing season was long, warm and featured a record early bud break.  The harvesting for Chateau Ste Michelle Riesling took place in September and October.
Tasting a Riesling is always a treat because you never know if you're going to be drinking a white wine that's on the sweet side or on the dry side.
To find out, I parked myself on my back deck on a perfect late spring evening, took a quick picture, and began "the analysis."
Appearance
In the glass, this wine is pale gold in color.  Though not effervescent at all, several small bubbles did form on the bottom of the glass.
When I gave the wine a swirl, I noticed that it really coated up the glass.
Following that, many legs slowly formed.  They then dripped very slowly down the sides of the glass.
Aroma
When I first opened this wine, I noticed an immediate light burst of pear.
I wouldn't say this wine is very aromatic, but I did notice notes of floral and more pear.  I also noticed a light sting of alcohol.
Chateau Ste Michelle Riesling alcohol content 11.5% by volume, per the bottle.
I kept coming back to the word "clean" to describe this wine's aroma.
Taste
Upon first sip, I immediately observed that this is definitely not a sweet Riesling.  As I tend to shy away from sweet tasting wines, I was glad this was the case.
Nor was it very dry.
I also noticed that the "cleanliness" of the aroma carried through to clean flavors in the taste as well.
Noted were light and quenching flavors of pear, apricot and mandarin.
Tannins were light, but certainly detectable.
Finish
The wine's finish was medium to long.
What I found most interesting about the finish was that the residual sugars showed up and balanced out just a tiny bit of bitterness that also came through.
The sweetness was very light and could be compared to Meyer lemon or maybe a sweet lime.
Overall Opinion
Overall, I really enjoyed Chateau Ste Michelle Riesling.
I loved the way this wine provided a tasting experience that was clean and delicately balanced, while also being complex on different levels.
The wine also has a thirst quenching quality to it.  So, be careful!
Chateau Ste Michelle Riesling price $9.99 and definitely worth it.
They suggest pairing this wine with fresh fruit, crab, mild cheeses and chicken.  I'll add that this wine would also go great with Thai food.
Recommend!