Cocobon Red Blend comes from Cocobon Vineyards in Livermore, California, USA.
The grapes for this wine were harvested during October and November of 2015 and the blended varietals are Petite Sirah, Merlot and Zinfandel.
Also, this wine has recently won a couple of awards.  The 2012 vintage was deemed a "Best Buy" from Wine Enthusiast and the 2015 vintage was awarded 92 points in the 2017 Ultimate Wine Challenge event.
Cocobon Red Blend Wine Review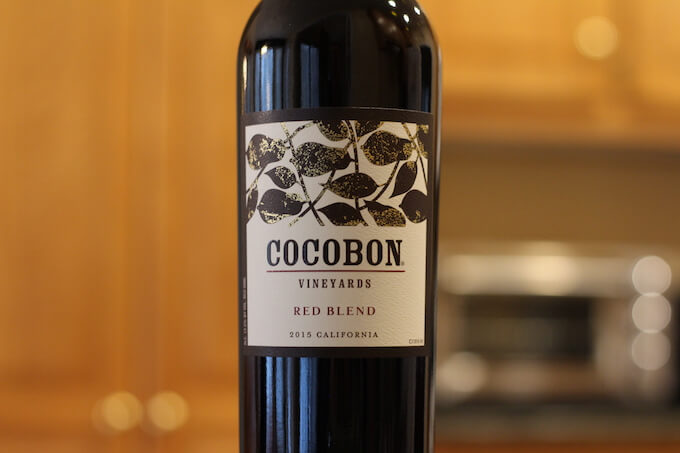 I tasted the 2015 vintage of Cocobon Vineyards Red Blend.
From the bottle:
We've sourced grapes from the finest California vineyards to handcraft a rich, silky red blend with a soft, luxurious finish.
Appearance
This wine pours dark purple in color and is not as dark as many blends are these days.
Light shines through, leaving red reflections on the table.
A tip and spin results in the wine coating the glass nicely and very slow falling legs to appear.
Aroma
I noted subtle whiffs of black raspberry upon opening the bottle and pouring the wine.
Up close the aromas changed to a balanced mix of vanilla and red fruits.
I didn't notice any significant whiff of alcohol, but I did notice a bit of clove or allspice once the wine had a chance to breathe.
Cocobon Red Blend alcohol content 13.5% by volume, per the bottle.  Yay!  Not overly alcoholic.
After just enjoying the aroma, my expectations were set for a fruit forward taste and soft elegance.
Taste
And I was right!
The flavor is a good mix of raspberry and blackberry that evolves into a note of vanilla.
I found the taste to be quite lovely and immediately said to myself "This is definitely a soft sipper."
Mouthfeel and Tannins
Cocobon's mouthfeel is quite silky with tannins that are very soft.  They take awhile to develop on your palate.
Once they do develop, they remain subtle and noticeable all over the palate.
Finish
Finish is long lasting and rich.  The vanilla note just sits on your tongue for awhile.
There's also a smooth evolution from the flavors to the tannins that I find impressive with this wine.
Overall Opinion
Given the price I paid (see below), this wine is fabulous!  While it's not overly complex, it is highly enjoyable and will be on my short list of wines to bring to social events and dinners.
Recommend!
Cocobon Red Blend price $7.99 making it a great Under $10 value wine.
Suggested Food Pairing
Cocobon suggests pairing this wine with roasted lamb and mint coulis.  Sounds perfect to me!