Concannon Petite Sirah comes from Concannon Vineyard in Livermore, California, USA.
Concannon Vineyard was started way back in 1883 by James Concannon, who immigrated to America over 130 years ago.
He recognized the Livermore Valley's similar terroir to France and chose to establish Concannon's vineyards in Livermore Valley versus Napa for that reason.
Concannon survived Prohibition and you can even find their Prohibition-dated bottles in the National Museum of American History.
In 1961, Concannon was the first to release Petite Sirah as a standalone varietal wine.  Previously, the varietal was used for blending only.
Concannon Petite Sirah
From John Concannon, Fourth Generation Vintner:
Since 1883, Concannon Vineyard has been a trailblazer in California wine and is proud to be "America's First Petite Sirah."  My father, Jim, recognized this luscious variety's potential and was the first to release Petite Sirah as a standalone varietal wine.
For this review, I tasted the 2016 vintage of Concannon Petite Sirah, Livermore Valley.
As a side note, this is the 3rd Petite Sirah in a row I've reviewed.  I've become a big fan of Petite Sirah lately!
If you're getting weary of all the red blends out there these days and want to focus on a single varietal that gives you the same boldness, give Petite Sirah a try.
OK, with that out of the way…  On to the review!
Appearance
In the glass, the wine was dark plum in color and very opaque.
In looking back at other Petite Sirahs I've reviewed, the color and consistency is similar to those.
And like the others, it coats up the glass well when swirled and reveals slow falling legs.
Aroma
From about a foot away, I caught light whiffs of the aroma immediately after pouring the wine in the glass.
Up close, the wine presented subtle notes of blueberry and blackberry and perhaps a hint of tobacco.
Any sting in the nose of alcohol was very muted and non-distracting.
Concannon Petite Sirah alcohol content 13.5% by volume, per the bottle.
Taste
As soon as I gave the wine a taste I said, "Mmmm."
Initially, I noted flavors of well ripened blackberry.
That, however, was followed by a lingering taste of red fruits that slowly (and interestingly) transitioned into a subtle nutty flavor.
The nutty flavor reminded me of pine nuts or walnuts.
Overall, a very complex and enjoyable palate with this wine!
Mouthfeel and Tannins
The wine had a juicy mouthfeel and highly restrained tannins.
The tannins that were there settled gently all over the palate.
Combining these traits with the flavor, Concannon Petite Sirah was revealing itself to be a very well-crafted wine.
Finish
The wine concluded with a long finish that was well balanced between the flavors and the tannins.
The red fruits re-emerged as the dominant flavor as the finish lingered.
Definitely an enjoyable and satisfying finish.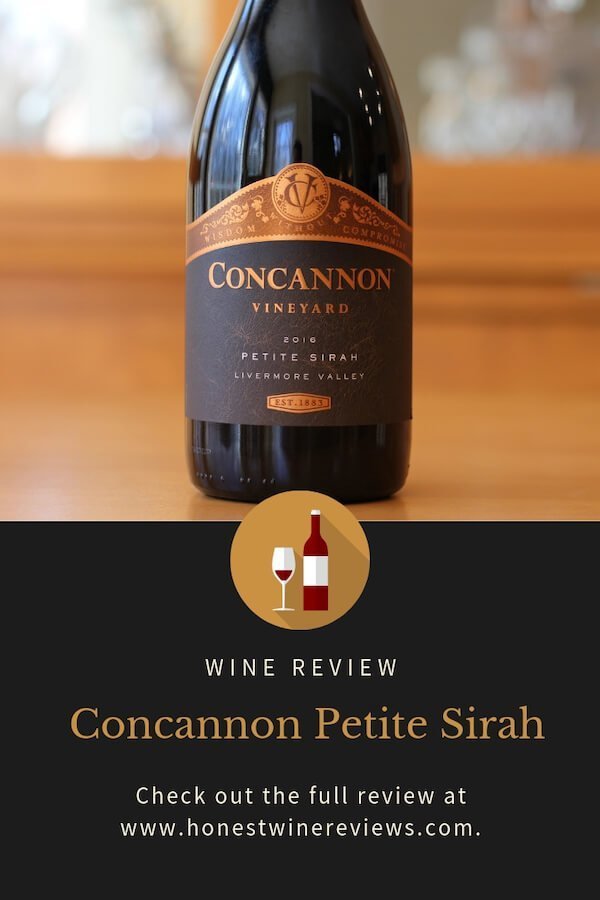 Overall Opinion
Overall, I give this wine high marks!
Each element of the tasting experience was enjoyable and satisfying.
I especially enjoyed the complexity of flavor and consistency from sip to sip.
Do let this wine breathe in the glass for a few moments before drinking, however.  That seemed to accentuate the black fruit flavors on the initial sip.
Recommend!
Concannon Petite Sirah price $14.99.
Suggested Food Pairing
Concannon suggests pairing their Petite Sirah with Bacon-Bourbon Brownies.
What a unique combination!