Conundrum Red Blend is produced by Conundrum Wines in Fairfield, California, USA.
Well-known for his family's history with Caymus, Charles F. Wagner is the Proprietor and Director of Winemaking for Conundrum.
Charlie is the grandson of Charlie Wagner Sr., the co-founder of Caymus.
Conundrum Red Blend Review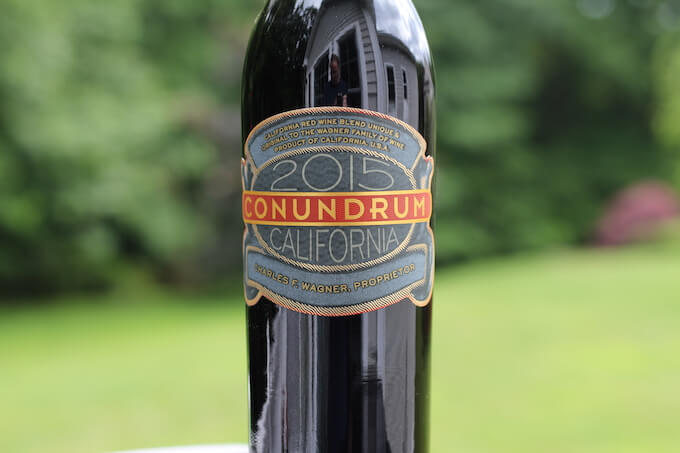 This wine, the 2015 California Red Blend, is a blend of Petite Sirah, Cabernet Sauvignon and Zinfandel.
Its grapes are said to be sourced from "premier winegrowing regions in California."
In Charlie's tasting notes he recommends the wine be served slightly chilled to enhance the wine's structure and fruit profile.
I chose not to taste this wine chilled, as I feel chilled reds do not allow their full flavor to come through.  At least not for me.
Appearance
The first thing I noted about Conundrum Red Blend was that it was a twist top.  Given the price (see below), I was a little surprised about that.
No big deal, though.
In the glass, the wine is dark purple in color.
It's a dark bold red and very little light shines through the glass.
It was very leggy, foreshadowing the wine's high alcohol content.  The legs were thick and very slow to fall.
Aroma
The wine's nose was unique and enjoyable.
I sensed a mix of brown spice and blackberry jam.
I also noted a definite whiff of alcohol in the nose, which did draw attention away from the spice and blackberry.
Conundrum Red Blend alcohol content 15.1% by volume, per the bottle.  That's pretty high and explains the sting in the nose I experienced, along with the slow, thick legs.
Taste
Given the wine's aroma, I was expecting a chaotic, spicy, jammy sort of flavor.
However, I was pleasantly rewarded with a flavor that was quite smooth and refined.
I discovered soft notes of sweet plum and black cherry.  As the wine had a chance to breathe, I even noted some caramel or perhaps light mocha as well.
All in all, very satisfying.
Mouthfeel and Tannins
The wine's mouthfeel was velvety and its tannins were round and well-behaved.
Finish
The wine's finish was long and primarily based on its flavor.
The transition to the tannins was smooth and forgiving with just the slightest bit of bitterness at the very end.
Overall Opinion
While I wasn't overly impressed with the alcohol bite in the otherwise enjoyable aroma, I did like the flavor and finish quite a bit.
For a modern red blend, it was nice to see it wasn't a flavor bomb, but actually a well-crafted blend that steered away from the current trends.
So, overall, a win.  I definitely suggest decanting or at least giving the wine some time to get some air in the glass.  That should help to alleviate some of the alcohol burn and let the mocha come through.
Conundrum Red Blend price $22.99.
Suggested Food Pairing
First off, this wine works just fine on its own as a smooth sipper.
However, if you are looking for a good pairing, Conundrum recommends pairing this wine with grilled meats and full-flavored dishes.
That sound great too!