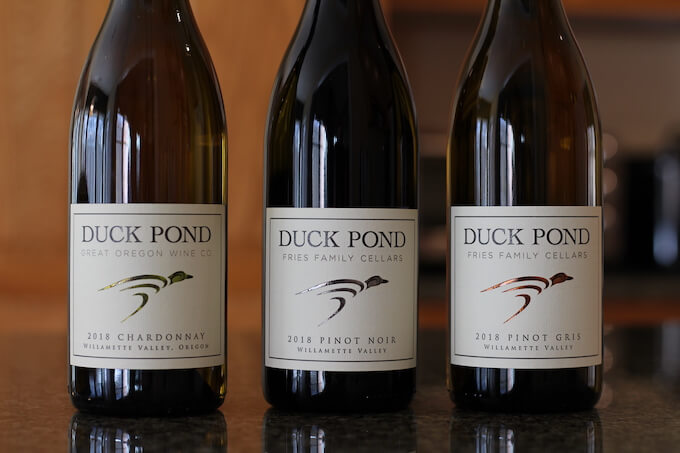 Duck Pond wines come from The Great Oregon Wine Company in the Willamette Valley region of Oregon, USA.
Originally started as Duck Pond Cellars, they got their start in 1993 when Doug and Jo Ann Fries opened their winery in Oregon.
In 2018, the Fries family sold the Duck Pond brand to The Great Oregon Wine Co.
And as Duck Pond Cellars states:
Now part of The Great Oregon Wine Company & Distillery, we will continue our legacy of using traditional winemaking techniques to craft pure, estate-grown, natural wines, and staying true to our roots.
For this wine review, I received samples of three different wines from Duck Pond to try:
Duck Pond Pinot Noir
Duck Pond Chardonnay
Duck Pond Pinot Gris
All three were the 2018 vintage and if you'd like to know more about these wines, check out the Duck Pond Cellars web page.
Now on to the reviews!
Duck Pond Pinot Noir
Lovely purple in color and not overly dark, this wine exhibited long, thick legs that were slow to fall in the glass.
Its aroma was bold and had notes of exotic spice, cherry, caramel.
With only a slight whiff of alcohol in the nose, the alcohol content was 13.7% per the bottle.
Cherry flavor first noted, sweeter than expected but still good.  Almost like it was blended with a bit of Syrah or something similar.
Secondary flavors developed of lighter cherry, more in line with what I've experienced from past tastings of Willamette Valley Pinot Noir.
All in all, very tasty and enjoyable, with easy going tannins and a long finish.
Duck Pond Chardonnay
Moving on to the Chardonnay, in the glass this wine was light brassy in color.
On the nose I sensed aromas of florals and stone fruits.
At 13.5% per the bottle, I noted no whiff of alcohol.
In taste, I picked up notes of ripe citrus, minerals and fresh green apple at first sip.
I also got a nice bit of acidity that would cut through a buttery dish.
Light, refreshing and long finishing, I found this wine to be very enjoyable.
Additionally, while the bottle mentioned oak, I didn't pick that up.
Duck Pond Pinot Gris
And finally, I tasted the Pinot Gris.
I should point out that while the tasting order in this review might seem backwards to most wine consumers (red, white, lighter white), I tasted each wine on separate days, weeks apart.
In the glass, this wine was almost clear in color with just a hint of gold.
On the nose, the aroma was very light, but a good sniff revealed a light, non-specific sweet floral aroma.
Similar to the Chardonnay, there was no whiff of alcohol on the nose.
Alcohol content, 13.5% per the bottle.
On the palate, I noted a non-complex flavor of water-washed nectarine with a lemon zest acidity on the back end.
I also noted a long finish.  More so than what I usually find for a Pinot Gris, which was a nice change.
In total, a refreshing wine that I called "summer-time picnic tasty."  :-)
While very light, it wasn't washed out as some Pinot Gris can be.
It could easily pair with a light cheese and would be great chilled.
Conclusion
As someone who really loves Oregon wine, liking all three of these wines came easy.
I especially enjoyed the initial bold cherry in the Pinot Noir and the long-lasting finish of the Chardonnay and Pinot Gris.
The SRP for the Chardonnay and Pinot Gris is $16.00 and the Pinot Noir is $19.00.
To sum it up, you really can't go wrong with these wines!