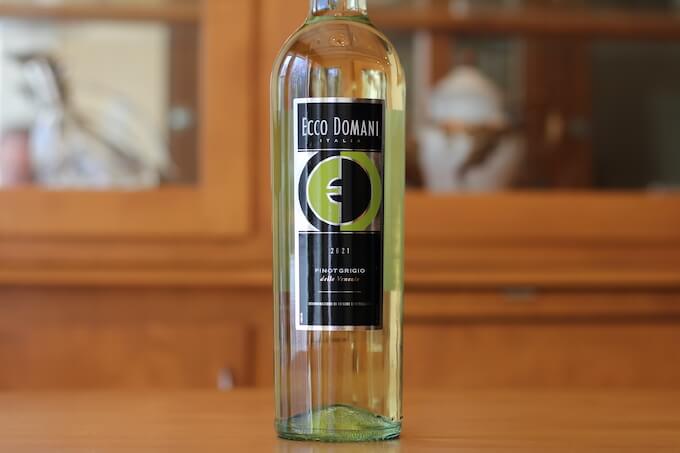 Ecco Domani Pinot Grigio is imported by Ecco Domani USA in Healdsburg, California.
The wine is a Product of Italy, bottled by TN/921 in Mezzocorona, Italy.
The hand-harvested grapes for this wine come from the delle Venezie DOC in northeastern Italy, which includes the three regions of Veneto, Friuli-Venezia Giulia and Trentino-Alto Adige.
While primarily Pinot Grigio (97%), there is also 3% Chardonnay in this wine, as well.
The winemaker is Fabrizio Gatto. He started learning the basics of winemaking from his father in Latina, Italy. At 14 years old, he was accepted into the Conegliano Veneto School of Enology.
After getting a thorough education in enology, traveling to California to expand his knowledge and obtaining even more university level wine education and additional experience, he settled in as Ecco Domani's chief winemaker in 1995 when it was founded.
Ecco Domani Pinot Grigio Wine Review
From the bottle:
Inspired by the allure of modern Italy, I create wines from some of the finest vineyards in Italy's renowned delle Venezie region. Ecco Domani Pinot Grigio showcases delightful floral and tropical fruit aromas, with a flavor that is elegant and crisply refreshing.

Fabrizio Gatto, Winemaker, Ecco Domani
I tasted the 2021 vintage of Ecco Domani Pinot Grigio delle Venezie.
Appearance
In the glass, this wine is very pale in color.
The best description of the color would be straw-like, with hints of green and minimal legs.
Aroma
Upon pouring the wine, I immediately noted its bold aroma.
Even after setting the glass down, I could still smell the wine from a good foot away.
Hints of tropical fruits, including mango and sweet pineapple were dominant.
There were also some honeysuckle-like florals in there, too.
Overall, I thought the wine's sweet aroma was very enjoyable.
Plus, no alcohol burn in the nose.
Ecco Domani Pinot Grigio alcohol content 12.5% by volume, per the bottle.
Taste
I first noted a lemony burst that surprised me, given the sweetness of the aroma.
It was quite tart, with flavors of crisp lemon that almost seemed effervescent.
I found a fresh pour to be a little less abrupt, with a bit of tropical mango sneaking in.
Mouthfeel
If there is such thing, I'd say this wine has a lemony and acidic mouthfeel.
Finish
The wine as medium finishing with the lemon flavor definitely carrying through.
Overall Opinion of Ecco Domani Pinot Grigio
Overall, I found this wine to be a bit too tart for my taste and I was a little overwhelmed by all the lemon in the flavor.
The aroma was great! But the tart taste caught me off guard after sniffing the sweeter aroma.
I generally don't like to chill my wines before tasting. I find when I do that, I don't sense the subtleties as well.
With that said, I later tasted this wine chilled and found it better served that way.
Ecco Domani Pinot Grigio price $11.99.
I bought this bottle at my local wine shop.
Suggested Food Pairing with Ecco Domani Pinot Grigio
I'd suggest paring this wine with any kind of buttery dish like shrimp scampi or pasta al olio.
This wine will cut right through the butter or oil.