Estancia Pinot Noir comes to us from Monterey County, California.  For this review, I tasted the 2013 vintage of this wine.
I've also reviewed the 2011 vintage of this same wine.  A friend of mine helped me with that review.  If you're interested in comparing the 2011 to this review, check out my Estancia Pinot Noir 2011 review.
For this review, I've purposely prevented myself from reading what I said back then.  I didn't want to have any preconceived notions going in to the tasting.
Also, as I type this review up after the tasting, I'm avoiding looking at what I wrote.  At the end of this review I will take a look and draw a comparison.
According to the bottle, the vineyards for this wine are located in Monterey County and close to the Pacific Coast.  They say the nights are cool and foggy and the days are warm and sunny.
Estancia also makes use of gentle pressing and small barrel aging.
Estancia Pinot Noir Tasting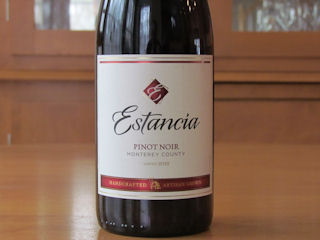 Typical of a Pinot, this wine's color is a cross between dark garnet and plum.  It's not overly dark and a fair amount of light penetrates this wine.  Reflections from the light are muted.
Upon pouring, this wine was not leggy at all.  After some air, I did notice a few quick falling and evenly spaced legs in the glass.
The wine's aroma was more easily sensed from afar than from up close.  It's aromatic, with notes of earth and mocha and some hints of red fruits.  It's a complex and enjoyable aroma, with just the slightest hint of alcohol.
Estancia Pinot Noir alcohol content 13.5%, per the bottle.
Taste of the wine was quite bright.  That surprised me a little, given the darker notes in the aroma.
I would describe the taste as mostly pure Pinot Noir with some red berry in the background.  Perhaps red raspberry and maybe just a hint of spice.
The tannins were grippy, but not overbearing.  I noticed them primarily on the front of the tongue.  There was just the slightest bit of bitterness.
Estancia Pinot Noir is a fairly dry Pinot with a medium finish.
Overall, I really enjoyed this wine.  I found it to be an elegant Pinot Noir that would make a great warm weather sipper.  It's light and delicate but still has enough "oomph" to give you a nice Pinot Noir experience.
Estancia Pinot Noir price paid was $12.99.  Enjoy!
Estancia Pinot Noir Comparison
OK, time to go look at my previous review…  (imagine me saving this review on my laptop and clicking over to the 2011)
Alright, now that I've read my previous review, I can see some similarities and some differences between the 2011 and the 2013.
In general, I think the similarities outnumber the differences.  I described it as a pure Pinot back then and did the same thing here.  Also, the raspberry carried through to the 2013.
Interestingly different was the level of earthiness in the aroma of the 2013.  I didn't notice that in the 2011.
Also, I think the 2013 is less tart then what we experienced with the 2011.
So, there you have it!  Estancia Pinot Noir 2011 vs. 2013.