Firstleaf is a wine club that personalizes the wines they send you based on your own tastes.
Firstleaf is owned by Penrose Hill and all wine for the club is sold from Firstleaf in Healdsburg, CA, USA.
I purchased this club in order to try it out.
In this review, I'll be covering how Firstleaf works, some general information about the wine club, its pricing, pros and cons and much more.
SAVE $40 plus FREE SHIPPING:  Get 6 Award Winning Wines Personalized for Only $39.95
You'll also see a complete unboxing (with pictures) of exactly what I received with my first delivery.
And finally, I'll share my personal review of each of the six wines I received along with my final thoughts on this wine subscription club.
Also, if you click through and make a purchase through the links on this page I'll make a small commission at no additional cost to you.  I only affiliate with companies that I feel comfortable recommending to my readers and after giving this club a try and tasting the wines, I'm pleased with it and happy to share my review.
How Firstleaf Works
Firstleaf is a wine subscription service that starts with a 6-bottle delivery at a discounted price (roughly 60% off) for the first shipment.
After that, it becomes a monthly subscription.
Firstleaf Cost
Firstleaf costs $39.95 plus tax for your first 6 bottle delivery.  Shipping is free on the first delivery.
You're also given the chance to double your first delivery to 12-bottles, while still getting the discount.
After the initial delivery, the Firstleaf monthly cost is $79.98 plus tax and shipping ($9.95) per month for 6 bottle deliveries.
However, if that doesn't work for you, you can change the number of bottles and the shipping frequency.
Also, they send you an email before each subsequent shipment after your first delivery with details about what you'll be receiving.  You can make changes at that time as well.
The Ordering Process
When you start the ordering process, they ask you a few questions to find out what you like.
It's kind of like a quiz.
For example, they'll ask you:
If you like wines that are sweet versus non-sweet.  You'll see a slider you can move.
Whether certain varietals appeal to you (i.e. Oaky Chardonnay, Sweet Reds, Napa Cabernet, Sweet Rieslings, Sweet Red Blends and others).
If you gravitate to wines that are "exciting" versus "boring" (Purely subjective, but it determines the variety of styles and regions of wines they send you).
What level of expertise you feel you have when it comes to wines (Beginner, Intermediate, Expert).
If there's specific wines you dislike (They give you a list of common wines to choose from).
And a few other interesting questions.
I found the questions they asked to be an intuitive way of determining what you might like.  And, they'll email you your quiz results so you can keep them on hand.
Quite often, wine clubs don't give you a chance to tailor your wines, so I appreciated the technique.
Plus, it led to some interesting wines in my first delivery.
Also, during the ordering process you see the exact wines you'll be receiving in your first shipment.  If you see a bottle you don't think you'll like, you can change it at that time.
And finally, you'll see your expected ship date after you place your order.  This is important because you need to be present for delivery.
Facts About Firstleaf Wine
Firstleaf was founded by Philip James.  His goal was to create the most customer-focused wine club in the industry.
They work directly with winemakers and wineries, which allows them to remove the distributors, importers and retailers from the supply chain to the customer.
It's a wine club that tailors its selection to the customers through flavor profiling and an interactive rating system.
You can customize your membership by changing the bottles you receive and/or your delivery dates.  This is done through your online account.
Many of the wines Firstleaf sells have won Silver, Gold, Platinum and other medals in various well-known wine competitions.
Firstleaf delivers to over 40 states.
Pros
The price for the first delivery is only $39.95.  It includes free shipping, making the per-bottle cost only $6.66 per bottle.
Firstleaf has a Wine Concierge team to help you select your wines.  They'll also provide food pairing ideas, if you call and ask.
Their selection is large, with over 200 award-winning wines to choose from.
You receive very detailed tasting notes for each wine.

The tasting notes include the wine's body, acidity, sweetness and tannin profiles.
They also include each wine's flavor notes, food pairing suggestions, nutrition facts and alcohol content.

They have a "refer a friend" program that gives you $40 off your next box of wines AND gives your friend their first six bottles for free (not including tax and shipping).
They take feedback from members back to the winemakers in order to hone their selections over time.
The club offers a 100% Satisfaction Guarantee.  Here's what they say:
Your satisfaction is guaranteed. If for any reason you're not satisfied with a bottle you receive through the club, we'll give you Firstleaf credit for it (minus shipping), where legal.
Cons
Must be at least 21 years of age and present to accept delivery when your shipment arrives.  Required by law because it's alcohol, but important to realize nonetheless.

Note:  You can also direct your shipment to a nearby FedEx location for pick-up.

No option to choose the shipper at order time (i.e. FedEx versus UPS).  My delivery came via FedEx.
A Personal Customer Service Story
One of the reasons I listed "no option to choose the shipper" above is that I've had issues with FedEx deliveries in my area.
And sure enough, after my delivery was shipped, FedEx messed it up and the shipment arrived several days late.
To Firstleaf's credit, they did keep in touch about this via email which was good.
And after calling them, they also offered to change future deliveries to UPS and provided a $20 credit on the next shipment.
That's the first time I've ever heard of a wine club offering to change shippers for a customer, so they definitely deserve credit for that.
SAVE $40 plus FREE SHIPPING:  Get 6 Award Winning Wines Personalized for Only $39.95
How to Cancel Firstleaf
To cancel your Firstleaf wine club subscription you can call them at 800-461-7203 and ask them to cancel.
Alternatively, you can email them at service@firstleaf.com and let them know the best day and time for them to get back to you to cancel.
Firstleaf allows you to cancel at any time and there are no cancellation fees or minimum commitments.
Giving Firstleaf as a Gift
You can give Firstleaf as a gift.
They offer E-Gift Cards in increments of $25.00 that start at $25.00 and go up to $200.00.
To give Firstleaf as a gift, you provide the email of the gift recipient and then purchase the gift card on the Firstleaf web site.
The Gift Cards can be used for wine club shipments or to buy individual bottles at the Firstleaf online store.
Also, the gift card is immediately sent to the email of the gift recipient, once purchased.
If you would like to send the gift later, here's what Firstleaf recommends:
If you wish to give the gift later we recommend sending it to your own email and forwarding at your convenience.
Once purchased, the gift cards are non-refundable.
Firstleaf Wines Unboxing
What follow is a complete unboxing of my first delivery from Firstleaf.
This is what you can expect to arrive at your door when you signup.
The Firstleaf Box
This is the box I was sent: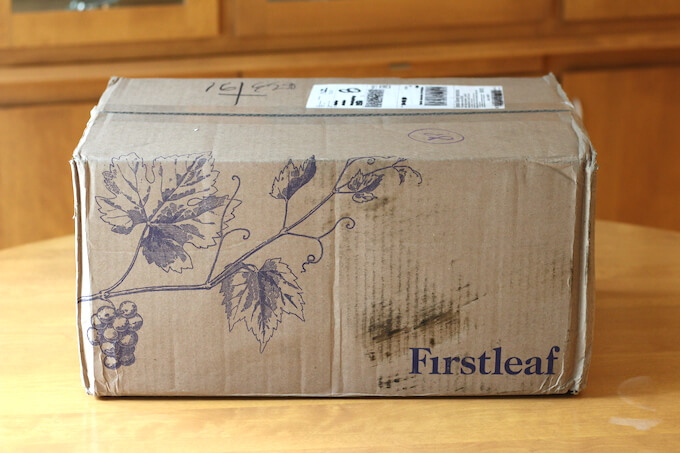 I have to admit the scuff marks had me a bit nervous.
But, as you'll see below, there was no damage to the wines or anything inside the box.
Opening the Box
This is what it looked like when I first opened the top of the box.
You can see the welcome letter they sent, along with some info about Firstleaf and the wine tasting notes tucked into the side.
Next up, underneath the info was the top three wines.
I was happy to see they used good quality wine bottle separators to protect the bottles.
And the "keep digging, more wines below!" printing on the inside of the box was a fun touch!
And below that, the next three wines.
Included Tasting Notes
I then took out the tasting notes for the six wines and took a picture of them for you to see, along with a welcome flyer.
The Firstleaf Wines
And finally, here's the six wines I received.
All six in good shape, with no damage to the bottles or their labels.
Overall, a nice unboxing experience.
SAVE $40 plus FREE SHIPPING:  Get 6 Award Winning Wines Personalized for Only $39.95
Reviews of Each Wine
Of course, it really comes down to how good the wines are, right?
So, I took the time to taste each of the six wines they sent me.
Below you'll find my own tasting notes and reviews of each wine I received.
Caduto dalle Nuvole Pinot Grigio
In the glass, this Pino Grigio from Italy pours very light brass in color.
I picked up aromas of muted lime and tastes of light lemon with some enjoyable minerality.
Caduto dalle Nuvole had a medium finish, with the lemon notes sustaining on the palate.
Overall, I found this wine to be a non-sweet, pleasant light sipper that could easily be taken on its own or paired with Brie (per the tasting notes).
I pictured this wine especially good chilled and sipped poolside!
Disorderly Conduct Dark Bold Red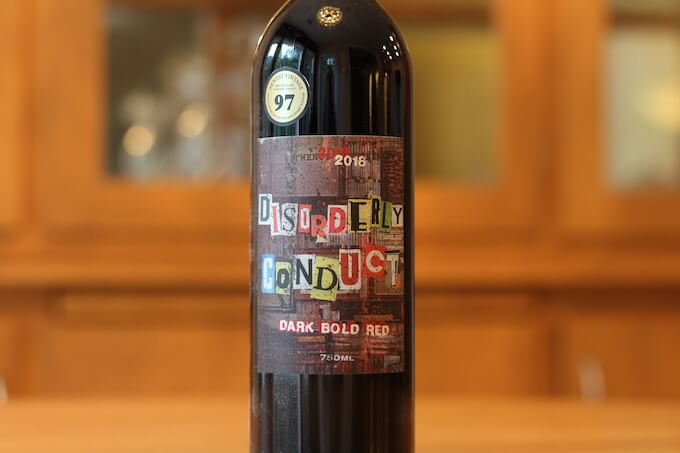 Moving on to the red blend they sent me, this 97 point – 2018 vintage was dark burgundy in color and very leggy.
The cork smelled like vanilla.  On the nose, the wine presented with subtle aromas of clove and bay leaf.
On the palate, I was greeted with medium body flavors of blackberry and allspice along with a slight raspberry tartness.
Long-finishing with tight and noticeable tannins, I enjoyed the equal balance between the tannins and the flavors.
Very good overall, however I'd pair this with grilled meats to tamper the tannins a bit.
Ophidian Chenin Blanc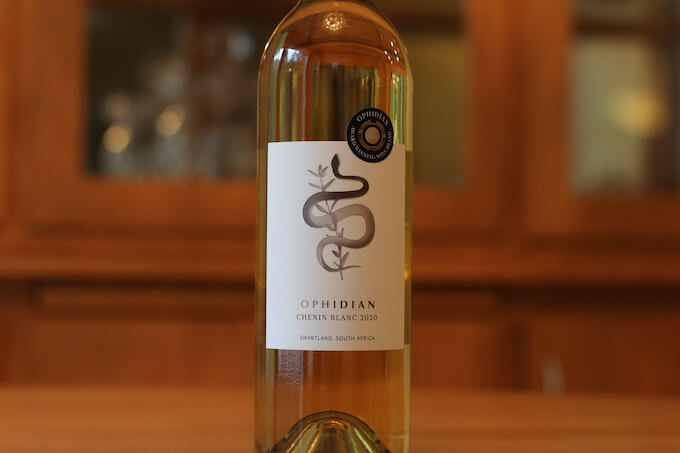 This wine comes from the Swartland region of South Africa, which was a first for me.
It was golden colored with non-effervescent tiny bubbles in the glass.
On the nose, I picked up Aromas of subtle orange blossom and honeysuckle.  Very nice!
My palate was treated to tastes of semi-sweet passion fruit and pineapple, with very mild minerality and acidity.
Overall, the flavors were very balanced and the wine was purely enjoyable as a standalone sipper.
Tintoretto Sangiovese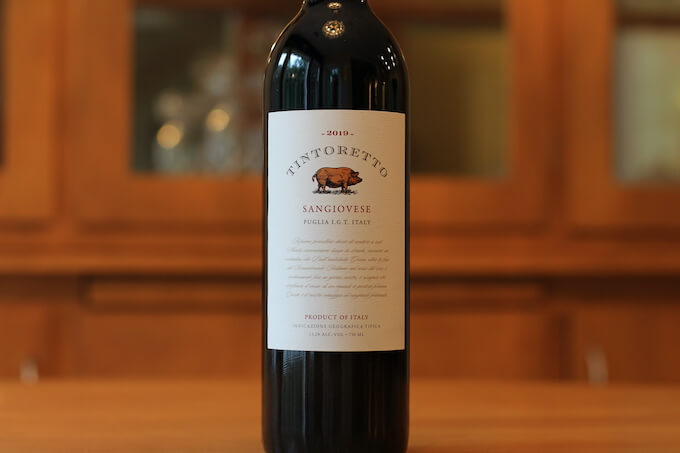 Typical of a Sangiovese, this wine was light plum in color and quite leggy.
I noted enjoyable aromas of clove and cherry.
On the palate, I got light bodied flavors of bright cherry with noticeable tannins and a long finish, carried in equal parts by the tannins and flavors.
Overall, very drinkable and well-paired with roasted pork or lasagna.  A tasty Italian treat!
Scapolos Charm Sangiovese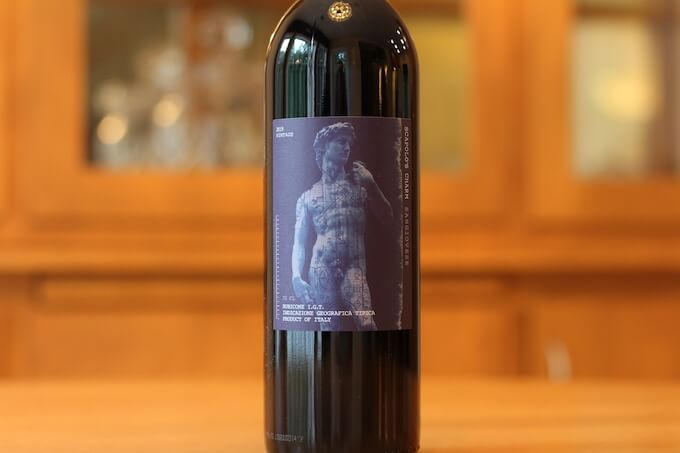 Dark red in color, this Sangiovese from central Italy had a lovely yet subtle cherry aroma to it.
Immediately recognizable as a Sangiovese by its dryness and "all over your palate" tannins, its taste carried forward the cherry nose.
Quite tasty and long-finishing (and with nice acidity) this wine would pair perfectly with a traditional pasta and red sauce dish.
Baraelia Sauvignon Blanc
Baraelia appears light brass in color and has a very light pear aroma.
Even with an alcohol content of 13.0%, there was no "burn in the nose."
On the palate, you're treated to delicate flavors of sweet pear, ripe peach and a hint of cantaloupe.
I also picked up some minerality with a nice bit of acidity.
With a medium finish and no bitterness, I found this wine to be both delicious and more flavorful than I expected.
All in all, my favorite of the white wines Firstleaf sent.
Conclusion
Overall, I found Firstleaf wines to be very good.  I especially liked the quality of the wines, the ordering process and free shipping for the introductory delivery.  The flexibility on shipping for future orders was also a pleasant surprise.
If you're someone who's a little adventurous when it comes to your wine choices and appreciates an algorithm driven selection process, then Firstleaf will be a good fit for you.
I'm quite pleased with this club and can comfortably recommend then after giving them a try and tasting each wine myself.
SAVE $40 plus FREE SHIPPING:  Get 6 Award Winning Wines Personalized for Only $39.95