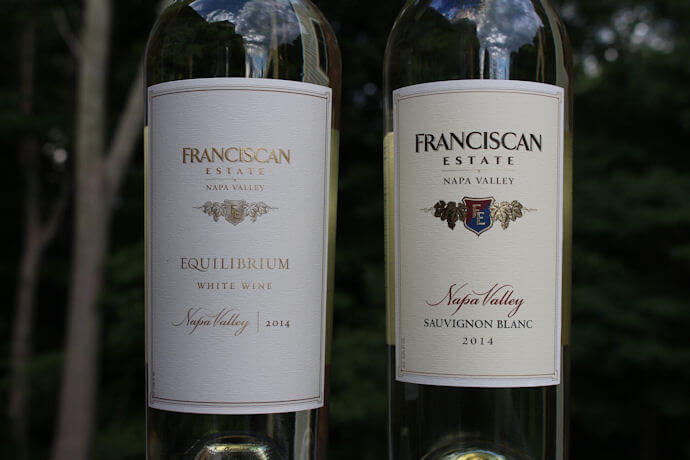 In this article you get a review of two Napa Valley Franciscan Estate wines.  Namely, their Equilibrium white wine blend and also their Sauvignon Blanc.
The Franciscan Estate is located in the Napa Valley region in Oakville, California, USA.  They got started in 1973 and still continue to craft wines that are well-known and highly rated.
The folks from Franciscan were kind enough to send me samples of these two wines for review.
In the accompanying letter, Janet Myers (the winemaker for these wines), says these two wines are a couple of her "current favorites."
For more info, check out the Franciscan Estate website.
Franciscan Estate Equilibrium
For both this wine and the Sauvignon Blanc, I had help from my friend Big Al.  He's become a regular here and always does a great job!
In appearance, we both agreed this wine is very light straw in color with a bit of a copper sheen.
It was also quite bubbly in the glass, but certainly not effervescent.
The wine's aroma was a bit non-descript.  I was a little surprised at that, given it was a blend.  Neither one of us noted much alcohol in the aroma.
Franciscan Equilibrium alcohol content 12.5% by volume, per the bottle.
On the palate, the wine is crisp and clean.  I struggled to find a specific flavor to call out, however Big Al locked onto Bing cherry.
We disagreed on how dry we each perceived this wine to be.  I felt it was a dry white, whereas Al felt it wasn't.  He picked up a lot more sweetness in this wine than I did.
We both agreed that this wine is a complex white.  Its tannins were significant, though balanced.
The wine's finish was short.
Overall, we both enjoyed this wine.  It's actually a blend of 72% Sauvignon Blanc, 17% Chardonnay and 11% Muscat.  Al's senses really picked up on the Muscat and I think that's really what gives this wine its uniqueness.
Pair with Pecan Pie!  Actually, this wine would go well with a lot of different dishes.  In the winemaker's letter she suggests Thai and other Asian cuisines, which I agree with.
Franciscan Equilibrium price $22.99 suggested retail.
Franciscan Estate Sauvignon Blanc
Moving on to the Sauvignon Blanc (100% – no blending), this wine is similar in appearance but lacks the copper sheen.  Pale straw is a good description with perhaps a hint of peach in the color.
It's a very leggy and slightly bubbly wine.
The aroma was much more noticeable than the Equilibrium.  I noticed a sweetness from afar immediately after opening.  Up close we picked up crisp citrus, grapefruit and light pear.  Very enjoyable aroma with little alcohol noted.
Franciscan Sauvignon Blanc alcohol content 13.0% by volume, per the bottle.
The wine's taste was complex with some spice, some grapefruit and a little bit of lime.
Though, Al disagreed with me on the lime.
According to the wine's tasting notes, they sourced the fruit for this wine from multiple Napa Valley sub-appellations.  They then applied multiple techniques based on which vineyards the grapes came from in order to produce "wine with great complexity and vibrancy."
In my opinion they were successful.
Tannins were subtle and didn't overwhelm the wine's medium to long finish.  What carried the finish was the spice that lingered after the flavor trajectory waned.
Overall, we both really loved this Sauvignon Blanc.  We called it "thoroughly enjoyable, especially for summer."  A pairing that came to mind was with a light flaky fish and steamed asparagus on the side.
This one gets a "Recommend!"
Franciscan Sauvignon Blanc price $17.99 suggested retail.
If you've tried either of these wines, or have some thoughts to share about this review, please leave a comment below.