Gascon Malbec is a red wine from Mendoza, Argentina.  This region is known for their Malbec.
In this review we're going to cover this wine's price, alcohol content, aroma, taste and much more.
The founder of Gascon Malbec is Don Miguel Gascón.  Gascon Malbecs come from high altitude vineyards along the Cordillera of the Andes Mountains, according to the bottle.
Gascon Wines has been producing Malbec since 1884 and the current winemaker is Matias Ciciani.
I shared this wine while catching up with a friend I hadn't seen in a bit.  He's helped a couple times here before with reviews of Ruffino Orvieto Classico and a Banfi Brunello.  He has a great palate and a flair for keen description, so it was great to have him onboard once again.
Gascon Malbec Review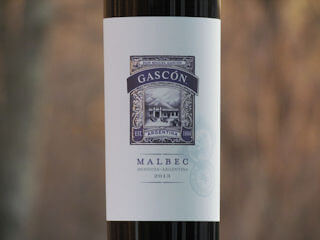 For this tasting, we reviewed the 2013 vintage of Gascon Malbec.
The first thing I noticed about the appearance of this 100% Malbec was its"serious legs."
There were many, they were thick, and were very slow to fall in the glass.
In terms of the wine's color, my friend described it as "Ruby/Onyx with a dark center that had little translucency."
The wine's deep aroma was immediately noticeable when the cork was pulled.  Upon first up-close sniff, we both remarked at the significant whiff of alcohol on the nose.
Gascon Malbec alcohol content 13.8% per the bottle.
As the wine had a chance to breathe, the aroma mellowed quite a bit.  We took a good amount of time analyzing the aroma and we concluded with notes of cherry, earth, campfire and blossom.
In retrospect, this wine had one of most complex noses I've experienced so far.  I enjoyed it immensely.  My friend found it enjoyable only after the wine had a chance to get some air.
Moving on to the wine's taste, we had slightly differing opinions, though both ultimately positive.
I felt the taste was warmer or brighter than the aroma suggested.  For me the primary flavor was red cherry.
For my friend, he felt the taste initially overwhelmed his tongue.  But, with some air, it soon smoothed out to notes of red currant and a hint of cucumber.
Very complex in flavor.
We both agreed with what the bottle label suggested for the tannins.  They were soft, round and balanced out the wine's medium finish nicely.
Overall, we both liked this wine and felt it could easily stand on its own as a sipper.
We also paired it with some soft cheeses.  It complimented a sweeter cheese nicely but didn't pair well with brie.
Gascon Malbec price paid was $12.99.
Recommend!  For me it's one of the best Argentinian Malbecs I've tried recently.