Nychteri Boutari is a Greek wine from the island of Santorini.  It's a white Greek wine made from 100% Assyrtiko grapes.
From the wine maker:  "The island of Santorini has a unique micro-climate and soil for the production of white wines. The soil is sandy with volcanic rocks while the micro-climate consists of strong winds and late night fog which supplies the vines with the required water needs. Planting of the vines is not at all dense which aids in water management since there is so scarce rainfall on the island. Training of the vines is done in a traditional way where the vines are trained in woven baskets as to protect the vines and grapes from strong winds blowing throughout the season."
"The grapes are left on the vines to over mature as production of Nychteri requires very mature grapes. Usually they are left until potential alcohol strength exceeds 13.8% thus obtaining a very rich aromatic intensity. Alcoholic fermentation takes place in stainless steel fermenters at low temperatures to ensure that the intensity of aromas is maintained throughout fermentation. The wine is then racked into used oak barrels for 5-7 months to further add complexity. Only few bottles are produced each year (1500-2000 bottles). 2009 is considered to a very promising year with wines from Santorini full of flavor and aroma intensity, very typical of the Assyrtiko variety."
Nychteri Boutari Greek Wine Review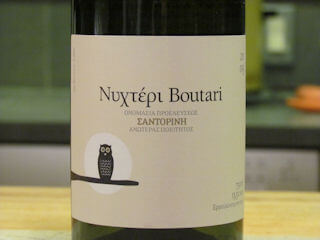 Sample received for review purposes.
The cork came out clean and in good shape.
In the glass, this white Greek wine had an appearance that was more golden then amber.  No bubbles were noted.
For this tasting, there were two of us and we reviewed the 2009 vintage of this wine.
We noted that the winemaker suggests a serving temperature of 8 degrees Celsius.  For this tasting we tried the wine at 60 degrees Fahrenheit (first tasting) and then again at 46 degrees (second tasting).
The second tasting at 46 degrees was much closer to the recommended temperature for this wine and it made a big difference.
The wine's aroma was of citrus and pear.  At the colder temperature the pear nose was much more noticeable and there was a bit less bite from the alcohol.
Nychteri Boutari alcohol content 13.5% by volume.
On the palate, the wine's first tasting presented a combination of lemon zest and Asian pear.  The second tasting revealed similar flavors but also a buttery flavor on the sides of the tongue.
The wine finished medium to long which was pleasantly unexpected for a white wine.  The aftertaste was mostly noticed in the cheeks.
It was also noticed that the finish had hints that were similar to a white Bordeaux.
In terms of food pairing, we quickly determined this is not a wine you would serve with cheese.  Cheese will compete with the initial pear and citrus flavors.  Also, we disagreed with the recommendation that this wine would pair well with grilled meats.  We did find the wine to go fabulously with a crock pot recipe of ham and brown sugar.  This pairing brought out a very enjoyable flavor bomb from this Greek wine.
Overall we determined that this is a great wine when served at the proper temperature.  Many Americans drink white wine a little warmer than what is recommended.  In this case, be careful not to let this wine get above 48 degrees or you'll lose it's great flavorful qualities.  Keep it chilled.
Recommend!  For more information check out Wines From Santorini.