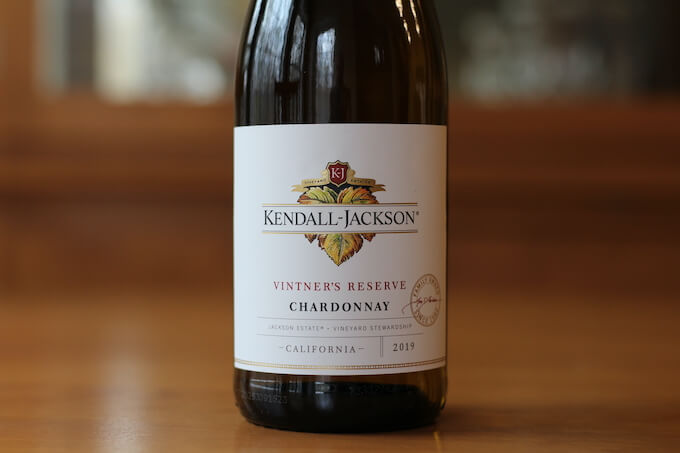 Kendall Jackson Chardonnay comes from Santa Rosa, California, USA.
According to Kendall Jackson, they "farm the land with long term stewardship in mind" and are committed to sustainability.
They also say they employ 100% renewable energy to make their wines, which sounds pretty smart to me!
Kendall Jackson Chardonnay Wine Review
From the bottle label:
Our Vintner's Reserve Chardonnay showcases the vivid fruit flavors from California's coastal vineyards.  Fermenting in small oak barrels adds rich undertones of vanilla and toast to the vibrant tropical aromas and flavors of pineapple, mango and papaya.
I tasted the 2019 vintage of Kendall Jackson Chardonnay.
Appearance
In the glass, this wine sports a translucent golden color.
It's quite leggy, with thick, slow-falling legs that streamed down the glass.
Aroma
While not overly aromatic, I did note pleasant and light juicy pear aromas with floral overtones.
Additionally, there was little to no alcohol burn in the nose, even with a good strong sniff!
Kendall Jackson Chardonnay alcohol content 13.5% by volume, per the bottle.
Taste
On the palate, this wine starts off with notes of vanilla and pear.
From there, it quickly moves to a non-tart pineapple citrus flavor.
Overall, I found it very tasty and an easy breezy sipper!
Mouthfeel
Mouthfeel was juicy and silky; I believe thanks to the vanilla aging.
Finish
The wine's finish was medium in length and dominated by the aforementioned pineapple flavor.
Overall Opinion
Overall, Kendall Jackson Chardonnay is a tasty chardonnay with a little sweetness on the front end that I think most will enjoy.
When I purchased this wine, I noticed my wine store had a lot of spaces set aside on the shelves for this wine.
And, it seemed to be one of the most purchased Chardonnays, as I had to reach toward the back of the shelf to grab a bottle.
With that said, I can see why it's so popular, as its taste is downright enjoyable!
Kendall Jackson Chardonnay price $11.99.
Suggested Food Pairing
Drink this as a standalone sipper or pair with a tender and moist pan-seared sea bass.