McManis Petite Sirah comes from the McManis Family Vineyards in Ripon, California, USA.
While it is primarily a Petite Sirah (80%), there is also 14% Tannat in the mix for additional body and color.
The remaining 6% is a combination of Petit Verdot, Teroldego and Alicante.
All in all, a very interesting blend!
Also, Wine Enthusiast rated this wine an 87 point best buy.
McManis Petite Sirah Wine Review
Per the tasting notes, the majority of the fruit for this wine came from the Lodi region.
They go on to say that the grapes were harvested between September 21st and October 2nd of 2016.
Fermentation was completed in stainless steel and aging was in a combination of French and American oak (both new and used) for seven months.
From the winemaker's notes:
Our 2016 Petite Sirah is full-bodied with a rich purple color. A delicious wine from front to back, leading with aromas and flavors of chocolate, caramel, toffee, and rich black fruit. The mid-palate is driven by mocha notes that carry through to the long, luxurious finish.
Appearance
Opening the twist off cap and giving the wine a pour reveals a wine that is quite dark.
It's black plum in color with a burgundy meniscus and little to no light shines through.
A quick forward tip and spin of the glass reveals a wine that coats the glass well.
Legs appear twice.  The first time falling fairly quickly and the second round very slow to fall.
Already off to a very interesting start!
Aroma
Candy aromas dominate the nose along with a bit of clove like spice.
The aroma itself isn't overly bold.  You do have to get a bit close to the glass before you start to notice it.
Little to no observable sting of alcohol in the nose.
McManis Petite Sirah alcohol content 13.5% by volume, per the bottle.
All in all, an enjoyable aroma that doesn't overpower.
Taste
The wine's taste greets you with dark black fruits and some smoky caramel on the back end.
While it's not overly complex, it's crafted in a way that makes it very palate-friendly.
Delicious in my opinion!
Mouthfeel and Tannins
The wine's mouthfeel is juicy with tannins that are oh so supple.
They do settle into the nooks and crannies of your mouth, but you may not even notice them at first.  At least I didn't.
Finish
The wine's finish was medium to long and totally carried by the flavors.
No bitterness at all, even as the finish concludes.
Overall Opinion
I absolutely loved this wine!
I had given it a try prior to doing this review.  As soon as I tried it, I knew I had to put this wine at the top of the review queue to get the word out.
If you like a super sippable campfire wine, this one fits the bill perfectly.
And with an Under $10 price, this may end up being my favorite of the year.
We'll see!
McManis Petite Sirah price $9.99 from my local wine shop.
Just go buy it.  Simple as that.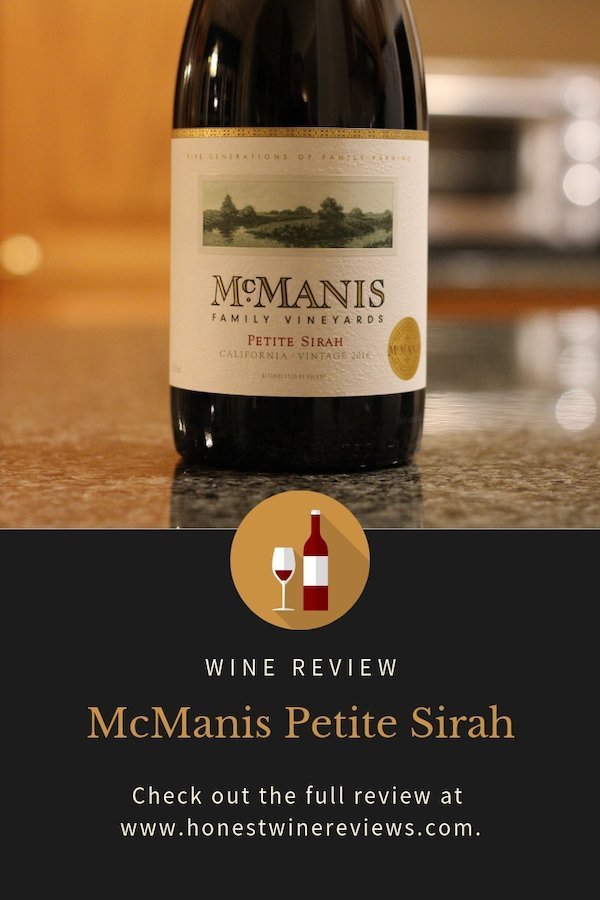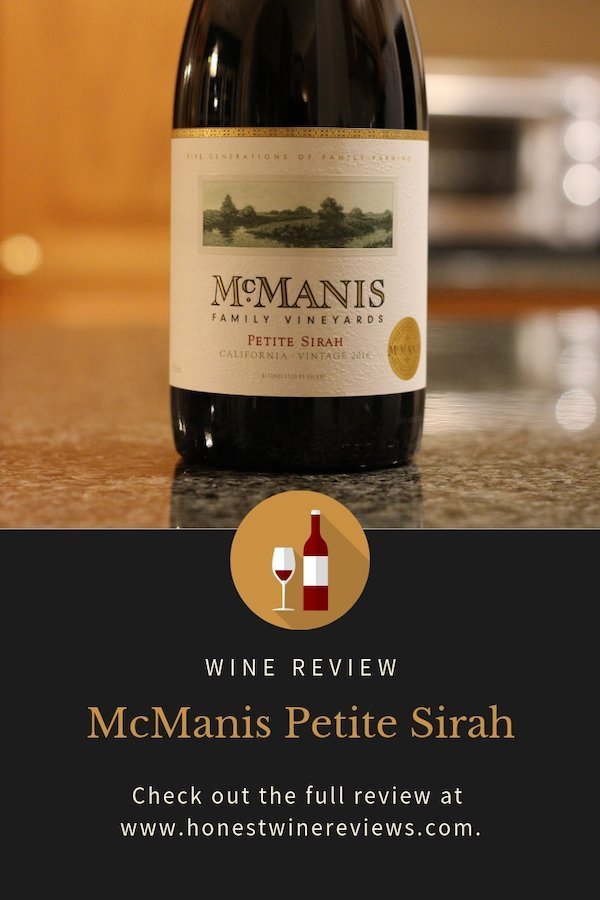 Suggested Food Pairing
After doing my initial review, I served this wine as part of a "steak and wine" dinner with some of my musician friends who enjoy wine.
We paired it with dry rubbed, flame grilled ribeye and it was the perfect companion to the steak.
They had a couple great quotes about this wine that I thought would be worth sharing…
"It's a very comfortable wine to drink."
"It's jammy and chewy in the most pleasant way."
Thanks guys…  Great (and very accurate) quotes!
I'm thinking I may need to further investigate McManis wines and Petite Sirah in general!