Meiomi Pinot Noir is vinted and bottled by Meiomi Wines in Acampo, California, USA.
Fruit for this wine was sourced from vineyards in Sonoma, Monterey and Santa Barbara for this 100% Pinot Noir blend.
This is my second time reviewing this wine. I had previously reviewed the 2011 vintage, but was interested to see what this wine would be like five years later with the 2016 vintage.
Plus, this review gets a lot of visits from the interwebs and I wanted to make sure readers are getting an up to date review.
Interestingly, I found some significant differences between the two different vintages.
So, what you'll be reading first is my current review of the 2016 vintage.
I'll then compare and contrast that with the 2011 vintage.
I also stumbled up some interesting discoveries with the current vintage relating to fresh pours and different flavors.
With all that said, let's get on to the review of Meiomi Pinot Noir 2016.
Meiomi Pinot Noir Wine Review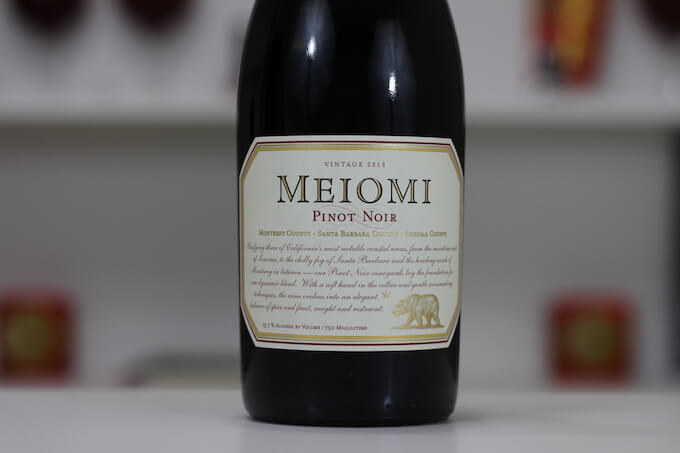 From the Bottle:
With a soft hand in the cellar and gentle winemaking techniques, the wine evolves into an elegant balance of spice and fruit, weight and restraint.
To start, the wine opens with a beautifully designed twist top.   The top has a satisfying, engineered feeling to it that I haven't experienced before.
Appearance
In the glass, Meiomi Pinot Noir is fairly dark and plum in color.  Maybe similar to a lighter Merlot.
Just a bit of light is able to shine through.
The wine coats up the glass well when tipped and leaves slow falling legs on the inside of the glass.
Aroma
While not immediately noticeable upon opening the bottle, this wine is pretty aromatic.
The New World Pinot Noir glass I was using was helpful in drawing a spicy, jammy aroma upwards to my nose.
Overall, the aroma was enjoyable with just a mild hint of alcohol.
Meiomi Pinot Noir alcohol content 13.7% per the bottle.
Taste
While tasting this wine, a happy accident occurred.
I poured it and then got distracted for a little while, attending to a text message.
I came back to the wine after 5 minutes or so and started my tasting.
My tasting revealed a nice, refined wine with just a bit of fruit.
I noted classic Pinot Noir flavor with a bit of nutmeg or perhaps allspice.
Nice!
Fresh Pour
After that initial tasting I gave the wine a fresh pour and noticed a significant difference.
The fresh pour had more sweetness to it.  I also discovered a bit of jammy fruit I hadn't noticed the first time I tasted it.
From there, I went and got a second wine glass and experimented with fresh pours versus letting the wine breathe for awhile.  That was the first time I've used two wine glasses for one tasting!
What I found was that a fresh pour of this wine is much more flavorful and enjoyable.
Letting it sit in the glass actually resulted in a reduction of flavor that allowed the wine's tannins to get in the way a little bit.
My Suggestion
So with all that said, I'd suggest drinking this wine via smaller, freshly poured sips.
Fill your wine glass up to no more than 10-15% if you want to taste more fruit.
Or just experiment with it as I did to see what happens as the wine breathes… fun!
Mouthfeel and Tannins
Regardless of the pour, Meomi Pinot Noir gives you a silky mouthfeel and supple tannins.
However, the tannins are more noticeable as the wine gets some air.
I suspect this wine is a bit "young" and it might benefit from some time in the cellar.  Hard to say for sure.
Finish
The wine's finish is medium to long with some lingering bitterness from the tannins.
Overall
Setting the experiments aside, Meomi Pinot Noir is an enjoyable wine to drink.
You get classic Pinot Noir flavor and a nicely balanced finish.
Meiomi Pinot Noir price $19.99.
Perhaps a little bit pricey, however Meomi has remained consistent at this price point over the years.
Comparing and Contrasting Vintages – Now Versus Five Years Ago
So, as mentioned above, this review is an update from the review I did five years ago.
I won't repeat the entire review I did for the 2011 vintage, but here are the main differences between the two:
Both vintages similar in appearance.
The current vintage has less of an alcohol bite in the nose.  In my review of the 2011, I noted a strong whiff of alcohol that I didn't notice with the 2016.
The aromas between the two vintages are mostly similar, but I didn't notice any mocha this time, as I did previously.
Less complexity with the 2016 vintage's taste. Perhaps a bit more refined, however.
Similar finish length, with more tannins noted in the 2016.
The biggest difference was that I suggested decanting the 2011.  For the 2016, I much preferred a fresh pour.
Both vintages seemed a bit young to me and it may be worth letting this wine have a year or two in the cellar before drinking.  Though, admittedly, I'm not 100% confident in that suggestion.  Just a gut feeling.
Overall, I enjoyed both vintages, but would give the 2011 a slight edge due it being more complex and lush.
Finally, I've also reviewed a couple other wines from Meiomi.  To see those, click below:
Thanks for reading!