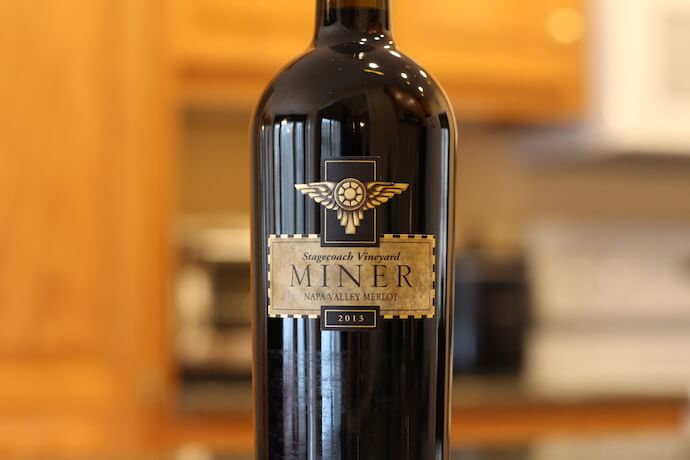 Miner Winery Stagecoach Vineyard Merlot comes from Oakville, California, USA.
According to the tasting notes, this wine is actually a blend of 89% Merlot and 11% Cabernet Franc and was barrel aged for 21 months in 55% new French oak.
The winemaker is Stacy Vogel and she is said to combine old world wine-making techniques with modern technology to best reflect the terroir "where specific varietals grow best."
Sample received for review purposes.
For more information, check out the Miner Family Winery website.
Miner Winery Stagecoach Vineyard Merlot Review
From the bottle:
Stagecoach Vineyard, located high atop the eastern hills above Napa Valley, produces wines of unique character and concentration and is one of our finest vineyard sources.
I tasted the 2013 vintage of Miner Winery Merlot.
Appearance
In the glass, the wine was typical in appearance for a Merlot.  Garnet in color and not so dark that light didn't shine through.
It did coat up the glass quite a bit, leaving a purple like coating when I tipped the glass.
It's leggy and displays many slow falling tears in the glass.
Aroma
Miner Merlot's aroma was the first thing I noticed when I poured it.  Very aromatic from afar and up close.
On the nose you get a nice round whiff of red fruits.  You also get mellow spice and sweet coffee notes as well.
Any alcohol is well hidden by the complexity of the aroma.
Miner Winery Stagecoach Vineyard Merlot alcohol content 14.7% per the bottle.
Taste
The wine's taste definitely caught me by surprise.  I was expecting dark and rich flavors, but the taste was much lighter and refined.
While there were some red fruits in there, I also picked up black olive, green pepper and a bit of oak.
I enjoy being surprised by a wine and this one did that in a good way.
Mouthfeel and Tannins
I noted a cottony mouthfeel with fine grippy tannins that settled on the gums.
If you like noticeable tannins, you'll enjoy this wine.
Finish
Miner Merlot finishes long and the finish is mostly carried by the tannins.
Overall Opinion
Overall, I think this is a great Merlot!  Lots of enjoyable complexity and flavor.
Now to be clear, this is definitely a dry wine and if you have an aversion to dry wines you might not enjoy this.
However, if you like a well-crafted Merlot with a good amount of oakiness, this one will serve you quite nicely!
Miner Winery Stagecoach Vineyard Merlot suggested retail price $40.00.
Note:  I've also reviewed their Chardonnay, Pinot Noir and Cabernet Sauvignon.  You can fiind that 3 for 1 review right here:  Miner Family Winery Wines
Suggested Food Pairing
I would pair this with either a good quality Rib-Eye or New York Strip steak.
Either would mute the tannins and blend well with all those other flavors.