Minuty Rose comes from Chateau Minuty in Provence on the Saint-Tropez Peninsula in France.
Chateau Minuty has been around since 1936 and is currently managed by the founder's two grandsons, Jean-Etienne and Francois Matton.
Fruit for Minuty Rose is sourced from the Côtes de Provence appellation and consists of three varietals:  Grenache, Cinsault and Syrah.
The wine was aged in stainless steel tanks at 59°F and was lightly filtered prior to bottling.
Chateau Minuty Rose Review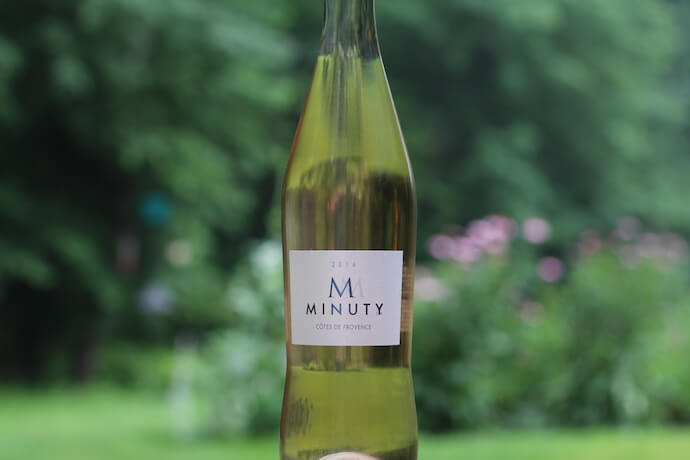 I enjoyed this wine outdoors on my back deck on a humid summer evening.
One of the first noticeable things about this wine is the bottle itself.  It's somewhat unique and has (dare I say?) sexy curves.
Sample of M Minuty Rose 2016 received for review purposes.
You can learn more about this wine and the Chateau at the Minuty website.
Appearance
I think this wine looks beautiful in both the bottle and the glass.
Its color is a light rose gold with perhaps a hint of copper.
Aroma
The wine's aroma is fresh smelling and clean.
It provides a medium intensity and gives you violet florals and a bit of grapefruit zest.
Little to no alcohol burn noticed.
Minuty Rose alcohol content 13.0% by volume, per the bottle.
Taste
Continuing the theme of fresh and clean, Minuty Rose starts with delicious flavors of light orange, grapefruit and white peach.
Then, on the back end you get a bit of tangy citrus along with some well-balanced acidity.
Finish
That tangy citrus carries through to a long finish.
Though this is considered a "dry rose" I didn't find this wine to be overly dry at all.
Overall Opinion
Overall, I found myself quite pleased with this wine.
My two favorite things were its freshness and flavor complexity.
After that, this wine gets high marks for having just enough sweetness to give it a little flavor "oomph" and for its sexy bottle and appearance.
Perfect to give as a gift at a summer party, especially with its Under $20 price point.
Chateau Minuty Rose price about $15.00.
Suggested Food Pairing
Minuty recommends pairing this wine with Pistou soup, grilled meat, raw vegetables, prawn kebabs and apricot pie.
Sounds tasty to me!