Naked Wines is a wine club that is based on an Angel investment model that uniquely connects wine drinkers to the actual winemakers.
It's unlike any other that I've seen.
In this review, I'll be covering how Naked Wines works, what it means to be a NakedWines.com Angel and its perks, plus some general information about NakedWines.com.
I'll also show you some unboxing pictures of the shipment I was sent.  Those are below.
And of course, I'll share what I thought about the taste of the wine samples in the box.  Because, no matter how good the club model is, it comes down to how drinkable the wines are.
Also, the links in this review are affiliate links.  That means if you click through and make a purchase, I'll get a small commission.  However, I'm proud to say my reviews are always my honest opinion whether I have an affiliation with a product or not.
Wine Voucher
For 2023, I've been given a special wine voucher I can share with you to get $100 off 12 bottles of wine.  The voucher takes the price down from $169 to only $69.99 (shipping included!).
This is the best deal on their site and a perfect way to see if you like their wines.
Get the $100-OFF wine voucher below:
How Naked Wines Works
To become an Angel, you deposit $40.00 each month into your Wine Savings Account.
I know, it sounds like a health savings account, but hey there's health benefits in wine, right?
Anyway, the money is then invested in independent winemakers around the world who produce wines exclusively for NakedWines.com.  That means they're not available anywhere else, which is nice.
Since the winemakers look to Naked Wines to do the sales and marketing for them, they can focus on making the best wine they can.  That means that we, as Angels, can buy the wines for 40-60% off the regular, non-Angel prices.  Gotta love a good deal!
I called Naked Wines and they told me that they are now up to 150,000 customers (aka NakedWines.com Angels) and still growing.  They also told me they're currently working with about 70 different winemakers.  Many are from California, but they're also working with winemakers in South America now, too.
If I want to be an Angel how would I use my Angel Account?
First off, if you find the club isn't right for you, you can withdraw your money at any time.  That's important!
But, when you want to buy wine, you can also do so at any time with whatever money is in your account.
Pretty simple!
And also, if you receive a wine and you don't like it, they'll give you a full refund for that wine.  That includes if the wine is damaged, has a cork fault or even if you just find it unenjoyable.
Naked Wines Angel Perks
As a NakedWines.com Angel, you do get a few perks versus people who purchase without becoming an Angel:
With every order you get up to 60% off.  This is the biggest perk, in my opinion.
You get a gift bottle every month if you order a full case.  Not bad!
You get better quality wines for your direct support of winemakers.
More Facts About Naked Wines
The company operates in the U.S., the U.K. and Australia.
They got their start in 2012.
There's an online rating system you can use, with over 2 million reviews and customer ratings.
Speaking of ratings, the company itself has an A+ Better Business Bureau (BBB) rating.  Good to see!
They have a no risk, 100% money back guarantee.  They want you to love every wine you purchase.
There's no membership fee.
Samples of wines are included in your order.
Highly reviewed by Forbes, Times Magazine and Inc.
Won the Best Wine Club for 2021 award from USA Today 10BEST, beating out several well-known clubs.
Can reach them by phone, email or live chat.  <– Live chat….  Whaaat?!  Don't see that very often.
Their goal is to ship to the continental U.S. within 2-6 business days.
They'll delay shipments if the weather is too hot or too cold.
They don't ship to Alabama, Arkansas, Delaware, Kentucky, Mississippi, Ohio, Rhode Island, or Utah.
I think it's also important to note that they don't auto-ship wines.
Most clubs put you on a subscription model where you automatically receive a certain number of wines every 1-3 months.  NakedWines.com doesn't do that.
You're in charge of what you buy and when.
Ratings and Social Interaction
One thing that Naked Wines does extremely well is integrating an online ratings system into the service, along with a social aspect.
With each wine they offer, they include a "% Would Buy It Again" rating.
The way it works is they ask each customer if they would buy a wine (they purchased) again.  And, that's done separately for each vintage of the same wine, so you can identify a wine's best years.
Then, that data is compiled and shown on their website for that particular wine.  That means you can tell which wines people are really liking, as you browse through the NakedWines.com wine selections.  I like seeing this kind of transparency.
Additionally, as you provide more and more feedback, Naked Wines will try to customize their online shop to show you wines that you would prefer over those you wouldn't.
The Social Aspect
The social aspect comes into play in multiple ways.
First, for each wine, you can view the winemaker's profile.  The winemaker has followers and you can see how many they have.
In addition to that, the winemaker makes comments on their own profile, giving you updates on what they're up to in the wine making world.  And, people can reply to those comments which allows an actual dialog between the Angels and the winemaker.
Very unique and interactive!
And, not surprisingly, the winemaker's profile has a bio along with other information about them.
NakedWines.com Groups
Another way the social aspect comes into play is that Naked Wines has "Groups" (kind of like Facebook groups).  The groups are based on different wine topics and people can interact with each other inside the groups.
It becomes a great place to share your wine tasting experiences with others and have some fun!
And, the NakedWines.com staff interacts with people there too.  I've seen where someone complained about a delivery issue with FedEx and the staff jumped right in to get everything fixed.
The best part was all the Angels commenting and giving their advice too.
Again, very unique!
Naked Wines Pricing
Yet another unique thing Naked Wines does is set prices based on ratings from customers.
Once they've received over 250 ratings on a wine, they do quarterly reviews to set a wine's price based on how people have rated it.  Their feeling is that the winemakers that over-deliver on the quality of their wines deserve the funding.
Now here's what's truly unique…  If you purchase a wine and then within 12 months the price drops, you get a credit in your account for the difference.
Wow, right!?  Very different and very customer-focused.
Get $100 Off below:
Save $100 on 12 world class wines – Just $6.67 per bottle (includes shipping!)
Naked Wines Unboxing
I thought it would be a good idea to share with you exactly what I received.
They sent me a box of six wines of various varietals.
What follows are pictures of each step of my unboxing.
The Naked Wines Box
This is the box I was sent:
And this is what the sides of the box looked like.
Notice the cutout for your hands…  A nice touch!
Opening the Box
This is what it looked like when I first opened the box and then after I removed the packing material from the top.
I was happy to see that the wines were well-protected and I enjoyed the welcome letter with my name.  That listed out the wines that were in the box.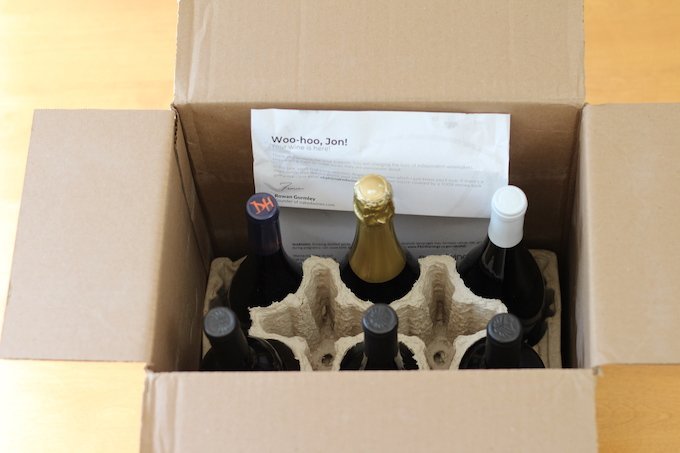 They made the box flaps interesting.  In this first picture, they want to know if your delivery went well.
And then they let you know that nakedwines.com has an app and tell you how to get the "inside story."
The Wines
And last, but certainly not least, here's the six wines I received.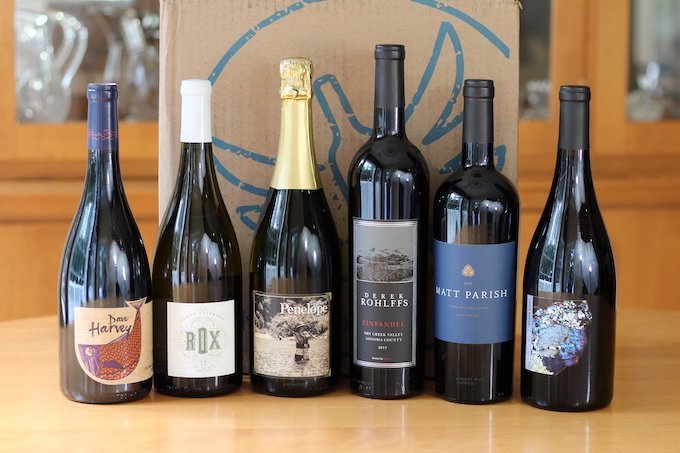 Get $100 Off below:
Save $100 on 12 world class wines – Just $6.67 per bottle (includes shipping!)
All in all, a good unboxing experience.  They kept it simple!
Reviews of Each Wine
Of course I had to taste each of the six wines I was sent!
Below you'll find my honest reviews of each wine, starting with the Chardonnay…
Scott Peterson ROX Sonoma Coast Chardonnay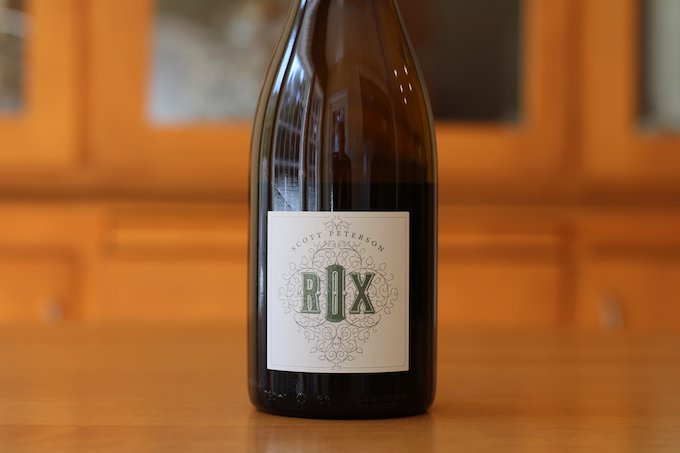 I shared this Chardonnay with a friend and we both loved it.  We said "It Rox!"
In all seriousness, this brassy Chardonnay has enjoyable, long lasting aromas of florals and citrus.
We noted bright flavors of pineapple, pear and a bit of green grape.  Very clean!
The finish was long lasting with a hint of the alcohol carrying through.
Chris Baker Willamette Valley Pinot Noir
I tasted this one on my own and with this wine I was treated to a well-crafted, classic Willamette Valley Pinot Noir.
It was light burgundy in appearance with a delicate cherry aroma.
By the way, you'll often notice that Oregon Pinot Noir is more lightly colored than Pinot from other parts of the US.  I think it has something to do with the volcanic soil in that part of the continent.
Tasting revealed further light cherry flavors with a nice spirit of steely minerality and a hint of oak.
It's long finishing with an even balance between the reserved tannins and delicate flavors.
A wonderful Pinot, but do let this wine air a bit to fully enjoy it.
Matt Parish Napa Valley Cabernet Sauvignon
I also tasted this one on my own.
In the glass, this wine pours garnet in color and is quite leggy.
A tip and sniff revealed fully developed aromas of spice and blackberry oak.
Taste wise, this wine is juicy with tight tannins that take a moment to make themselves known.  Non-sweet plum and wild raspberry came to mind.
Long-finishing and nicely balanced, I found this bold, dry Cabernet Sauvignon to be full of flavor and very enjoyable.
I read up on Matt Parish to find out he's been the winemaker for big brands like Beringer and Stags Leap.  I think he did a nice job with this Napa Valley Cab.
Dave Harvey Columbia Valley Syrah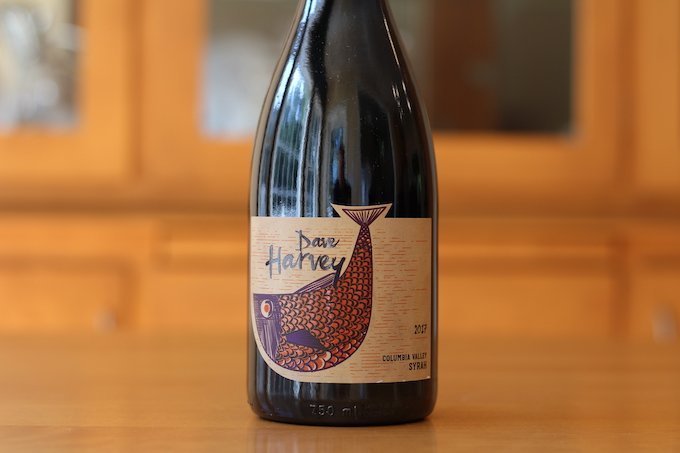 I shared this wine with the same friend who helped me out with the Scott Peterson Chardonnay.
This one was very dark in appearance, with pretty red and plum colors.
On the nose we were greeted with earthy, dark stone fruits and a good whiff of alcohol.
On the palate we noted juicy black fruits and maybe even a hint of prune, that came off as quite enjoyable!
Its well-refined tannins and long finishing flavors were lovely!
Most notable, my friend is not a big fan of reds, but she really liked this one.
Kudos to the winemaker!
Derek Rohlffs Dry Creek Valley Zinfandel
I tasted this single vineyard Zinfandel on my own and it was fabulous!  My favorite of the six, actually.
With fruit sourced from Healdsburg's Dry Creek Valley, this Zin poured dark ruby in color.
The wine's aroma was lovely, with hints of raspberry and herbals.
The taste was stellar!  I noted multi-layered flavors of raspberry, blueberry and mocha upon first tasting.  That was immediately followed by hints of warm, savory spices, giving this wine a double taste profile that you don't get very often.
Definitely a highly crafted wine.
Mouthfeel was luxurious with "barely there" tannins and the wine's finish was long lasting and all about the flavors.
So good you could drink this like juice if you're not careful!
Penelope Breathless California Brut
And finally, I tasted this non-vintage sparkling wine from Penelope Gadd-Coster.
This very bubbly rose-gold colored Brut revealed clean and subtle aromas that hinted at the Chardonnay and Pinot Noir fruit this wine was made from.
Yes, it's OK to combine a "white wine" grape and a "red wine" grape in a Brut!
Taste was also subtle, with notes of green apple and wild berries that were more noticeable once the wine "de-sparkled" a bit.
Though not as fruit-forward as its description would suggest, I still enjoyed this wine quite a bit.
Conclusion
Given how good the wines were and the customer-focused business model, I'm comfortable recommending Naked Wines to you, my readers.
If you have a question about NakedWines.com, feel free to contact me.  If I don't know the answer, I'll reach out to Naked Wines and ask.
While NakedWines.com asks for more interaction than most other wine clubs out there, I think customers and winemakers are both rewarded for that.
And, I wouldn't be surprised to see the wine club industry take a closer look at this model versus the "expert curation" model that most clubs follow.
This new model is quite sophisticated and as I was told by Naked Wines personally, they feel they're a disrupter in the industry.  I tend to agree.
Get $100 Off below:
Save $100 on 12 world class wines – Just $6.67 per bottle (includes shipping!)