The Oak Ridge Winery is located in Lodi, California, USA.  They're known for being the longest operating winery in the Lodi AVA and they harvest their fruit from over 500 acres of vineyards in the region.
In this 4 for 1 review we'll cover four Old Soul wines, including the Old Soul Chardonnay, Pinot Noir, Cabernet Sauvignon and Pure Red.
Old Soul is one of the eight different wine brands the Oak Ridge Winery produces.
They also produce OZV Zinfandel which I reviewed previously.
Spoiler Alert!  These wine's strengths are in their uniqueness.
Oak Ridge Winery Old Soul Wines Reviewed
Samples received for review purposes.
The vines of Old Soul Wines are said to be deeply rooted in the soil.  As a result, the vines are able to stand up to drought conditions and produce grapes that ripen evenly.
Additionally, these vines are claimed to produce wine that is complex and concentrated in flavor.
For more info, check out the Old Soul Vineyards website.
Old Soul Chardonnay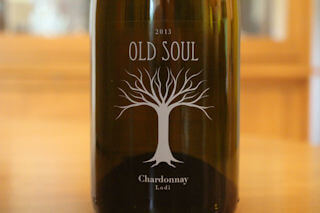 Our first Old Soul wine from the Oak Ridge Winery is their Chardonnay.  This wine is all Chardonnay and not blended with any other varietals.
In the glass this wine is golden straw in color with a little more hue than you might typically find in a Chardonnay.  The hue was a very slight green color.
On the nose, the wine was quite aromatic.  I noted pineapple, pear and tropical fruits in general.
Old Soul Chardonnay alcohol content 13.0%.
The wine's taste was crisp and fresh.  There was almost a bubbly hint to the taste.  Primary flavors were tropical fruits, as foreshadowed by the aroma.
Tannins were moderate with no significant bitterness noted.
The wine's finish was medium to long and carried by the tropical flavors.
Overall, I enjoyed this Chardonnay for its uniqueness.  Though the stainless aged wine was combined with medium toast French and American oak, it didn't come across as an "oaky" Chardonnay at all.
And interestingly, the tasting notes stated that the wine was "combined with tropical fruit" which certainly explained the flavors I experienced.
Old Soul Pinot Noir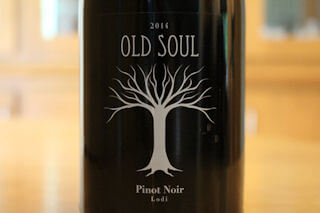 Next up is their Old Soul Pinot Noir.
I could tell right away by this wine's purple appearance that it was a blend of more than just Pinot Noir.
Sure enough, once I read the tasting notes, I discovered it's actually a blend of Pinot Noir, Zinfandel and Merlot.
In the glass it's quite leggy with many slow falling legs.
The wine's aroma was akin to spicy wild raspberry with a good whiff of alcohol on the nose.
Old Soul Pinot Noir alcohol content 13.0% by volume.
The blend made for a multidimensional taste that started with creamy mocha and gave way to jammy black raspberry flavors.
The wine's mouthfeel was very silky with smooth round tannins.
Finish was long and carried by the wine's rich flavors.
Overall, I found this to be a very enjoyable wine to drink.  Make no mistake, this wine is big and rich.  If you like classic Pinot Noir, this one may not be for you.
But, if you like to smooth out your Pinot a bit and you like a nice smooth easy sipping red, this one will delight.
Old Soul Cabernet Sauvignon
Our third wine is the Old Soul Cabernet Sauvignon.
This wine's appearance was quite dark, with little to no light shining through.  I would describe the color as dark black raspberry.
It's very leggy with thick, wide, purple tinged legs that dripped slowly down the sides of the glass.
The aroma was mostly of black cherry with a bit of an alcohol sting.  I also noticed some black licorice as well.
Old Soul Cabernet Sauvignon alcohol content 13.0%.
On the palate, I noted flavors of smoky black fruits and a little vanilla.  The primary black fruit was black cherry.  The wine was rich, full bodied and quite smooth.
Round tannins were sensed on the tongue.  Mouthfeel was creamy with a long finish and no bitterness was perceived.
Overall, I found this to be an enjoyable blended Cab.  Per the tasting notes, the wine is a blend of Cabernet Sauvignon, Zinfandel and Merlot.
Old Soul Pure Red
Our fourth and final selection is the Old Soul Pure Red.
This wine was similar in appearance to the above Cabernet, very dark and leggy.
It was just a bit less aromatic then the Cab.  The tasting notes hinted at spice and licorice in the aroma.  I didn't notice those in this wine, but did so in the Cabernet.
For me, the aroma was primarily blackberry and had the least amount of alcohol sting of all three reds reviewed.
Old Soul Pure Red alcohol content 13.5%.  Interesting, because the percentage is the highest of all the wines.
The taste was rich, jammy, big and juicy with black cherry as the primary flavor.
Soft tannins gave way to a little bit of dryness.  Tannins were noticed all over the mouth.
Overall, like the others, I found this one to be an enjoyable sipping wine.  This one is a blend of Cabernet Sauvignon, Zinfandel and Petite Sirah.
Conclusion
In conclusion, I believe these Oak Ridge Winery Old Soul selections were all crafted for approachability.  Each one is smooth and enjoyable.  The Chardonnay would be a great summer picnic wine and the reds great campfire wines.
Conversely, if you are a purest, these wines may not be up your alley.
Their strength is in their uniqueness.  Their flavors are intense and complex and I would suggest enjoying each one, keeping that criteria in mind.
All are priced for retail at $14.00.