The Plonk Wine Club is a club that specializes in organic, natural and biodynamic wines.
What also sets the Plonk Wine Club apart from other clubs is that it features unique wine varietals and regions from around the world. Many wine clubs tend to stay in their lane and don't stray very far from the most common regions and varietals. Plonk, on the other hand, embraces diversity and as a wine consumer you benefit from this.
In this Plonk Wine Club review, I'll be covering how the club works, some facts about the club and its pros and cons.
I'll also share with you unboxing pictures of the wine delivery I was sent. You'll find those below.
And importantly, I'll share what I thought about the taste of each the wine samples I was sent. I believe most people want to know if the wines the club offers are worth buying or not. So, I'll be sure to share my personal tasting notes for each wine I received.
Also, the links in this review are affiliate links. That means if you click through and make a purchase, I'll get a small commission. However, I'm proud to say my reviews are always my honest opinion whether I have an affiliation with a product or not.
How the Plonk Wine Club Works
The club is owned by Etty Klein, who prides herself on being an organic wine curator. She's the founder of the club and is also WSET and American Sommelier Association certified. Suffice to say, she has a great background in the wine industry.
After conversing with her I've discovered she's very knowledgeable, easy going and quite nice to work with.
Discover Rare Organic Wines:
Club Options
Plonk has both a wine club and a wine shop.
If you prefer to build your own case of wine or enjoy curated one-off packs, then the wine shop is probably for you.
If you prefer more of a wine subscription service, then the wine club would be the better choice.
There are also some deals to be had, when choosing the wine club option.
Either way, you'll be sure to get wines that are sustainably sourced and free from pesticides and chemicals.
Wine Club Ordering Details
Focusing in on the wine club option, let's cover the specifics of how it works.
You start by choosing which club you want. There are three:
Red Wine Club.
White Wine Club.
Mixed Wine Club (reds and whites).
Following that, you choose if you want 4, 6 or 12 bottles with each delivery.
Lastly, you decide if you want to pay month to month with an ongoing subscription or choose a one-time prepaid package of 3, 6 or 12 deliveries.
The prepaid packages arrive monthly for the number of months you choose. (i.e., for 3 months, 6 months or 12 months)
Following that, you're done with the package and no more deliveries will be sent. It doesn't auto-renew.
The ongoing subscription goes month to month until you cancel. You can cancel your subscription at any time.
Plonk Wine Club Cost
The total cost of the club depends on the number of bottles you choose per delivery and how many months you choose.
The monthly prices for all clubs (red, white and mixed) are as follows:
4 bottles – $110/month.
6 bottles – $160/month.
12 bottles – $285/month (Best Deal).
As you can see from the prices above, the more bottles you buy per month the better the price, which is not uncommon to see.
The same applies to the prepaid packages. The more bottles you buy, the better the discount.
Wine clubs often adjust their prices depending on many factors, so be sure to check the latest prices.
Check Latest Prices:
Facts About the Plonk Wine Club
Has both a Wine Shop and a Wine Club.
Plonk is a curated club, not based on taste algorithms or through a personal wine concierge.
Wine club shipments are sent out the first week of each month.
Shipments arrive in 5 to 10 business days.
Plonk will delay shipments due to weather (extreme heat or cold) to protect your wine.
The 12 bottle wine clubs contain 2 bottles each of 6 different wines.
Pros
Best wine club for people interested in organic and natural wines.
Sustainably grown artisan wines from around the world.
No pesticides or commercial chemicals used in winemaking.
Club choice, number of bottles and delivery frequency is very customizable.
Great diversity of regions and varietals.
Free shipping for both the shop and the club.
Can send gift subscriptions.
Cons
Prepaid packages (3, 6 or 12 month) are non-refundable.
Because it's alcohol, someone 21 or over must be available to sign for delivery.
Returns or refunds not offered if you don't like a wine. Only if bottles are damaged or corked.
How to Cancel Plonk Wine Club Subscription
You can cancel an ongoing subscription three different ways:
Via your Plonk online account.
By emailing customer support at help@plonkwineclub.com.
By phone at 1-877-507-5665.
Plonk Wine Club Unboxing
I thought it would be a good idea to share with you exactly what I received.
My delivery was a 6-bottle mixed case (both reds and whites).
What follows are pictures of each step of my unboxing.
The Plonk Wine Club Box
This is the box I was sent:
As you can see from the picture above, the box was quite plain.
Often times, wine clubs will put their branding on the box. But in this case, they chose not to.
More importantly, the box was in good shape and had no visible damage.
Opening Up the Box
Below is what it looked like when I first opened up the box on my dining room table.
For the six-bottle delivery, you can see that they lay the wines on their sides in layers of three bottles each.
The packing material was sturdy and thick. Good to see!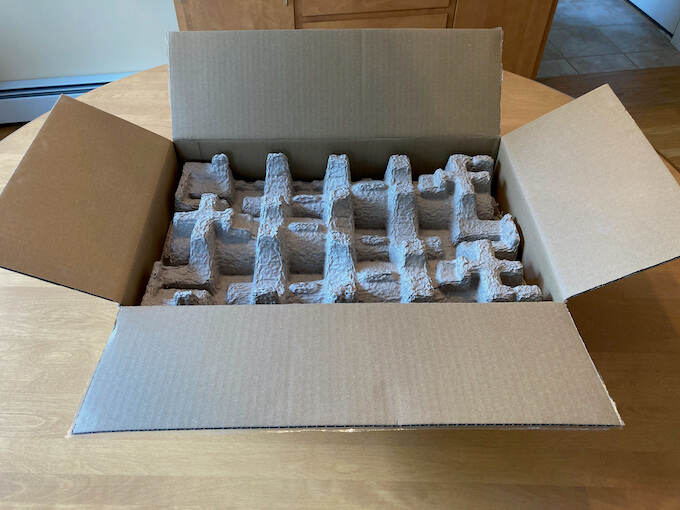 Next is a picture of the three wine bottles at the top of the box and how they were packaged.
I was pleased to see the packing bumpers at the bottom of each bottle. This helps prevent bottle damage from the sides.
Again, good to see.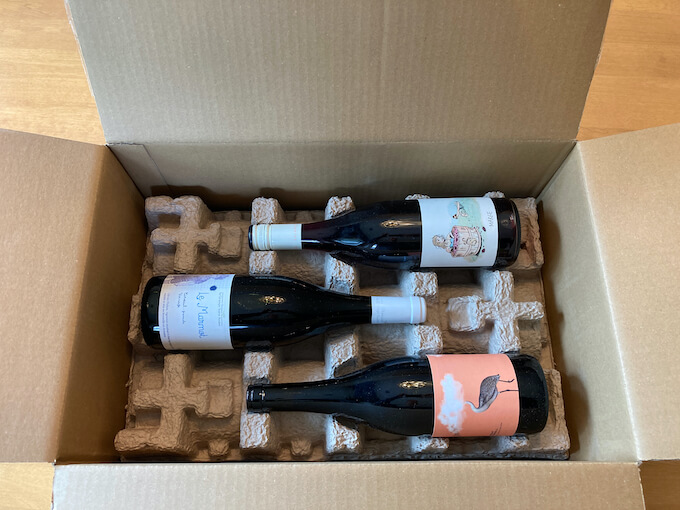 Next is the second layer of wine bottles.
You can see that they are packed similarly and well-protected.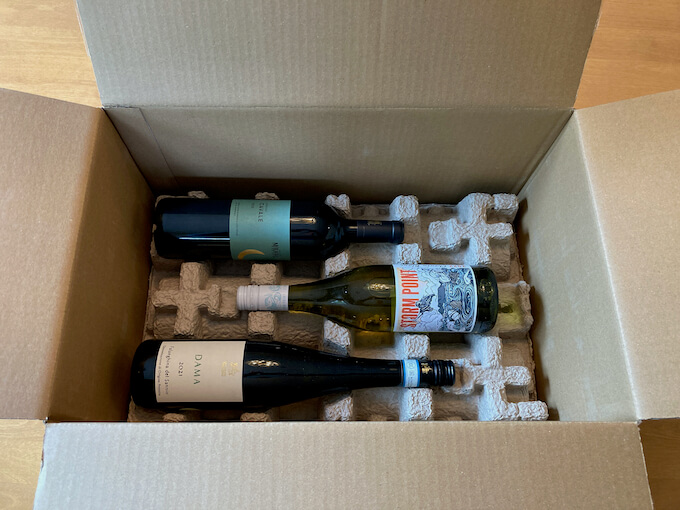 Overall, the wines were well-packaged for protection from damage.
Each bottle was well-isolated from each other and there was plenty of packing material on the sides as well.
Included Tasting Notes
Also in the box was a two-sided tasting sheet with notes about each wine.
The tasting notes were easy to read and included plenty of details about each wine.
I also liked how they made it easy to see where each wine came from.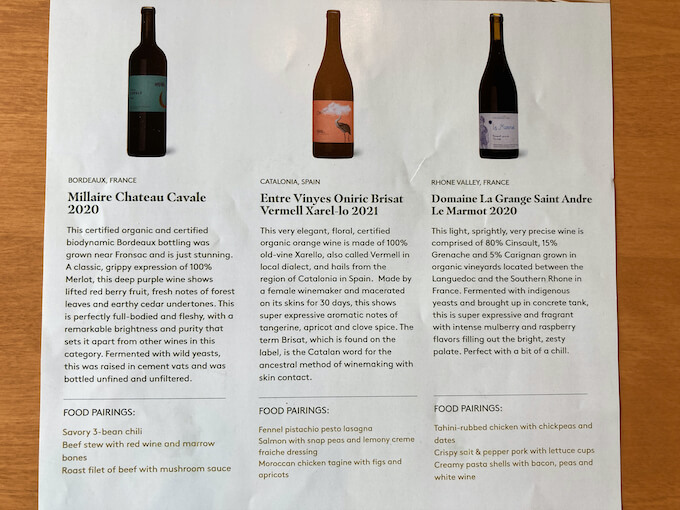 The picture above shows one side of the tasting sheet.
The picture below shows the other side of the tasting sheet. (i.e., when you flip it over)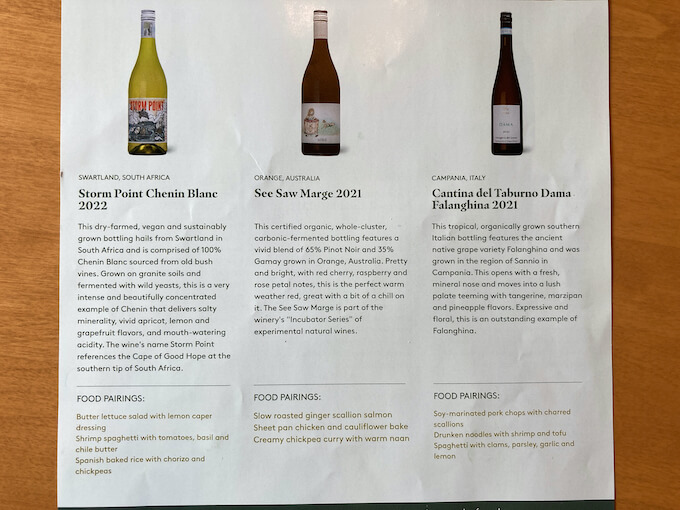 I also appreciated the multiple food pairing ideas for each wine. Usually, you only see one.
Another interesting note was that after tasting the wines, I found the aroma and palate descriptions to be pretty accurate.
Plonk Wine Club Wines
Finally, below is a picture of all six wines lined up.
Discover Rare Organic Wines:
All in all, a great mixed selection of red and white wines that were different and unique. I liked the fact that the wines they sent came from all over the world.
The Plonk Wine Club really emphasizes organic wines and the selection they sent certainly were of that type.
Reviews of Each Wine
When you choose a wine club, you want to be sure that the wines you receive are enjoyable and meet your expectations.
So, given the Plonk Wine Club's ability to source organic wines, I was definitely curious to see what the wines tasted like.
Below you'll find my personal and detailed review of each of the wines I received. Use this at your own convenience when deciding if this wine club is right for you.
I'm a big fan of unique and international wines that don't taste exactly like all the others out there. With that said, I'll share up front that the Plonk Wine Club certainly meets that expectation (in a good way) with these wines.
Millaire Chateau Cavale Merlot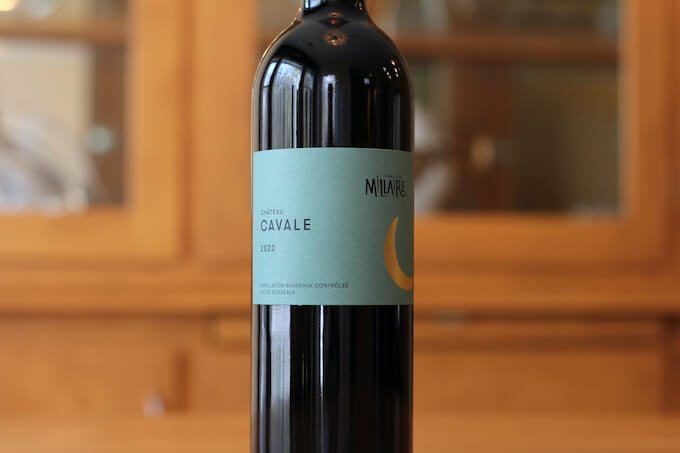 This Merlot is a certified organic and biodynamic wine. It comes from Bordeaux, France and is 100% Merlot with no blending.
The wine showed a dark plum color in the glass and had a unique and enjoyable balsa wood aroma to it.
Being a French style Merlot, it was more dry than the Merlot you find from say, California, which is often blended with other varietals.
With that said, its taste profile included blueberry, red fruit and red plum.
Rounding out the experience were fine grain tannins and a long finish that was an equal balance between the tannins and the flavors.
Overall, I really enjoyed this organic Merlot. It was quite tasty and I noted that when allowed to breathe a bit, the flavor softened and revealed more of the red fruits.
Domaine La Grange Saint Andre Le Marmot Cinsault Blend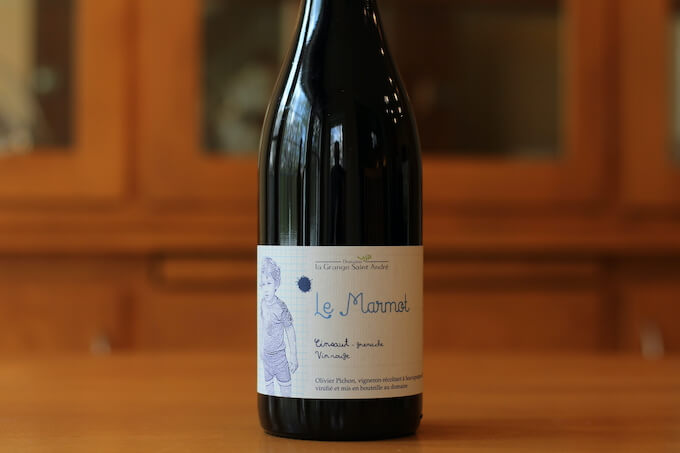 Le Marmot is a uniquely composed blend of Cinsault (80%), Grenache (15%) and Carignon (5%) that comes from the Rhone Valley in France.
The grapes for this wine were grown in organic vineyards and fermented with indigenous yeasts.
In the glass, this wine was dark strawberry in color and continued that theme with an earthy strawberry aroma.
Flavors included zesty raspberry and other red fruits. Non-sweet but quite delicious!
Its off-juicy mouthfeel and subtly dry tannins supported a long and enjoyable finish.
Overall, I found this wine to be bright, flavorful, lightly dry and enjoyable.
Dama Falanghina del Sannio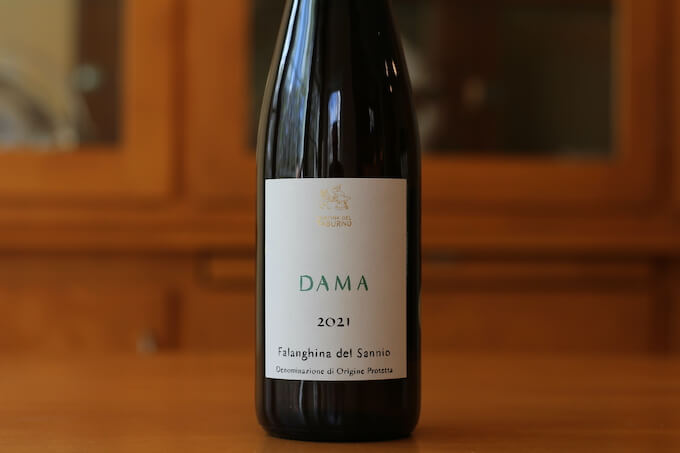 This light golden colored and organically grown white wine opened with aromatic notes of pineapple citrus.
Tasting revealed pleasant flavors of ripe pineapple, mango and other tropical fruits.
Its long finish carried the delicious tropical flavors of this slightly sweet wine.
Overall, a perfect picnic wine with lovely minerality from a varietal (Falanghina) that you rarely hear about.
Two thumbs up for this unique wine from Campania, Italy that would pair easily with angel hair pasta and a nice clam sauce.
Or just twist it open and sip it outside on a nice day!
See Saw Marge Pinot Noir Blend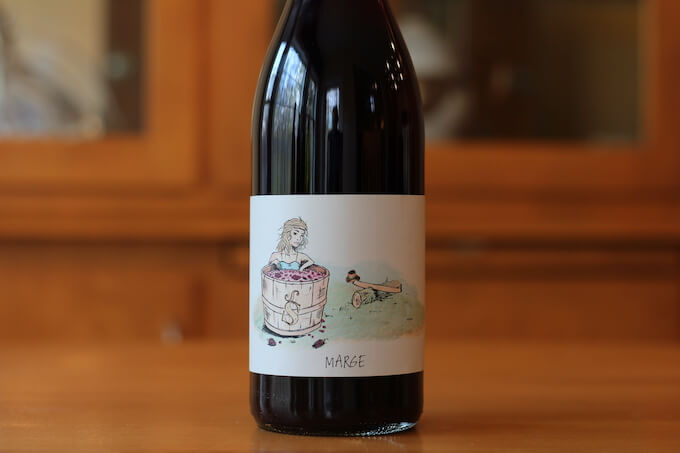 See Saw Marge is a certified organic red wine from Orange, Australia that's a blend of Pinot Noir (65%) and Gamay (35%).
In the glass, the wine was purple Burgundy in color and had a bold aroma.
Its aroma notes included earthy cherry and rose petal.
On the palate was an almost effervescent array of cherry soda and raspberry, lasting through to a long finish with minimal tannins.
Overall, very unique and different for a blended Pinot Noir that's considered an "experimental natural wine" by the winery it comes from.
Storm Point Chenin Blanc
Storm Point comes from Swartland, South Africa and is comprised of 100% Chenin Blanc sourced from old bush vines.
It's a dry-farmed and vegan wine whose grapes are grown in granite soils and fermented with wild yeasts.
It was light white gold in color and treated me with aromas of pear and citrus.
On the palate, I got concentrated notes of grapefruit and light lemon citrus.
Its medium lasting finish carried a touch of acidity along with its flavors.
Overall, I thought highly of this wine. I especially enjoyed it's teasing, yet subtle aromas followed by a surprise of expressively bold flavors.
The Plonk Wine Club suggests a pairing of butter lettuce salad with a lemon caper dressing. I think this wine that would be a fabulous complement to that dish.
Oniric Brisat Vermell Xarello
This organic orange wine from Catalonia, Spain appeared light apricot in color and provided abundant aroma notes of tangerine and muted florals.
The varietal is 100% Xarello (known locally as Vermell) and the winemaker utilizes a method of winemaking with skin contact. That's what makes it an "orange wine."
To be clear, the wine is not made from oranges. It's the grapes' skin contact that gives the wine its orange-like color.
On the palate, I was treated to flavors of tangerine citrus along with a light minerality.
The flavors finished long and expressive.
Overall, this was an elegant wine and easy sipper. Or, could be nicely paired with pesto pasta.
FAQ
Who owns Plonk Wine Club?
The club is owned by Etty Klein via the company Plonk Wine Merchants LLC.
What sets the Plonk Wine Club apart from others?
Their focus on organic wines sets this club apart from other wine clubs.
Is the Plonk Wine Club expensive?
They're not the cheapest but they offer excellent value for the price for organic artisan wines.
My Overall Opinion of the Plonk Wine Club
Overall, I found the Plonk Wine Club to be a great value.
Having tried and reviewed several wine clubs over the years, I can definitely say that the Plonk Wine Club is the clear choice when it comes to organic wine.
If you're looking for the most wine at the cheapest price, this club probably isn't for you.
But, if consuming organic and biodynamic wines that are sustainably made and natural is what you're looking for, then this is the wine club for you.
Plus, the wines are all great-tasting, unique and diverse.
Good for the planet and the palate!
Discover Rare Organic Wines: