Ravenswood Old Vine Zinfandel Napa Valley comes from the Ravenswood winery in Geyserville, California, USA.
Fruit for this wine was sourced from several Napa Valley vineyards including Hendry, Perez, Luvisi, Balyeat, Dickerson and Chaix.
This wine is actually a blend of 86% Zinfandel and 14% Petite Sirah.
In 2017 this wine won a Silver Medal in the San Francisco Chronicle Wine Competition.
For comparison purposes, I've also reviewed Ravenswood Old Vine Zinfandel Vinter's Blend.
Ravenswood Old Vine Zinfandel Napa Valley Review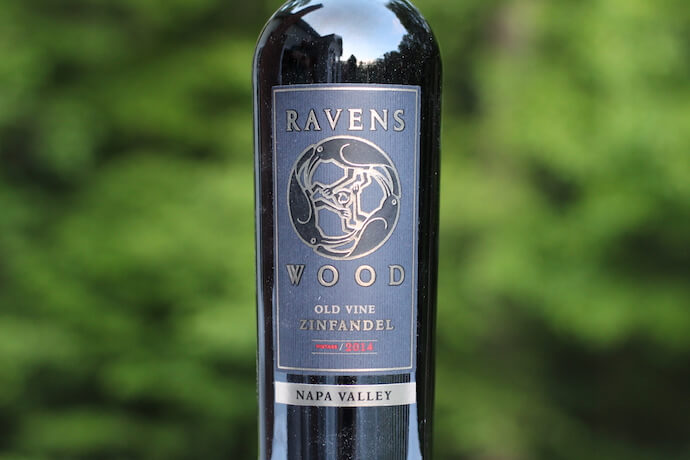 I once again had help from my friend "Big Al" for this review.  Spoiler alert, he's been to Ravenswood and loves their wines.
From the bottle:
Our Napa Zin is made from small, thick-skinned grapes that bring powerful, take-no-prisoners flavors with classic Napa Valley soul.
Sample of 2014 Ravenswood Old Vine Zinfandel Napa Valley received for review purposes.
For more info about this wine check out the Ravenswood Winery website.
Appearance
In the glass, we found this wine to be quite dark.
I called it extra dark ruby in color.  Al quantified it as very dark Burgundy.
Long story short, it's a dark wine!
Legs are numerous and slow falling, though rather thin.
Aroma
On the nose, I picked up some minerality along with various black fruits.
For Al it was red fruits, with a hint of tobacco.
There was no standout alcohol burn in the nose when we gave this wine a good whiff.
Ravenswood alcohol content 15.0% by volume, per the bottle.
Taste
Al, who is never at a loss for words, immediately stated "smooth with a lovely flavor that greets you like an old recliner."
And he was totally right.  Ravenswood Old Vine Zinfandel Napa Valley is very smooth with bursting flavors of vanilla, tobacco and crushed black cherries.
Delicious!
Mouthfeel and Tannins
We found the wine to have a lush and velvety mouthfeel.
Tannins were very supple and most noticeable on the edges of the tongue.
Finish
Finish is long and enjoyable.
It starts with the flavor and slowly diminishes to the tannins.
Overall Opinion
Overall, we both loved this wine.
I found that there was something about the first burst of flavor that really captured my attention.  It was so smooth and enjoyable.
I also really enjoyed the subtlety of the tannins.  All in all, I found the wine to be very balanced and well-refined.
Having been to the winery, Al admitted that he carried a favorable bias towards Ravenswood coming in to the review.
However, in his final weigh-in he said, "… the bias is well-deserved.  Ravenswood has produced another winner with this exquisite Old-Vine Zinfandel."
Ravenswood Old Vine Zinfandel Napa Valley suggested retail price $18.00.
Suggested Food Pairing
Al says pair this with Jon's famous grilled New York Strip!
Which we soon did and oh was it a great pairing!