Produced in Emilia Romagna, Italy, this review is of Riunite Wine.  Specifically, Riunite Lambrusco.
There was no year on the Riunite wine bottle.
For this review, I enlisted help from a previous tasting assistant, "Big Al."  He's helped before and his experience always makes for a better review.
According to the Riunite wine's tasting notes, grape varieties include Lambrusco Maestri, Marani, Montericco, Salamino and Lancellotta.
You may remember the iconic TV commercials with the saying, "Riunite on ice…  that's nice!"  Given that, this review includes an "on ice" tasting as well.
Alcohol content of this Riunite wine is 8.0% per the bottle.
The bottle had a twist top and directed us to refrigerate after opening.
Riunite Wine Review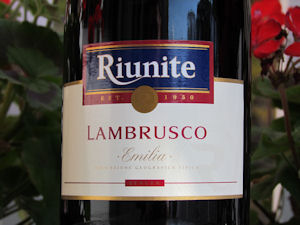 Sample of Riunite Lambrusco received for review purposes.
We first tried this wine without ice.
Appearance of the wine was grape or purple in color.
Riunite Lambrusco is not very dark and a good amount of light shines through.
The wine had just a few fast moving legs.
Also, when swirled you could notice the bubbliness of the wine, which is characteristic of Riunite Lambrusco.
Aroma of the Riunite wine was non-descript, and frankly non-inspiring.  To be honest, we both felt the aroma was not enjoyable at all.  My tasting buddy called it "objectionable."
We described the taste of the Riunite Lambrusco as either Grape Juice (like Concord) or Black Cherry Soda.
There were no noticeable tannins and the wine had a fairly long finish.
We then tried the Riunite wine "on ice."
The significant differences we noticed were that the wine got more bubbly, it tasted like refrigerated grape juice and brought forth some bitterness to the sides of the tongue.
Overall, Riunite Lambrusco is a sweet, almost bubbly wine.  It's not really comparable to anything else.
We went in with an open mind, but ended up pouring most of it out.
We suspect you need to really be a Lambrusco aficionado to better appreciate this wine.