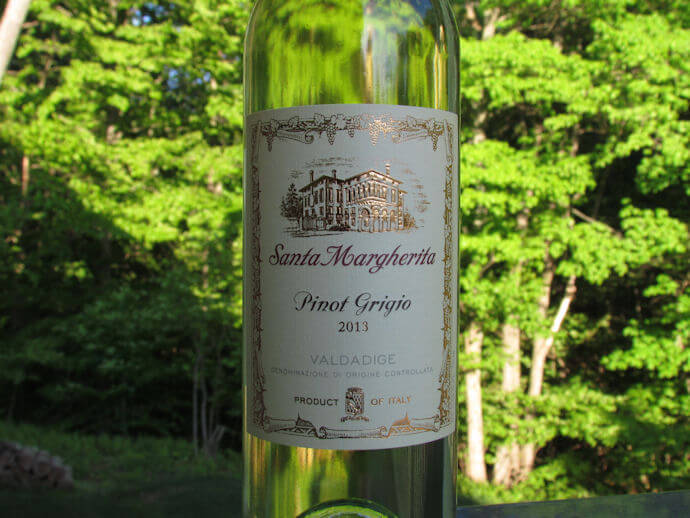 Santa Margherita Pinot Grigio is a crisp white wine from Italy, presented by Terlato Wines.
This wine has been produced for over 30 years and is a very popular Pinot Grigio that can be found in many stores.  The wine was introduced to the United States in 1979 by Anthony Terlato.
It's made in the authentic Italian style, according to the bottle, and crafted in the Northern Italian region of Alto Adige.
Santa Margherita Pinot Grigio Tasting
I had a friend help me with this tasting and we tasted the 2013 vintage of this wine.
Appearance
In the glass Santa Margherita Pinot Grigio is straw in color and leaves bright golden reflections from the light.
We noticed a lot of legs in our glasses.  They were slow to fall, thin and uniform in shape.
The wine had a fairly high level of viscosity and was definitely not a thin white wine.
Aroma
The wine's aroma was immediately noticeable when the bottle was opened.  It was aromatic and lofty.  I noticed whiffs of the aroma from a good sixteen inches away from the glass.
We described the aroma as apple, initially.  As it developed we noticed grapefruit from afar and tart apple up close.
There was little to no sting of alcohol noticeable in the aroma.
Santa Margherita Pinot Grigio alcohol content 12.5% by volume per the bottle.
All in all, we thought this wine had a great aroma!
Taste
I found the wine to be bright in taste.  Noted flavors were primarily citrus, including lemon and grapefruit.  You could immediately tell this wine had a good amount of acid in it.
My friend said "It starts with a hint of tobacco, but then quickly tarts out."
We both agreed that the wine's taste was very enjoyable as a sipper and would also be great paired with a clean white fish, due to its nice citrus flavor.
Finish
The wine's finish was medium to long.  We counted about nine seconds until the flavor dissipated on the palate.
We also both noticed just the slightest hint of lingering bitterness.
Overall Opinion
Overall, we both really liked this wine.
My friend loved the way the flavor pops.  He said he "loved it."
I also found this wine to be very enjoyable.  Although I found it to be a bit one dimensional, it really delivers on that dimension.
Santa Margherita Pinot Grigio price $19.99.
Recommend!