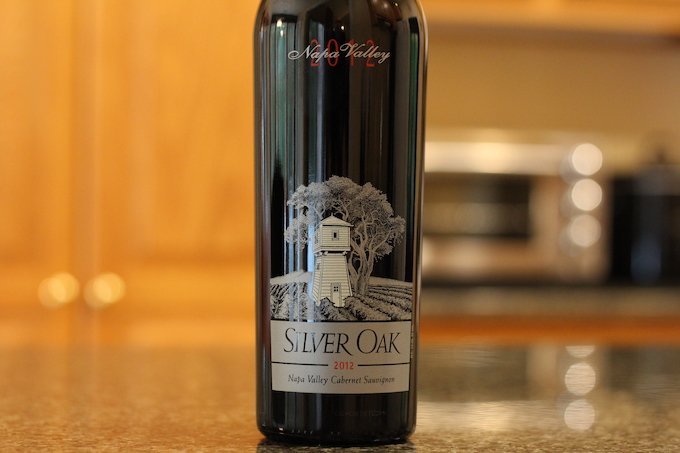 Silver Oak Napa Valley Cabernet Sauvignon comes from Silver Oak Cellars and their Napa Valley Winery in Oakville, California, USA.
Their Napa Valley Winery is one of two main wineries operated by Silver Oak.  They also operate their Alexander Valley Winery in Healdsburg, California.
Silver Oak got their start in 1972, operating out of a dairy barn in Napa Valley and producing just 1,100 cases of Cabernet Sauvignon their first year.
They were founded by Raymond Twomey Duncan and Justin Meyer.
As the years went on, Silver Oak grew their reputation as one of the premier producers of Cabernet Sauvignon.
Nowadays, Silver Oak is run by the Duncan family who've been operating the winery as a family business since 2001.
Silver Oak Cabernet Sauvignon Wine Review
I did this review with my good friend, Big Al, who's made regular appearances here in helping out with reviews.
Together, we tasted the 2012 vintage of this wine.
Notable about the 2012 vintage, weather was cooperative and led to an "exceptional growing season and a gift from Mother Nature" according to Silver Oak's tasting notes for this wine.
One thing I wasn't aware of was that Silver Oak Napa Valley Cabernet Sauvignon is not 100% Cabernet Sauvignon.
It's actually a blend of the following, for the vintage we tasted (2012):
80% Cabernet Sauvignon
10% Merlot
7% Cabernet Franc
3% Petit Verdot
And finally, Silver Oak says this vintage can cellar all the way to 2037, if cellared properly.
Appearance
In the glass, the wine was non-opaque and purple in color.  It had an almost metallic quality to its appearance.
It's a leggy Cabernet that produced two waves of legs in our glasses.
The first wave was quick to fall with thin drips.  And the second was slow to fall with thicker drips.
Aroma
This part of the experience was my favorite!
Silver Oak's aroma burst from the glass immediately after pouring.
We both noted wonderful aromas of silky vanilla and black cherry.
I picked up on something subtle I couldn't quite place, similar to the aroma you'd get from black olives at a distance.
I gave up and had to cheat and look at the tasting notes.  Turns out, Silver Oak describes it as Hoisin sauce!
I happened to have a bottle of Hoisin sauce in the fridge, so of course I had to compare it to what I was smelling.
Sure enough…  That was it!
Aside from all that, we both loved the fact that there was little to no burn of alcohol in the aroma.
Silver Oak Cabernet Sauvignon alcohol content 14.4% by volume per the tasting notes.
Taste
Together, Al and I noted non-complex flavors of cherry and black cherry.
While there may have been a hint of something like nutmeg, the taste was predominately fruit.
We also noted a bit of a loss of flavor as the wine had a chance to breathe.
A fresh pour brought back the essence of the flavors.
Mouthfeel and Tannins
The wine's mouthfeel was silky and you really needed to coat your mouth to notice the well-restrained tannins.
We enjoyed the fact that the the tannins didn't compete with the flavor.
Finish
Silver Oak's finish was long lasting (Al counted 12 seconds) and enjoyable.
As expected from the well-restrained tannins, the finish was dominated by the wine's flavors.
Silver Oak Cabernet Overall Opinion
Overall, while we certainly enjoyed this wine, we had high expectations that weren't quite met.
While this Cab was certainly tasty and had an excellent aroma, tannin structure and finish, we were hoping for more complexity and variation of flavor.
We were also hoping the flavors would evolve more on the palate than they did.
I argued at the time that we should be expecting what we were getting from a pure Cabernet.
But…  it wasn't a pure Cabernet, only 80% with a 20% blend of other varietals.  At the time of tasting the wine, we thought it was 100% Cabernet Sauvignon.
Often times it's those other varietals that bring the complexity.
However, flavor complexity is what this wine was lacking, given the price and reputation.
So bottom line, very enjoyable but didn't meet the very high bar we had set for this wine.
Silver Oak Cabernet Sauvignon price $119.99.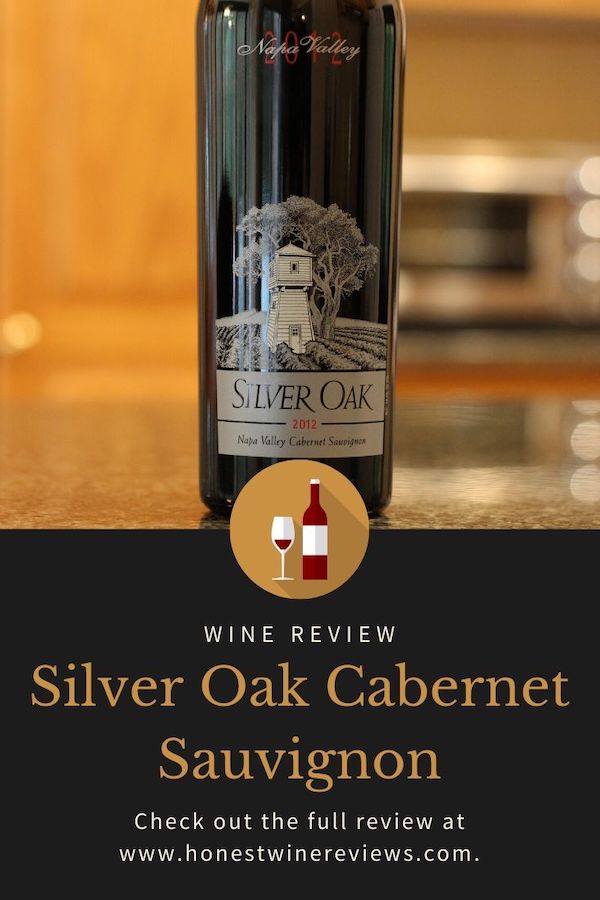 Suggested Food Pairing
Silver Oak suggests serving their Napa Valley Cabernet Sauvignon with an Herb Roasted Prime Rib.
They have other suggestions as well, however I like the idea of pairing a straightforward Cabernet with a straightforward red meat dish.
I think this pairing would work quite well!
Thoughts on this wine or this review?
Leave a comment below…