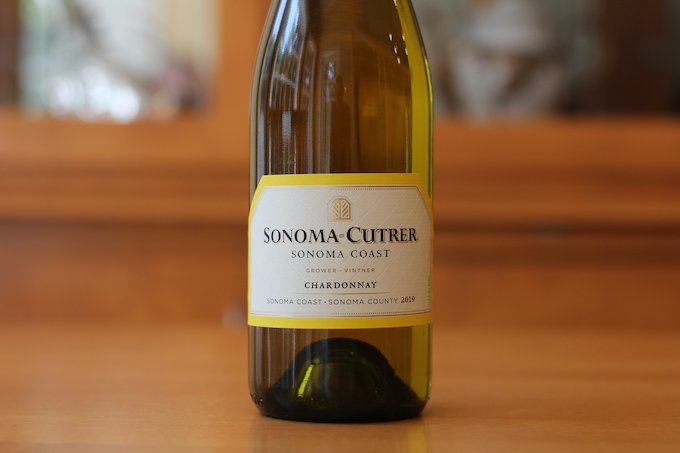 Sonoma Cutrer Chardonnay comes from Windsor, California, USA.
According to the back bottle label, grapes for this wine were sustainably farmed and come from the Sonoma Coast.
And, Sonoma Cutrer is also the grower and vintner.
Sonoma Cutrer Chardonnay Wine Review
From the bottle:
Taste the vibrant clarity and focused richness of this Chardonnay grown in the Franciscan Melange soils of the Sonoma Coast.
I tasted the 2019 vintage of Sonoma Cutrer Chardonnay.
I should note, this vintage won four gold medals including one from the 2021 Sunset International Wine Competition with a 90 point rating.
Appearance
In the glass, this wine pours straw in color, as Chardonnay often does.
The wine coated up the glass quite well, revealing many quick falling, large legs.
Aroma
I found this wine to be very aromatic.  I could easily pick up the wine's aroma from a good half foot away from my glass.
And speaking of aroma, I was greeted with notes of honeysuckle and light lime.
There was no whiff of alcohol on the nose and overall, I found this wine's bouquet to be quite enjoyable!
Sonoma Cutrer Chardonnay alcohol content 13.9% by volume, per the bottle.
Taste
On the palate, I found this wine to taste of slightly sweet citrus (like Mandarin orange) and also have hints of melon and lime.
The lime was especially noticeable at the end of the flavor trajectory.
I also picked up on some definite, but balanced, acidity.  Quite tasty overall!
Mouthfeel
Mouthfeel was silky with a bit of tingle on the lips.
Finish
Finish was medium in length, with all flavors nicely fading out over time.
Overall Opinion of Sonoma Cutrer Chardonnay
Overall, I really enjoyed this wine.
I was especially fond of the silky flavors and the bit of zing at the end from the vibrant acidity.
My comment to myself was "seems to be well-crafted!"
So, I'd say if you're looking for a solid and tasty Chardonnay from Sonoma at a reasonable price, give this one a try!
Sonoma Cutrer Chardonnay price $19.99.
Suggested Food Pairing
The food pairing choice for me was obvious…  Serve with shrimp scampi.
The acidity and flavor will bring a great balance to that dish.
Have you tried this wine?