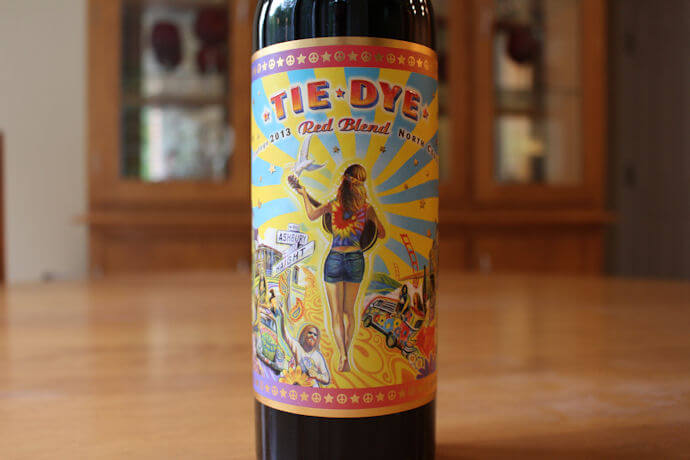 Tie Dye Red Blend wine comes from Tie Dye Cellars in Sonoma, California.
In this review of Tie Dye Red Blend wine we'll go over the price, alcohol content, taste and more of this red blend.
Grapes for this wine were harvested from the North Coast AVA of California, which includes the counties of Sonoma, Napa, Solano, Mendocino, Marin and Lake.
The blend of this wine is a cornucopia of several varietals, as follows:
Petite Syrah – 4%
Cabernet Sauvignon – 11%
Pinot Noir – 11%
Tempranillo – 13%
Merlot – 15%
Barbera – 21%
Syrah – 25%
This is probably one of the largest amounts of varietals I've ever experienced in one blend.
For more information about this wine, check out their website.
Tie Dye Red Blend Wine Review
Sample of the 2013 vintage received for review purposes.
For this review, I teamed up with a couple buddies who have helped out in the past and have well trusted palates.
Appearance
In the glass, this wine is very dark in color.  We settled on dark garnet as the best description and saw that very little light was able to shine through.
Probably the most interesting thing about the wine's behavior was its legs.  The wine suspended legless in the glass for a few seconds.  Then, with reckless abandon, many legs released and it was a "race to the bottom" with the legs falling very fast!  We joked…  "release the hounds!"
All this hinted at a pretty thick wine with a high alcohol content.
Aroma
And there it was…  an intense whiff of alcohol in Tie Dye's aroma.
Tie Dye Red Blend wine alcohol content 14.5% by volume, per the bottle.
As a matter of fact, the intensity of the alcohol pretty much masked any other fruit or berry aromas we were expecting.
When all was said and done we came up with an aroma of black ink and maybe a hint of currant.
Honestly, (and that's what we do here)….  not enjoyable.
Taste
The alcohol burn continued to the taste.  As one person said, "it permeated up through the palate."
The flavor was one dimensional, consisting of a black fruit, possibly blackberry or blueberry.
It was neither bold, nor complex.  But surprisingly, Tie Dye's a pretty dry wine.
Again, not so great.
Mouthfeel and Tannins
All three of us agreed the wine had a cottony mouthfeel and what little tannins we could pick up were noticed primarily on the tongue.
Finish
The wine's finish was very long and fully carried by the flavor.
We looked to see if any surprise complexities appeared in the finish, since it was so long.  But, the wine's one dimensional character stayed true.
Overall Opinion
Overall we were all disappointed with this wine.  The best things we could say were that it was a "picnic wine" and the immediacy of the pungent flavor was interesting.
Oh and the label's pretty cool!
Tie Dye Red Blend wine price $18.99.  This price point also concerned us given our experience with this wine.
We felt that maybe the blend was too out of control (7 different varietals) and that was causing some of the problems?  We also wondered about the quality level of the grapes that were used.
All in all, none of would buy this wine.
We did team it up with some simple cheese and crackers and found that the taste did improve just a bit.  It also muted the alcohol, somewhat.  So, if you are going to give this wine a shot, definitely pair it with food.
Have you tried Tie Dye Red Blend wine?  If so, please leave a comment below.  We'd be curious to hear other people's opinions.