This Vinsanto comes from the San..torini Winery by Artemis Karamolegos in Greece.  The spelling of the winery name is not in error.
According to Wines From Santorini, "One of the most historic and popular wines throughout the ancient world, Vinsanto was especially prized during the Byzantine years, when the Venetians controlled the trade routes of the Mediterranean.
Vinsanto was named "Vino di Santo" by the Venetians, according to place of origin, as was the custom and then later became Vinsanto.
Vinsanto must be at least 51% Assyrtiko with the remaining percentage allowed from Athiri and Aidani and some small amounts of locally grown native white varieties."
"Traditionally Vinsanto is made naturally from late harvested grapes dried in the sun for 12 to 14 days and then crushed and fermented with a minimum 9% of alcohol.
Vinsanto can also be made as a "vin de liquor" with the addition of alcohol or distillates of wine must.  In this case the alcohol required must be at least 15%.
The appellation also requires a minimum of 24 months aging in oak barrels, where the wines develop a golden orange color with a complex bouquet of dried fruits and raisins, together with sweet spice."
The San..torini Winery has been producing wine from the Karamolegos family since 1995.
Vinsanto Greek Wine Review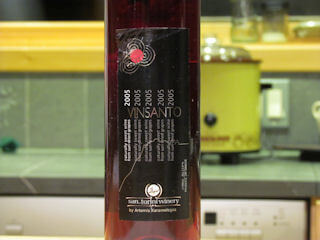 Sample recieved for review purposes.
The wine poured light cherry in color and was rather delicate in weight.
My tasting assistant suggested this wine would be best served in a snifter and be slowly sipped.  After pouring into the snifters, the aromas of dried fruits and sweet spice mentioned above were noted.
Alcohol content 13.0% by volume.
On the palate, this wine provided flavors of light caramel and butterscotch.  "Delicately Delicious" was our chosen description and the wine provided a long tasty finish.
Overall, we both thought this wine was wonderful and would be a perfect after dinner wine or a wine you would pair with a tart dessert like lemon meringue pie.
It's kind of like a very high quality Port wine but without the heaviness you might encounter with a Port.  Very sippable on its own.
Highly Recommend!  For more information, check out Wines From Santorini.