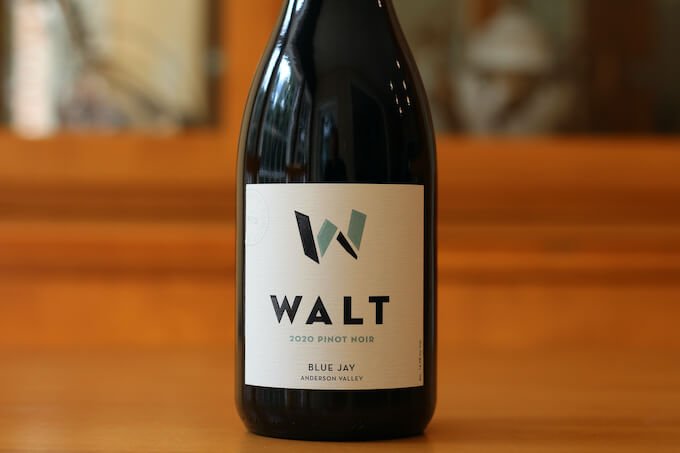 Walt Pinot Noir comes from Walt Wines in Saint Helena, California, USA.
Grapes for this wine come from two areas noted as The Corners and Donnelly Creek of the Anderson Valley, located in the hills to the East of Boonville.
According to the wine's tasting notes, the fruit comes from two different properties with steep hillsides and light gravel soils.
Walt Pinot Noir is 100% Pinot Noir that was aged for fourteen months in 35% new French Oak barrels.
The vintage notes state that the season started with an abnormally warm, dry winter. It wasn't until late March, bringing colder rainy weather, that finally gave the vines a strong start.
Summer and Fall remained above normal temperature-wise, however the ongoing marine influence eventually resulted in a vintage that produced "great wines that are fresh, focused, and beautifully balanced."
Walt Pinot Noir Wine Review
From the bottle:
Blue Jay is crafted from the finest vineyards in the Anderson Valley. This appellation is renowned for Pinot Noir of great depth and bright acidity with notes of blue fruit and violets, underscored by a dense texture.

Walt Wines
The Senior Winemaker for Walt Wines is Alison Frichtl Hollister. In her teen years, she lived in the Willamette Valley of Oregon where she was introduced to winemaking.
From there, she went on to Etude Wines in 2006 and following that, HALL wines in 2008. Walt Pinot Noir is one of the wines in the HALL Family of Wines.
I tasted the 2020 vintage of Walt Pinot Noir, Blue Jay, Anderson Valley.
Appearance
In the glass, this wine appears purple garnet in color.
Legs are numerous, wide and slow to fall.
Aroma
I noted a medium intensity aroma with notes of bright violet and blueberry.
Softer notes of black berry and clove appear soon after the initial pour.
I also noted just a tiny bit of alcohol in the nose.
Walt Pinot Noir alcohol content 14.5% by volume, per the bottle.
Taste
Dark fruits, including plum and black berry hit the palate first with "softer" flavors.
That was soon followed by some acidity and black pepper.
I found the wine's flavors to be enjoyable and moderately complex.
Mouthfeel and Tannins
I sensed a linen-like mouthfeel with a juxtaposition of the aforementioned black pepper and medium textured tannins.
A few more sips brought out the tannins even more, as they settled in towards the front of my mouth.
Finish
The wine was long finishing with the flavors balancing out the tannins.
I found the black pepper to be the flavor with the longest staying power.
Overall Opinion of Walt Pinot Noir
Overall, I enjoyed Walt Pinot Noir.
It's kind of like a Pinot with a bit of a "kick" from the pepper and unique compared to other Pinot I've tasted.
It was certainly complex in both aroma and flavors, with a gentle softening that occurs as the wine has a chance to breathe.
Walt Pinot Noir price $44.00 direct from Walt Wines.
This wine was actually gifted to me by my neighbors. They've given me bottles in the past and have a knack for introducing me to great wines I haven't tried yet. So, big thanks to them!
Suggested Food Pairing
Given the pepper on the palate, my thinking was that this wine could be paired with any assortment of grilled meats. Even a gourmet Angus burger would pair well with this wine.
Walt suggests a pairing with mushroom and bacon stuffing, which sounds just as tasty!