I was recently sent a sample of two wines from the Waterstone Winery to taste and review, their Chardonnay and their Pinot Noir.  Both from Carneros.
Their winery is located in Napa, California, USA.  It was founded in 2000 via an interesting collaboration between winemakers Philip Zorn and Brent Shortridge.
In this collaboration, the two winemakers don't own any vineyards or the winemaking facility itself.  Instead, they focus on their passion for winemaking only.
They secured long term sourcing contracts with top growers and going from there, pursue their craft without the distraction of owning land or facilities.
For more info, check out the Waterstone Winery website.
Waterstone Carneros Chardonnay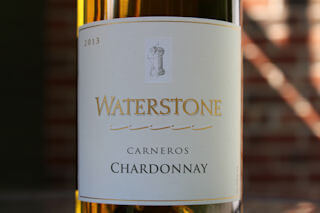 In appearance, this 100% Chardonnay is straw in color and a bit darker than many of the recent Chardonnays I've tried.
It's also quite leggy with thick, slowly falling legs that foreshadow this wine's alcohol content.
Waterstone Chardonnay alcohol content 14.0% by volume, according to the tasting notes.
There's a good sting of alcohol in the nose.  But it doesn't overshadow the enjoyable citrus notes, including lemon and tart grapefruit.  There were some florals in there as well.
With the tart aroma, I was geared up for a tart taste, but was pleasantly surprised with an initial light sweetness.  It gave way to flavors of pear, green apple and nectarine (completely in line with the tasting notes, which is rare!).
Good acids were noted along with bright tannins felt behind the lower lip and in the cheeks.
The wine's finish was short to medium with a great balance between the tannins and flavors.
Overall, I found Waterstone Chardonnay to be very enjoyable.  I especially enjoyed this wine's balance and couldn't stop thinking about how well this would pair with lobster in a cream sauce.  Go acids!
Waterstone Carneros Chardonnay price $18.00 SRP.
Waterstone Carneros Pinot Noir
In the glass, this wine presents with colors of medium plum and bit of rust.  It's 100% Pinot Noir and may be just a bit darker than average.
I gave this one the moniker "crazy legs" as the legs were perfectly spaced, large, and slow to fall.
The aroma was quite deep for a Pinot Noir, which nullified the 14.5% alcohol content.  I noted caramel and clove, predominantly.
The wine's taste was interesting but left me a bit confused.  It was a blend of caramel and cola along with a bright fruit burst.
Although this was still a dry red, the tannins were softened by the darker flavors.  They did, however, carry the long finish.
Overall, I found the initial tasting to be confusing and a bit out of balance.  I suspected the wine needed some breathing room and after giving a fresh glass some time to settle, I discovered that the wine moved closer to equilibrium.
I then found it to be much better.  The biggest difference was that the caramel sweetness dissipated and everything else made a lot more sense together.
So, definitely worth a try, but I'd highly suggest decanting or aerating this one before serving.
Waterstone Carneros Chardonnay price $18.00 SRP.
If you have experienced these wines, or would just like to share your thoughts, please leave a comment below.  Cheers!