Whispering Angel Rose is part of the Chateau d'Esclans portfolio of Rose wines.
The Chateau is located in France, northwest of the Mediterranean coast and has been around since the mid 19th. century.
It's most known for their old Grenache vines, which are said to produce fruit of high flavor concentration.
Whispering Angel Rose Wine Review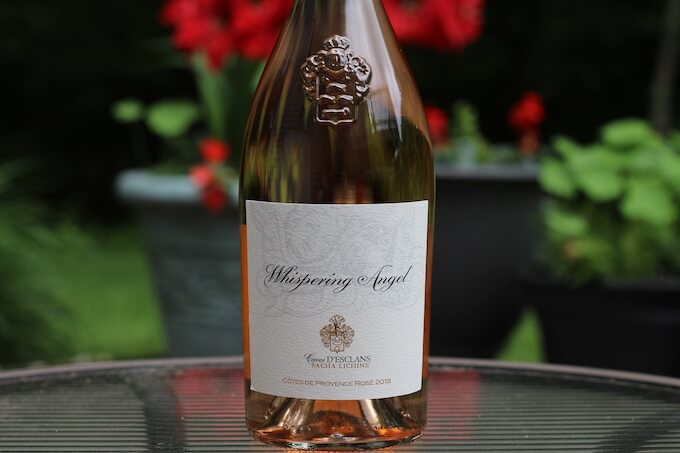 Per the tasting notes, Whispering Angel Cotes De Province Rose is a blend of the following grape varietals:
Grenache
Cinsault
Rolle (Vermentino)
Syrah
Tibouren
The tasting notes didn't provide the percentage of each varietal, however they did indicate aging was done in stainless steel.
From the bottle:
In the Esclans Valley angels whisper.  If you drink this wine, you might hear them.  If by chance you visit us, you might see them.  – Sacha Alexis Lichine
I tasted the 2018 vintage of this wine and it was not chilled when I tasted it.
I find that chilling wine subdues the flavors, but that's just me.  :-)
Appearance
Typical of a Rose wine, Whispering Angel Rose appears copper salmon in color and is plenty translucent.
It is leggy, with many tears falling slowly down the sides of the glass.
Aroma
While the wine's aroma isn't noticeable from far away, as soon as you get your nose up close, the aroma is quite pronounced.
It's a little bit pungent, but still very clean, with a combination of citrus, floral and herbal notes.
Kind of like a subtle, yet fine, perfume.
Imagine the zest of orange, lime and lemon all together with a bit of strawberry, peony and rosemary thrown in for good measure.
I know that sounds like a crazy concoction, but that's what came together for me as I repetitively sniffed this wine!
Hardly any sting of alcohol noticed and very enjoyable!
Whispering Angel Rose alcohol content 13.0% by volume, per the bottle.
Taste
Tasting this wine revealed pronounced flavors of mellow citrus and young strawberry.
There was also the tiniest hint of creamsicle with the first taste.  I noticed it again after a fresh pour, but it dissipated quickly after that.
I found that it all worked together in a nice clean way and I enjoyed this wine's taste quite a bit.
Mouthfeel
I found the mouthfeel to be fairly dry with a non-sweet, apple juice like texture.
To be clear, no apple flavor at all, just a similar texture to the liquid from a fresh pressed apple with a little less bite.
Finish
The wine was long finishing, with the flavors lingering nicely on the palate.
Overall Opinion
If you've read any of my previous reviews, you've probably figured out that I love to be surprised by a wine.
This wine surprised me with its complexity!
If you were to just taste this wine without thinking much about it, you might say "Tasty, clean and enjoyable."
But, as soon as you start to analyze the aroma and flavor notes, you realize this wine has an amazing depth to it.
I suspect it's the result of mature Grenache vines coupled with a non-typical blend of varietals.
Whatever it is…  I like it a lot!
Whispering Angel Rose price $19.99.
Jon's Quote:
Whispering Angel presents you with an aromatic and flavor complexity that's hard to find these days.  A lovely sipper that takes you on a journey, thanks to its varietal blend and fine craftsmanship.  – Jon Rogers, Honest Wine Reviews
Suggested Food Pairing
Pair Whispering Angel Rose with warm weather and a leafy green salad with goat cheese and grilled pears.
Or, just sip it on its own and see if you can identify all the different elements this wine embodies.